SchoolBook
De Blasio Transition Team Includes Many Names in Education, Child Advocacy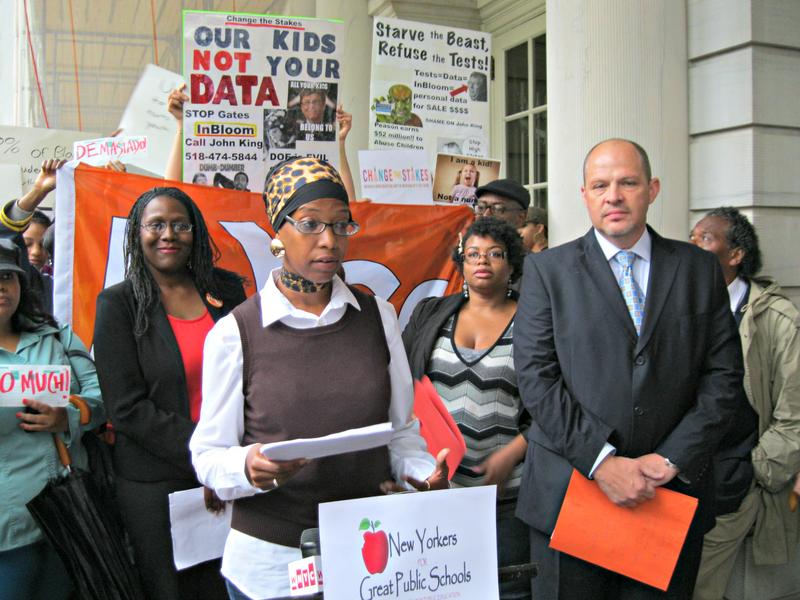 Mayor-elect Bill de Blasio announced the appointment of his 60-member transition committee, and it includes 10 individuals with experience in education and children's issues.
The group includes parent leader Zakiyah Ansari, advocacy director of the Alliance for Quality Education. Ansari was a frequent gadfly throughout Mayor Michael Bloomberg's tenure on issues of school choice, charter schools and parent engagement, among others. The Brooklyn mother has eight children, all of whom either attend or graduated from public schools. She's also been a vocal advocate for additional state educational aid and for early childhood education, a central theme of  de Blasio's campaign.
The other members of the transition team with experience in education and children's issues include:
-Alexa Aviles, a co-PTA president at Brooklyn's P.S. 172 who is also a program officer at Scherman Foundation, which funds the arts.
-Maxine Griffith, will Executive Device President and Special Advisor for Campus Planning at Columbia University.
-Richard Buery, President and C.E.O. of the Children's Aid Society.
-Jeremy Travis, president of John Jay College of Criminal Justice at CUNY
-David Jones, president and C.E.O. of the Community Service Society of New York.
-Marvin Hellman, President, OHEL Childrens Home and Family Services
-Kim Sweet, Executive Director of Advocates for Children of New York, which has fought to help children with special needs in the city's public schools.
-Dr. Marcia Keizs, President of York College at CUNY.
-Elba Montalvo, Founder, President and C.E.O. of the Committee for Hispanic Children and Families.
De Blasio appointed Jennifer Jones Austin, a former deputy commissioner with the Administration for Children's Services, as co-leader of his transition team. WNYC reached out to some of the newly appointed members and was told they were asked to decline media requests for comment.
"It's a group of people who share a progressive vision for the future of the city, who are known in their fields of endeavor as being effective and strong leaders, and who share a clear commitment to diversity in leadership for the future of the city," de Blasio said.
The incoming mayor announced the new members of the team while visiting the Talking Transition tent in Lower Manhattan.