New Jersey Activists Get a Meeting With Frelinghuysen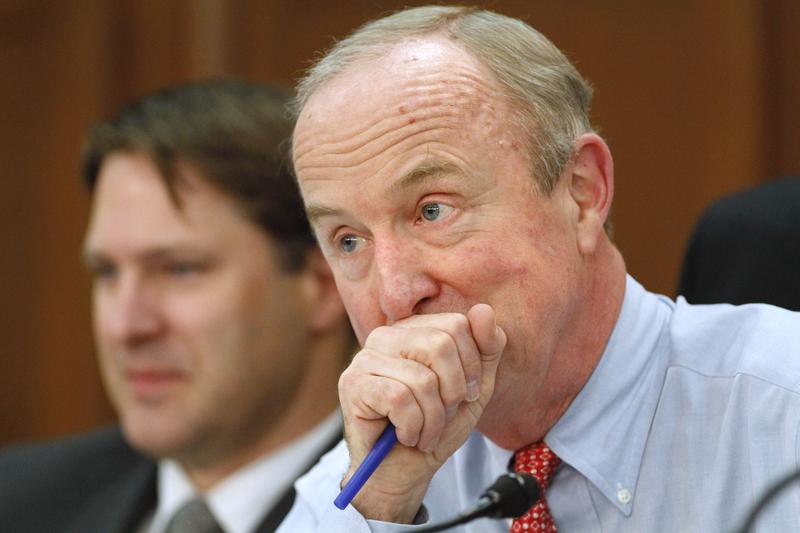 For months, two activist groups have asked Republican Rep. Rodney Frelinghuysen to hold a town hall meeting in his northern New Jersey district. They even organized their own town halls and invited Frelinghusyen, but he didn't show.
So Wednesday, they went to Frelinghuysen instead.
Three buses left New Jersey in the early morning filled with members of NJ 11th for Change and BlueWave NJ. They were headed more than 200 miles south to Frelinghuysen's office in room 2306 in the Rayburn House Office Building at the U.S. Capitol.
NJ 11th for Change formed in the weeks after the election, when residents of mostly liberal Montclair realized they had been moved into Frelinghuysen's district. A single Facebook post turned into a group with more than 7,000 members from Montclair to Morristown and west to the Pennsylvania border.
"Calm and rational voices being heard is an important thing," said Meg Wiviott of Morristown, as she waited for the bus to leave just after sunrise Wednesday. "I want my representatives to represent me, and I know they can't just represent me because they represent an entire district, but I want some moderation. I don't want us to be so extreme on either side."
Similar concerns emerged from many of the new activists: funding for Planned Parenthood, the need for an investigation into the Trump Administration's ties to Russia, support for the Affordable Care Act, and this week's issue — the undermining of federal oversight on local police departments.
The last time Lee Karosen went to Washington to speak with his representatives, Richard Nixon was in the White House.
"1970," Karosen said. The Cedar Knolls resident boarded the bus with his wife in hopes of speaking with Frelinghuysen about their support for the Affordable Care Act. But he has several other things bothering him about the Trump administration.
"The main reason that I'm going down, which is near and dear to my heart, is our attorney general Mr. Sessions. Mr. Sessions perjured himself," Karosen said. "I'm an attorney and I know perjury when I hear it."
The activists got the news as they waited to depart New Jersey that Frelinghuysen had agreed to speak with a smaller number of them in his D.C. office. A cheer went up. They've been writing letters, sending faxes and visiting his Morristown office for months.
But traffic meant the three buses arrived in D.C. about 15 minutes late for their first appointment with Frelinghuysen.
The meetings were limited to groups of 10 at a time, so organizers picked out the first cadre as the group hurried through security.
"I need Harriet!" someone shouted.
They handed out buttons and chatted with staff as they waited in the hallway accented with polished stone outside Frelinghuysen's office across the street from the Capitol. Later, they met New Jersey's Democratic Senators Robert Menendez and Cory Booker. 
Mendham Township resident Susan Luciano said she thinks Frelinghuysen has drifted too conservative.
"I grew up in this district," Luciano said. "Congressman Frelinghuysen's father was my Congressman when I was a child. The district has changed. He has to represent everyone who lives there now."
After the meeting, Luciano and others said Frelinghuysen really didn't answer their questions.
"I hope he heard what we had to say," she said, "but it's not like we walked out saying all our issues have been resolved."
Elsa Sjunneson-Henry has pleaded with Frelinghuysen to hold an in-person town hall, because she's disabled and can't participate in the telephone town halls increasingly popular with Republicans.
"He didn't give me a direct yes," Sjunneson-Henry said after her meeting.
But the activists' time was up at 12:45 — Frelinghuysen had another appointment. The Congressman worked his way through the crowd in and outside his office, pausing to greet visitors and snap a photo with the son of one of the activists.
As he hustled onto a members-only elevator, Frelinghuysen said he enjoyed the meetings and sounded like he might give the activists their big wish. Would he hold a town hall?
"Well, we're going to do some more town hall meetings," he said ducking into the elevator.