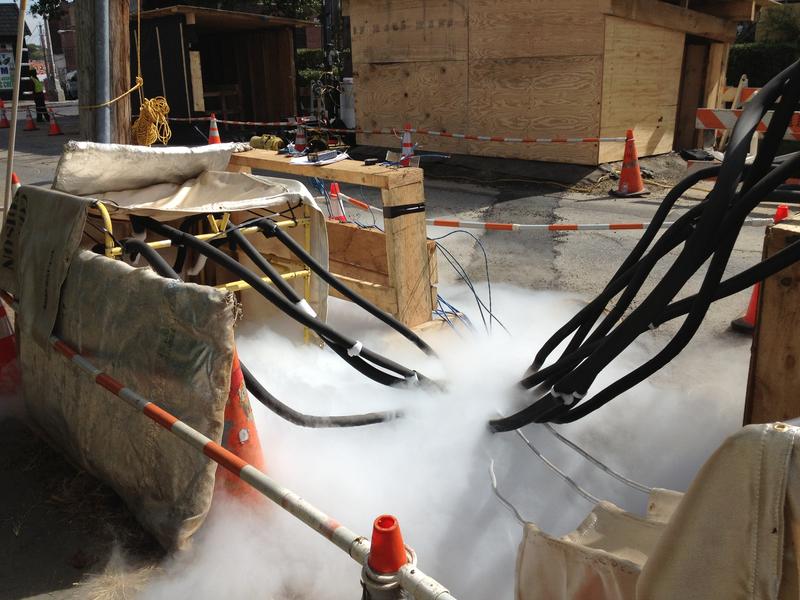 Now that Metro North's New Haven Line is operating on a normal schedule for the first time in nearly two weeks, some are asking how the system was so vulnerable that a failure on a single power feeder line could cause such a problem.
The source of the problem that knocked out power to the New Haven line was near the Mt. Vernon train station, where Con Ed was working on upgrading one of two power feeder lines. The power company needed to freeze the line they were working on by injecting it with liquid nitrogen. But that's where the problem happened. The line right next to it, the one still powering the trains, somehow managed to freeze, too.
"No engineer here can recall this ever happening before," said Con Edison spokesman Michael Clendenin. "And we do about 20 or so of these kinds of freeze operations every year."
How that freeze wound up spreading to the other line is a mystery. Clendenin said the problem didn't happen in the pit, it was further down the line, underground.
"Several feet away from the hole, all the ground around it had frozen over," he said.
He added Con Ed will be able to find out more about what went wrong once they can dig up the failed line and take a look at it.
The situation began because the MTA needed Con Ed to take one of the two lines down to allow them to upgrade a substation. The lines were tested to make sure just one of them could handle the whole power load of the New Haven line. It could -- that wasn't a problem.  Clendenin acknowledged there was still a certain amount of risk. But he says it was the MTA that made the decision to go ahead.
"You know, they've got this upgrade going on, they need one line taken out of service. Knowing that they only have one left that's good, and if that goes, they have something they have to deal with."
Clendenin said it was up to the MTA to have a contingency plan in case something went wrong. And it did – that's what we saw on the New Haven line after the failure, with diesel trains and temporary power transformers. But at its best, that plan only allowed for 65 percent of the railroad's usual capacity.
Mark McGranaghan is with the Electric Power Research Institute, an industry-funded non-profit that studies the generation, delivery and use of electricity. He said relying on one line probably looked like a reasonable gamble.
"Statistically, for that kind of cable, one mile of cable," he said, "you have a one-in-300 chance of something need a repair in a given year."
And given how unlikely a failure seemed, spending the millions of dollars and all the time necessary to put in a third feeder line -- another level of redundancy -- probably didn't seem worth it. McGranaghan said he's been aware of the planning for this particular project for years.
"You know, even after all that, we may want to look at contingency and backup planning associated with the power supplies when you're doing that," he said.
The MTA is saying the same thing. In a press conference at Grand Central Terminal last week, chairman Tom Prendergast discussed the investigation that's been launched by the State of New York Public Service Commission, which regulates utilities.
"One of the items we need to address in the investigation is, what level of redundancy existed while the repair work was going on, was it sufficient, and do we need to do more," asked Prendergast. "So that's a question we need to answer."
The chair of the Public Service Commission says as they investigate what happened, they'll determine if it's appropriate to impose any penalties on Con Edison.