SchoolBook
New Chancellor Speaks in Broad Strokes, Few Specifics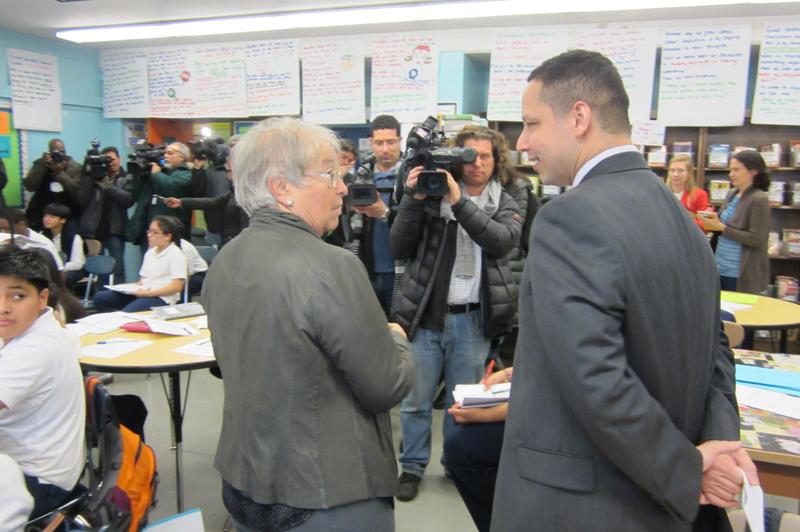 Schools Chancellor Carmen Fariña couldn't have asked for a warmer welcome on her first day at work. She was greeted with a big joyful hug from principal Ramon Gonzalez who hosted Fariña at his school, M.S. 223 in the South Bronx.
Trailed by reporters as she toured classrooms, she praised examples of good work. The petite woman with white hair lit up whenever she saw something she liked. In a seventh grade English Language Arts class, she told reporters that the conversations among the students were a good thing.

"You hear the noise around the room? That's good," she said. "I only like schools where kids are talking and buzzing, and where they're actually learning."
The new chancellor said she chose to visit M.S. 223 on her first day because of its successful  principal.
"This is a school that has taken kids who really were not doing that great to a whole other level," she said. "And it all has to do with the commitment of the principal and the devotion of the teachers."
Fariña singled out Gonzalez for his work when she was appointed chancellor Monday. She got to know him through a program for distinguished principals run by Teachers College at Columbia University, when Farina was on its board. He was also profiled in the New York Times in 2011.
In her first year as chancellor, she said she wants to put the spotlight on ways for middle schools to improve. But she gave no specifics for how to do this beyond having principals share best practices.
When he first took office in 2011, former Chancellor Dennis Walcott pledged to open new middle schools and to also give them more resources. Struggling schools got extra hours of instruction with help from the City Council. But many city students continue to struggle when they advance from the elementary to middle grades.
Fariña was asked about these previous efforts, but declined to comment on them. She said her style is to "not worry about what was done but just worry about what I'm going to do."

When asked about her statement on Monday that she wanted to reform the office of parent engagement, she said she intends to meet with members of community education councils first. Nor did she say anything about Mayor de Blasio's plan to charge charter schools rent for taking space in public school buildings. A reporter asked her opinion on the privately managed but publicly financed schools, and she avoided making any blanket statements - noting there are "some charters I love to death."
"It's about how things function not the name of them," she explained.
She was more forthcoming on her ideas to help parents and teachers understand the state's new learning standards. Fariña said she supports these Common Core standards, but she also agreed with teachers and principals (including Gonzalez) who complained about not feeling well prepared for last year's new exams.

"It doesn't seem fair to me that teachers, with all the things they had to do, have to be inventing the curriculum as they go along," she said. "So we're going to make it much more explicit on how the core standards could be met" with professional development.

Although Fariña is now running the schools, realistically she does work for the mayor. Her task will be to implement his agenda while carving out her own priorities. That could explain why she took just a few questions from reporters and kept her answers brisk (she also needed to go downtown to a meeting about the approaching snow storm). She stressed several times that this was only her first day as chancellor, a title that she said, "gives me the shivers… Call me Carmen. Everyone else does."

For her first day, she also said she spent the morning meeting with people at the Department of Education's headquarters in the Tweed Courthouse, "drinking a lot of coffee" and skipping lunch. She said she has not made any personnel decisions yet.

"I will be having a lot more conversations," she said. "I've been very happy, a little overwhelmed. I'm going to go home tonight and rethink everything I heard."
Fariña also picked a book of the month for her administration: "I Will Make Miracles" by Susie Morgenstern.