SchoolBook
New Schools Chancellor Gets a Homecoming Queen's Welcome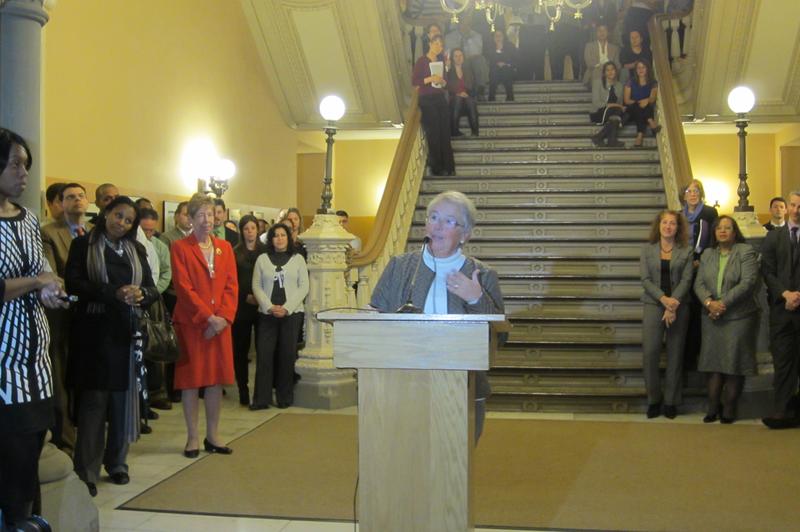 Less than a week after starting her new job, Chancellor Carmen Fariña gave a pep talk to Department of Education staffers in which she referred to herself as a general leading an army, on a mission to bring more joy to the schools
"I don't mean to say it wasn't there in a lot of places," she stated from a lectern in the DOE's stately rotunda, surrounded by hundreds of people in the shadow of a gigantic Roy Lichtenstein sculpture. But she said she was referring to "this notion when we talk about education that there's a smile on our faces, that we talk about what's working."

Calling New York "the best urban public education system in this country" she also repeated her desire to celebrate what works. "So when I come to meet you in your cubicles, your first order of business is tell me the best thing that's happened to you since you started working here. "
Fariña spoke for less than 10 minutes in what felt like a homecoming, and steered clear of Mayor Bill de Blasio's proposals to charge rent to charter schools and to put a moratorium on co-locating schools in the same buildings. The former teacher, principal and deputy chancellor got a hearty applause as she was introduced by Kathleen Grimm, the deputy chancellor for operations. The two of them worked together for former chancellor Joel Klein before Fariña retired in 2006.
"We had a lot of fun, too," said Grimm, who called Fariña an educator "to every fiber in her being."

Fariña told the staffers to get ready to be "inundated with literacy," referring to her book-of-the-month program for everyone at the DO.E. She also said she would hold biweekly meetings from 8-9 o'clock on Friday mornings.
"Tell us what's happening, what's working, what's not working," she said. "Bring the good news once in a while you guys."
But there was clearly an unsaid element of awkwardness. Fariña has not yet made announcements about whether she will keep the deputy chancellors and other top administrators, who stood behind her as she spoke. Last week she said there would be changes "within the framework that already exists."
Staff members who came from D.O.E. offices around the city seemed genuinely excited about Fariña's return. Karen Ames, who runs a network of about 30 schools, recalled being an instructional supervisor in Manhattan when Fariña was deputy chancellor for teaching and learning. She said she was the right person to lead the schools as they adjust to the new Common Core learning standards.
With Fariña, she said, teachers will get the support they need because she knows "it's about pedagogy not a program."

Fariña mingled with staffers after her brief remarks, giving out a lot of hugs to people she hadn't seen in a while. One was Michele Farinat, the parent coordinator of P.S. 41 in the Greenwich Village.
"We are overjoyed," she said. "When she talked about joy, I think that's one thing that has been missing. This sense of joy of working in the great system we work in."

Fariña's return after nearly 40 years in the school system means she will make more than $400,000 a year, twice as much as the mayor, because she gets a salary plus her pension. De Blasio said Monday that her salary was not only legal but "absolutely fair" because hers is one of the toughest jobs in the country.