The Takeaway
New Bio-Play 'Kung Fu' Looks at the Life and Work of Bruce Lee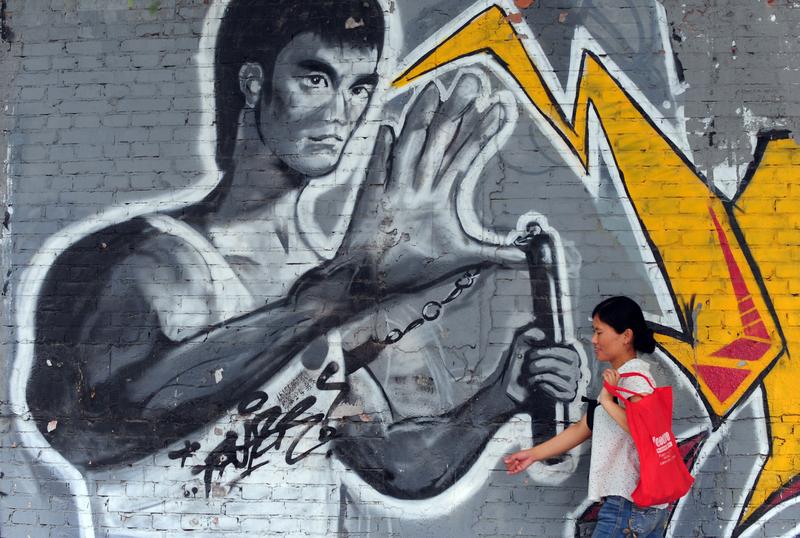 Like every actor, Bruce Lee had humiliations and setbacks as he struggled to make it in Hollywood. But those difficulties eventually put him on his way to international super-stardom, and those moments are now the subject of a new Broadway play written by Tony Award winning playwright David Henry Hwang.
The stage production tells in story, and in dramatic martial arts style choreography, how Lee's brash approach to martial arts and his rejection of Asia's 20th century culture of submission made him a symbol of Asia's rise in the 21st century. The play is called "Kung Fu," and it's star is a real Asian martial artist—Cole Horibe.
For Hwang, this was a project that took a very long time—he says he first began thinking about this play in the early 1990s.
"I've been trying to pursue this for about 20 years," says Hwang. "At that point, I thought of Bruce Lee as a symbol of the rise of the new China. When I was a kid, China was considered poor and uneducated, and now it's in a very different place. That was the symbolic thing I wanted to explore in the early 90s. By the time we get to this version, which I started to write two or three years ago, I also wanted to look at Bruce Lee as a human being because I feel like he has become such a recognizable icon, but nobody really knows how he became Bruce Lee. So, in some sense, 'Kung Fu' is the Bruce Lee the prequel."
In addition to the China's shifting role and Lee's legacy, Hwang says this play is also designed to explore Asian masculinity, something he says is "denigrated" in the West and in American culture.
"Bruce created this new archetype—the Asian male hero," says Hwang.
The playwright says that while the production will explore Lee's more symbolic contributions, "Kung Fu" is also closely designed to tell the true story of Lee. Hwang says he has spent the last two decades reading biographies about the action hero, and believes the story accurately represents the life and times of Bruce Lee. 
"I was really pleased that Linda, his widow, and Shannon, his daughter, came to our opening night and told me that they thought it was the most authentic telling of his story that they've seen," says Hwang. "I think it was incredibly exciting—even now—to see an Asian man who is completely assertive, completely confident, completely masculine, and has no apologies or illusions about that. In a way, it's like Muhammad Ali in the 60s—yes being arrogant, but being arrogant because that was necessary in that time period and social system."
When it comes to Lee's own story, Hwang had the challenge of showing the complex and tumultuous relationship Lee had with his father. Hwang says that a certain point, Lee's father essentially kicked him out of Hong Kong and told him not to come back until he was dead. 
"And yet, his father ends up transmitting a lot of information that Bruce uses later in life to become the star that he becomes," says Hwang. "It is a complicated relationship and I think it's true of a lot of father-son or parent-child relationships—you get the good and the bad. Later in the play we see Bruce with his own son trying to transmit both good and bad, and working through that."
In many ways, Bruce Lee is iconic character that can at times take on messianic qualities—an caricature that Hwang is hoping to disprove. 
"I think there's a certain reverence that people can take towards Bruce Lee now many decades after his death," says Hwang. "My approach was to try introduce him as a human being because I feel like the icon is what we all associate with now. But if the show is successful, it means that you go in thinking of him as iconic and as some sort of superman, and you come out knowing that he was a human being."