SchoolBook
School Year Underway at Most NYC Charters Schools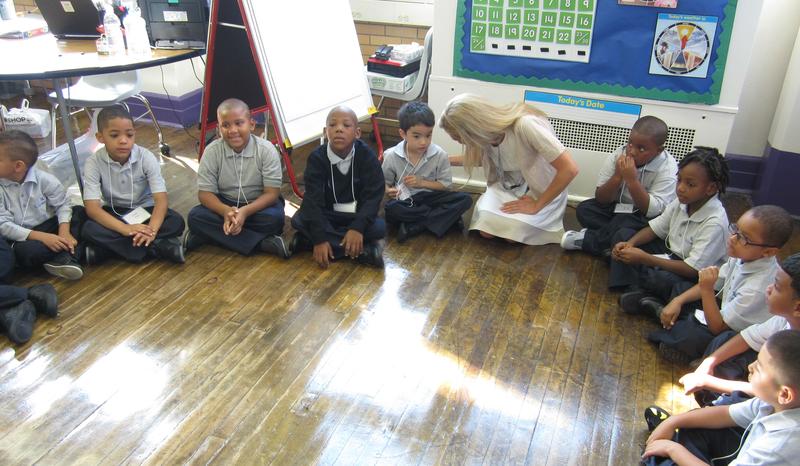 Nearly 25,000 students attending a range of charter schools in New York City returned to classes Monday, more than a week ahead of their district school counterparts, and other charters will open later this week. The privately-managed public schools are allowed to open earlier and to have longer days than the city's regular schools.
Charter boosters say this extended learning time has resulted in test scores that are often higher than those of the district schools, and has led to increased demand among parents.
More than 80,000 students will be enrolled in charters come September, an increase of about 13,000 since last year.
Some of those seats are at charters that are growing, but there are also 14 new schools. One of them is Boys Prep which opened Monday inside P.S. 107 in Soundview. Whitney Neal stood in line with her son Kayden waiting to enter the building shortly after 8 a.m.
"He gets distracted by girls, even though he's five," she laughed, as she explained why she chose the single-sex school. Kayden had a huge smile on his face as a staff member showed him a magic trick involving a penny. All of the boys wore grey polo shirts and black slacks.
Boys Prep received close to 800 applications for 140 seats chosen by lottery in kindergarten and first grade said Ian Rowe, chief executive officer of Public Prep, which also runs four Girls Prep charters in the Bronx and Manhattan. "We all know the statistics of a lot of minority males," he explained, referring to the achievement gap between black and Hispanic males and their white and Asian peers.
"If we can reach our kids, particularly young boys, early — starting at age 4 and age 5 — and expose them to a really rich curriculum, expose them to a group of adults who are completely invested in their success, who will work very closely with our families, we can have incredible outcomes," Rowe said.
Boys Prep will eventually grow to include fifth graders. Its founding principal is Peter Herzberg, who was previously associate head of school at Brearley, a private all-girls school in Manhattan. The 60 year-old educator said he was thrilled to bring his experience to an all-boys public charter school.
He said its curriculum will be "a little less scripted" than other charters, with "more room for boys to move and play and explore."
They'll have gym and science classes every day as well as three periods each week of music. He noted that many boys enter kindergarten and first grade diagnosed with attention deficit hyperactivity disorder, "and our job is to make sure we separate what is just boy behavior" from that which is "over-diagnosed and sometimes repressed" by schools.
There are conflicting schools of thought about whether single sex education has any impact on student achievement. But Herzberg said they're were worth trying given the lower graduation rates and higher suspension rates of so many boys. He also said half of his 24 staffers are male, which is rare in elementary schools.
The city's Department of Education said there are now 21 single sex public schools, including charters.