Nepal Grapples With Loss of Life, Sacred Spaces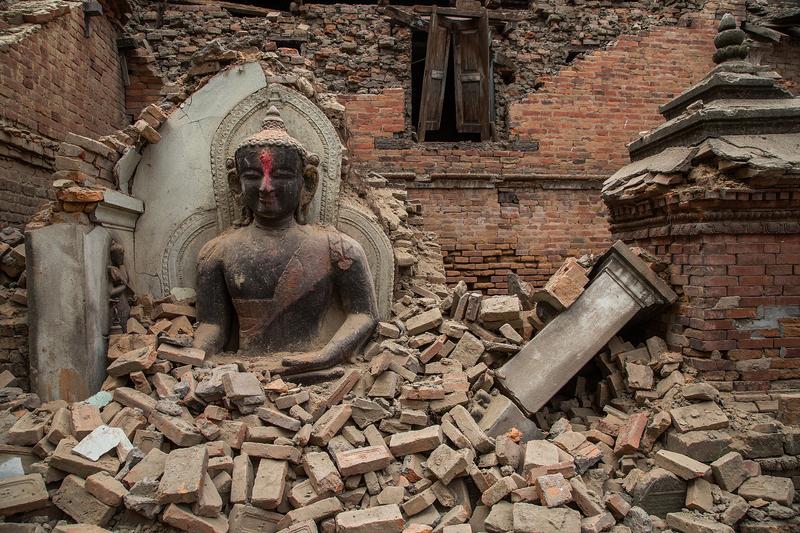 Nepal is still coming to terms with last month's massive earthquake that killed more than 7,600 people and reduced dozens of communities to rubble. Also hit hard were many of the country's sacred spaces and ancient structures.
For many, these ancient structures still hold great significance.
Jan Van Alphen, director of exhibitions, collections, and research at The Rubin Museum of Art, said about 60 percent of Nepal's temples, stupas, and palaces located in the Kathmandu Valley suffered some kind of damage — if they weren't totally destroyed — as a result of the 7.8-magnitude earthquake. Van Alphen said many of the buildings date back to the 17th century. But there are others that date back to as early as the 14th century.
Van Alphen said these spaces and their artifacts, including paintings and sculptures, show the unique mix of Nepal's many religious and cultural influences, from Buddhism, Hinduism, and even Shamanism and Animism.
"The Nepalese, whatever religion they attach to, they go to the temples," he said. "They have their house shrines, but they want to go to the temples also because the temples are places where their treasures are gathered."
In this interview, Van Alphen talks with WNYC's Richard Hake about the significance of these structures, and what the rebuilding and recovery process might look like.