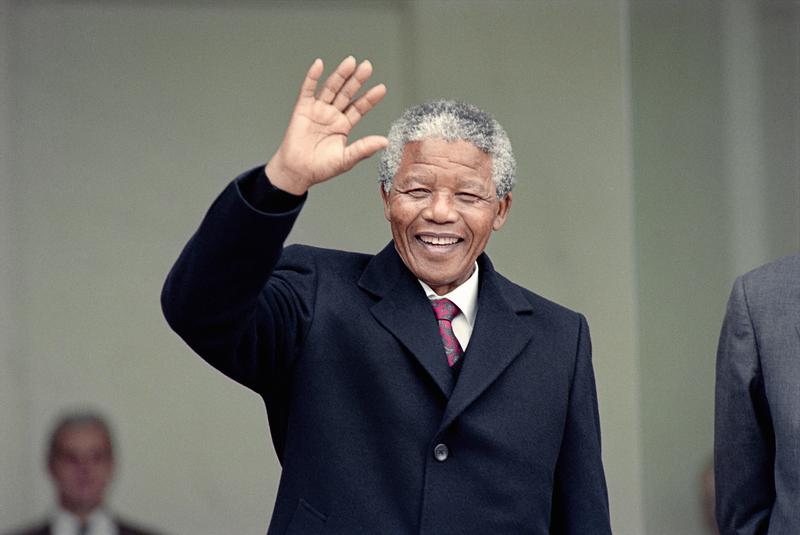 For this program, New Sounds remembers Nelson Mandela. We'll revisit an in-studio session recorded on the eve of the occasion of Nelson Mandela's momentous arrival in New York City- in June of 1990 - just months after being set free from 27 years of political imprisonment. Hear a live performance by the international stars, the Mahotella Queens, one of South Africa's greatest vocal groups and leaders in the music style known as mbaqanga, or "Township Jive,"  also dubbed the "indestructible beat of Soweto."
Also, in the same session, the Mahotella Queens were accompanied by another seminal mbaqanga group of the 1960s, the Makgona Tsohle Band, led by West Nkosi. Their name meant "Jack of All Trades" – meaning that they could do South African mbaqanga as well as jazz, disco, reggae, or any other musical style they want to tackle. Plus, there's another live performance, by Abdullah Ibrahim, aka Dollar Brand, of "Jacaranda Blues," a song he wrote for Nelson and Winnie Mandela.  Ostensibly about the jacaranda tree of South Africa, Ibrahim used it as a metaphor for the choice facing South Africa, which was still under white rule in 1990. Four years later, Mandela would become the first black president of post-apartheid South Africa. He died yesterday at the age of 95.
Special thanks to the Director of Archives, Andy Lanset, & to the Archives & Preservation Team of New York Public Radio for making this New Sounds in-studio performance playable again.
PROGRAM #3542– Nelson Mandela Remembered (First aired on 12/06/2013)             
ARTIST(S)

RECORDING

CUT(S)

SOURCE

Siya Hamba

1950s South African Country and Small Town Sounds         

Adiyo Jaxo Kxaja Nkwe {1:30}

Original Music #111 LP
Out of print. Try auction sites.

Mahlathini  

The Lion of Soweto   

Kudala Besifuna [3:00]

Virgin/Earthworks #90867
Available at Amazon.com, Emusic.com or iTunes.

The Mahotella Queens and The Makgona Tsohle Band                       

Live, 6-19-90            

Mandela {1:30}
Stokfel Jive {4:30}
Awuthule Kancane {4:30}
Sikhulekile {3:30}                                      
Via Soweto {3:30}  

These performances not commercially available.
The Mahotella Queens and The Makgona Tsohle Band have recorded as "Mahlathini and The Mahotella Queens."  Try iTunes, Emusic.com or Amazon.com  

 

Abdullah Ibrahim

Live,  6-20-90

Jacaranda Blues [5:54]

This performance not commercially available.

Mayibuye Cultural Group

The Spear Of The Nation 

 

Hamba Kahle Mkhonto, excerpt [1:00]

Vara 1978
Out of print, but try
www.flatinternational.org