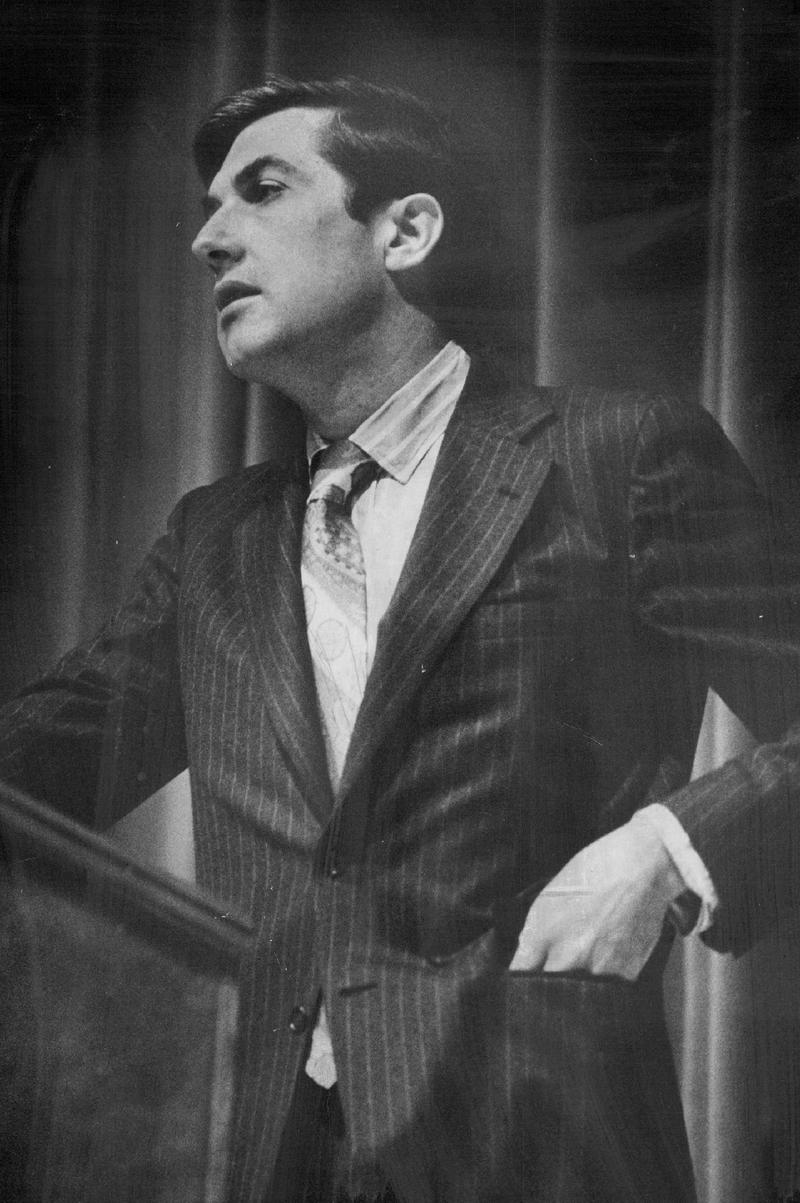 Summary
The exact date of this episode is unknown. We've filled in the date above with a placeholder. What we actually have on record is: 196u-uu-uu.
Patricia Marx interviews journalist Neil Sheehan regarding the Vietnam War. Mr. Sheehan evaluates the ongoing military coups and governments set up in South Vietnam, as well as whether or not the United States' presence has been appreciated by the Vietnamese people. He also offers his opinions regarding the war's potential outcomes.
WNYC archives id: 56203
Transcript
This is a machine-generated transcript. Text is unformatted and may contain errors.

I am delighted to have as my guest today Mr Neil Sheehan who spent three out of the last four years with the New York Times bureau in South Vietnam this interview was taped in Saigon just before Mr Sheehan left to return to the United States Mr Schiewe you are in Vietnam in the fall of one nine hundred sixty three when V.M. was overthrown What was your evaluation of the coup in retrospect now that I look back on the whole thing. And look at the choices that the United States had at the time it seems to me that the embrace change was losing the war. The country was coming apart because of its politics and the United States was clearly trying to trade. A government which was definitely going to lose for a government which one might win was always favored a coup d'etat and the result was a military government under General men which fell in about three months as I recall to another military government under General Khan Well none of these military regimes did any real good for the country that exteriorization continued. One coup led to another coup and as a result the Vietcong and then later the North Vietnamese made substantial gains throughout the countryside and the United States finally had to intervene with its own troops in the spring of one nine hundred sixty five or the country which I think has split away the youth that we missed any opportunities with the kind of new sense of liberation and freedom that came with the overthrows Yes Could we have done more to influence events in a more constructive way well newspaper men are always. Doing Monday morning quarterbacking. But now that I look back on it I don't see what they could have done other than what they did at the time I'm speaking of the American Embassy now Mr Logic State Department whatever you will have it in order to get rid of the. Government which they definitely wanted to get rid of they had to allow the Vietnamese army to overthrow the regime and this perforce brought them a military government which was then overthrown by another military government I'm not sure at the time with the leverage that we had in the country that we really could have pushed the military out of the way and created some sort of I presume you're thinking of some sort of civilian popular represents a more popular government I'm not sure that we could have really done that at the time and. When one boils it down into practical terms it boils down to a choice between generals really between civilian politicians how do you feel the situation is now compared to the way it was right before the fall of Him Have things improved over the three years well I must say in my own mind as far as the Vietnamese are concerned. The situation definitely has not improved. In overall terms the injection of two hundred eighty thousand American troops has certainly stabilized the military situation to a certain extent American power has prevented the. Both the Vietcong and the North Vietnamese from gaining any sort of military victory here and I don't see how in the face of the kind of firepower the United States can deploy here that they ever can win any sort of military victory I don't foresee any food or anything like that the key government of course has remained in power for a little over a year now and on the surface this is political stability however I think that. The regime is dependent for its survival almost entirely on the fact that the generals have been able to hang together more alas and because of a toll because of the regime's hold over the administration and the army and the fact that it gets quite open United States support to the point of intervention and its favorite key moments in the last political crisis however I don't think the regime has any real popular support of any kind I also don't think we've made much progress in terms of pacifying villages and building the kind of affective self-sustaining Vietnamese society that would enable us to eventually leave the country. DOING TO STAND YOU property when you say we haven't we really didn't have much choice except to support military governments and that we are now supporting Kian that he is not a popular government does not represent popular government do we have no choice but to support unpopular governments is that what you really say well I said that about the earlier period was one military regime after another in this latest political crisis the United States may have had a choice they could of withdrawing support from the military government and allowed it and we might then under those circumstances have ended up with a Buddhist dominated government here that is a government dominated by the unified Buddhist church. Which is one Buddhist sect the largest Buddhist sect in the country but for their own reasons they clearly chose not to do that I'm not personally advocating that we should have done it one way or the other but I think that the United States is afraid of the Buddhists that is of the Buddhist leaders who are politically active here for a number of reasons and as I look back on it they apparently decided not to trade one bird in hand for possibly two more in the Bush. Or let us say they decided not to trade a military government they were able to work with to a certain extent for a civilian Buddhist dominated regime which would which might have tendencies which would make our presence rather difficult here which might be very difficult to deal with. I think it's become very clear from the Buddhist demonstrations the type of propaganda they put out that the Buddhist leaders the unified Buddhist church that is the militant faction led by tree Kwanzaa. Are more or less for the for whatever reasons they may have opposed to the war Mr Sheen What effect do you think the repressive movement the premier key took against the Buddhist. Will have on the upcoming election. Well I think the military regime has shown that it has no intention of giving up power willingly military governments usually don't and I don't think this government will prove any exception to the rule I think what the generals are trying to do basically is to legitimatize their power through some sort of electoral process I don't think they intend to give up power to any sort of civilian government I think the electoral law which they have very carefully done and created in such a fashion as to favor them shows their intentions also the degree law covering the functions of the constitutional assembly is written in such a fashion that with one third of the assembly the generals can virtually write the constitution could you go into a little more detail about how the government is maintaining power through these two. Well first of all let's take the electoral law itself in roughly half the constituencies the candidates will present themselves to the voters and sleights three four five candidates purslane. Then once the voting is taking place the votes will be divided up through a very complicated fractional voting system something with French call I believe Scott Tand at least it's a very complicated arrangement under the system they will quite likely be able to get more deputies who favor themselves and others who are more or less government candidates into the assembly than they would have otherwise you know what about the second part that has to do with the one third minority being able to paralyze the two thirds majority Well the decree law which governs the functioning of the Constitution the constitutional assembly itself states that once the draft of the Constitution has been submitted to the hunter it can then be returned with amendments and these amendments must be defeated by two thirds roll call vote of the assembly. Therefore with slightly more than one third of the assembly the hunter can virtually rewrite the entire Constitution and its own to its own liking. What do you feel it would be the effects of somehow. Making this election not really matter not really count not make much difference what would be the significance of these kind of moves that more or less destroy the validity of the election. Well I think it all depends on what we come up with once the Constituent Assembly meets and once it comes up with a draft and the kind of amendments the generals are going to submit to it. And all of this is terribly much up in the air if this military government is still here at the end of of another six months. We could end up with one kind of situation if it isn't we could end up with another all of this I think is terribly difficult for seen but if the generals have their way I think we will end up with. A certain process which legitimatizes their power they've they have very much in mind the premier key has very much in mind repeating what part Jim he was able to do in Korea that is get in. That is transform a military government into a sort of pseudo civilian regime through some kind of legitimatizing process in this country the generals are aiming at it doing through some sort of electoral process can you gauge it all to what degree. Does have popular support. Well as far as I can gauge the regime doesn't have any popular support to speak up I just don't think they have it on the other hand I don't think that there is widespread an antipathy to the regime. I don't get the kind of feeling of widespread on refs that one did here in the final months of this young regime I think the general attitude of Vietnamese that I can gather towards this government is more more one of apathy than anything else. And you don't think that the election will then change it much one way or the other be about the same thing provided the general stay in power and I suspect we'll probably end up with roughly the same thing perhaps and different costume but one will end up with roughly the same thing. To what degree do you think there is a threat of an upsurge in anti Americanism especially since the election didn't will not provide an outlet for really popular opinion to be expressed. Well I think that there is a good deal of resentment of the American presence here it's very obvious there is resentment of the economic problems the inflation that the American presence has brought I don't think at the moment there is. Any sort of widespread active anti-Americanism in the sense that large numbers of Vietnamese want the Americans to withdraw large numbers of urban Vietnamese let us say I don't think that's true but we saw. A good deal of anti-Americanism among certain sectors of the society during the crisis on the part of the students and the intellectuals in central Vietnam remember the consulate was the US I house was burned I think it's very much there in certain segments of the society particularly as I say among the civilian followers of the of the militant Buddhists who distrust the American presence here who are more nationalistic and xenophobic than than other sectors of the society who are perhaps more traditionally Vietnamese and their distrust of foreigners but if the military regime manages to remain in power. I don't think I'm guessing now but I don't think we'll see any upsurge Mantei Merican ism if we get political instability again then I think we'll see it because politicians who are trying to get into power will exploit this feeling attempt to rouse it as a tool to get into power and I think voters were very obviously doing that and you made a distinction between the urban population being not actively anti-American at this point what is your feeling that the rural population. Well we control so little of the rural population now in any any solid fashion that it is very difficult to speak of the feelings of the rural population the fuselages that one is able to get into and talk to another fuel but there are a number of villages but the Villages one is able to get into and get some sort of sampling out I get a feeling of apathy these people I think are tired of the war the peasants in the countryside are caught in the middle I was in one village in march south of denying where the Marines had been working our Marines had been working for six months trying to pacify the village with a Vietnamese pacification team. Some peasants were putting up a fence around the village I asked several of them did they think the fence would do any good and they said no they didn't think France would do any good in terms of keeping the Vietcong out I said well why are you putting the fence up so we're putting a fence up because the government people here told us to put a fence so I said What did you do when the Vietcong years ago we dug ditches and set booby traps for the Vietcong or did you do before that while I was a strategic hamlet they put up another fence them then and had to take the fence down one of you had conquered him and it will why do you do all these things he said look we're just playing people we have to obey whatever government is here we had Kong government or otherwise and I think that's the attitude as far as I can gauge of the people I get in to see and in a good many of these villages they're there apathetic they're. Tired of the fighting they're sick of the war they've had years and years and years of it. And there's been a great deal of optimism guarding the pacification program and the potential for them. Do you feel it's as bleak as you just described in that narrative. Well that was one village as I say it's terribly difficult to get any kind of sampling of the rule of rural opinion in this country since we control very little of the countryside but I'm not personally very optimistic about the pacification program so far I don't think it's had any solid concrete success over any wider areas and this is an extremely difficult thing to do to pacify this country the Vietnamese government's we have worked with have shown and the inability over the years to pacify the country. And I don't see anything in them in I haven't seen any evidence so far that that that they've been able to overcome this inability I think this is the great difficulty here can you describe why it's so difficult what it what makes its own possible why can't we offer them something they really want to fight for. Well first of all the the Communist Party here has bent over twenty years building an organization in this country it is built its organization through struggle through war and of this of necessity through this process it is come up with a with a very flexible in certain areas and others inflexible but let's let us a very resilient tough organization in which capable men survive and incompetent ones either die they're killed are swept by the wayside in the process of trying to make a revolution where is the government's we've. Worked with here have been afflicted over the years with. Family nepotism and corruption and a general sort of ineffectiveness inability to deal with their own people. Political upheavals which of shatter the administrations time after time they've also obviously been faced with this communist organization which is an art a way that them away at them over the years and as a result I think we're dealing with a very vitiated society here society which has been vitiated by over twenty years morally politically. In terms of simple manpower uncertain terms of talented people remember we've got thousands of Yes I mean he's involved in this to G M A program under the Z.M. and it collapsed a lot of people were killed. Then you start this process all over again you've got to look for other Vietnamese to do it so in terms of why these governments have been able to unable to deal with it it is a terribly complicated business but it's basically what you boil it down what you can boil it down to is that they're able to relate themselves to their own people to offer their own people some thing which is a better choice than. What the communist is able to offer in the villages and Mr Sheen you have any explanation why the communists seem able to. One the dedication in their own part which doesn't seem to be the case with the South even in these government and secondly be so successful in controlling the population we seem to sail over and over again with much greater resources. Well I think this goes back to the struggle against the French and the whole history of this country since one thousand nine hundred four for a number of reasons which are. One doesn't want to go into because they're so complicated the communists led the struggle against the French the Communist Party was provided the leadership which resulted in the defeat of the French in this country and I think in the process the communist party captured a great deal of the nationalist drive and the Vietnamese and also in order to defeat the French the Communists had to build an organization in the countryside in the villages. Therefore they they developed techniques they developed people leadership from the villages themselves rule leadership within the party itself within its administration within the girl armed forces etc. Whereas the Vietnamese we deal with here the Vietnamese who on our side are by and large urbanized Vietnamese they are Vietnamese who. Either supported the French or stood aside during the struggle simply because. They either had interests in the French administration or they couldn't really support either side they didn't like the communists and they didn't like the French so they basically stood aside let's take a look at some of the people Francis we deal with Premier key is a former French fighter pilot general when who call the deputy prime minister here is a former lieutenant I think a major lieutenant colonel in the French army most of the Vietnamese generals have at one time or another served in the French army they came up this way. Therefore their attitude there the techniques they use are are terribly westernized and in terms of their own people whereas the communist as as I said as I say had to work with his own people in the countryside had to develop leadership out of the resources the country could get so I think these governments have it this I think this has a great deal to do with why these governments have a difficulty relating to their own people because you and many ways you have two different cultures here you have the urbanized rather Europeanized culture of the towns in the cities and they are much more traditionally Vietnamese culture of the countryside and it's a kind of two different worlds and in a way and so the the urbanised Vietnamese is finds it difficult to to relate to the countryside to work with the peasantry etc Mr Denby indicated that we have to find leadership from the population itself and if so is it possible to think I don't really know or perhaps. The kind of leadership we got this urbanized type of Vietnamese leadership we have me eventually find some way of dealing with its people in the countryside effectively perhaps this kind of leadership may emerge over the process over the next few years I just don't know I don't know how you go about. Pulling up these people how do you select them that sort of thing terribly complicated maybe it'll emerge and perhaps it won't I just don't. Know that you're leaving Vietnam after spending three years here I wonder if you could talk a little bit about what you think the prospects are for some kind of. These terms or sir so very good victory or bore honorable peace first of all if we defeated the main force of the North Vietnamese troops in the V.C. troops. Then where would we be. I don't think we'd have won the war that now if we're speaking of winning the war in terms of pacifying the country and creating in one fashion or another through some means or another a self-sustaining effective Vietnamese government which can run its own country without having to have foreign troops here to keep it in power. Against an internal external however you want to call it an enemy perhaps both internal and external enemy that it faces. The. Long range thing that worries me here is that we could end up defeating our Let us say breaking up the North Vietnamese large North Vietnamese army and a main force Viet Cong units in the country but still wouldn't be able to really solidify our military progress because we couldn't pacify the villages so that while we kept troops in an area things would be quiet but when we pulled the troops out they were all a moment would start emerging again this I think is probably the long range the difficulty involved here I don't think the North Vietnamese can win any military victory here in the face of American power all these questions are so if you what do you foresee over the next few years barring say a major U.S. withdrawal and barring a major breakthrough which seems unlikely in terms of getting a genuinely popular government. What's going to happen what is going to keep slogging about how. Well this country and this war are always full of surprises so who knows what will happen here. But. Now that the United States is committed here in such Bastille Ray I don't see how it can very easily withdraw from the country I mean we're here and now regardless of why we got here we're here. And I don't see how we can simply disengage and then run away we won't be able to forget Vietnam it's going to be here so perhaps what we all will end up doing here is simply slogging it out for years to come and with an uncertain outcome. Knowing that we won't ever lose militarily so long as we can keep the troops here but with the ultimate outcome of the whole thing somewhat uncertain I just don't see how they can start withdrawing troops I don't see any sort of quick end to the saying it I suspect from what most American officials say here. Is that it will be a long war. And what do you think is the importance of this here given the basically bleak prospect of that picture that the prospects for winning. Well. First of all the prospect of winning might not necessarily be bleak I mean I just don't know the North Vietnamese have got their problems as well and over the years how long they're going to be able to withstand the American bombing and the kind of killing that's going on here in the South their own troops this is good as I say create serious problems for them as time goes on they're taking any good deal of punishment here in the south and some in the north but. Why should we stay in Vietnam Well I think that's one of those I think there is one of these situations a great power gets self-involved and for a variety of reasons slowly over the years and once it is involved its prestige is at stake it is its It has a commitment it's created a presence which is to a certain extent self perpetuating and if it leaves it loses face as the Asian say or it loses prestige. If we were to withdraw from here we could have the I withdraw could create certain pretty precipitate of sex in the rest of Southeast Asia in Thailand in the Philippines perhaps in Indonesia who knows so that I don't see how we can withdraw from Vietnam very rapidly just disengage and walk away and forget about it I think what we're hearing now and we're sort of stuck with it. And I I just don't see what the solutions are but at the same time I don't I don't see how disengaging would be any solution and I suppose we'll just probably models who the things the years go by and hope for the best Mr Thank you my guest has been Mr Neil Sheehan who has been a correspondent with The New York Times bureau in Saigon for the past three years out of four and is now living Vietnam to return to the United States thank you and goodbye for now.