Soundcheck
Neil Gaiman and Amanda Palmer's Traveling Roadshow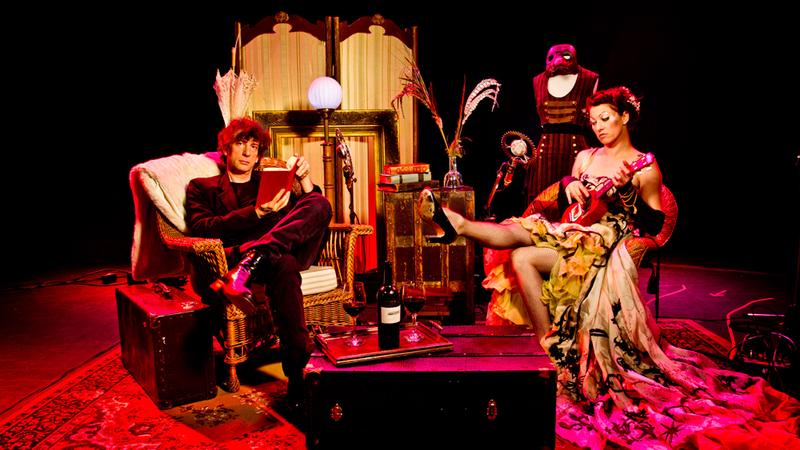 It's fair to say that best-selling author Neil Gaiman and provocative songwriter and musically audacious firebrand Amanda Palmer have separately accumulated acclaimed bodies of work that have both won over fans and broken the Internet in half.
Gaiman's superb Sandman series was a watershed moment in the development of graphic novels. He's also the creator of Coraline and the author of the novels American Gods, and, most recently, The Ocean At The End Of The Lane.
Palmer -- the former frontwoman of the punk cabaret duo The Dresden Dolls -- is known as the "Social Media Queen of Rock 'n' Roll" thanks to her frequent engagement with her devoted fans who have helped fund her music via a successful -- and divisive -- Kickstarter campaign which resulted in last year's Theatre Is Evil, her first album with her new band The Grand Theft Orchestra.
But collectively, Gaiman and Palmer may be one of the most creative power couples around.
After Gaiman and Palmer got married a few years back, the two decided to go on a road trip. Then they thought, "Why not do some shows while we're at it? Why not do some shows together?" Soon, they had assembled a wildly popular traveling roadshow featuring a night of filled songs, covers, and duets, and readings of poetry, short stories and more. 
Those performances are now collected in a just-released three-disc set, An Evening With Neil Gaiman & Amanda Palmer.
In an interview with Soundcheck host John Schaefer, Gaiman and Palmer talk about their collaboration as they prepare to bring the show to Town Hall in New York this weekend, perform a duet live, and share some details about a few upcoming projects: Gaiman's television adaptation of American Gods and Palmer's book deal.
Hear Amanda Palmer and Neil Gaiman perform "Psycho," a disturbing country classic by Leon Payne:
Interview Highlights
On the biggest conflict of being together on stage
Amanda Palmer: We're both so used to being in charge when we do our own gigs...that we wound up having little disagreements and spats about, like, what the song order should be, and what little details should be, and we were both really all of a sudden --

Neil Gaiman: ...We were both baffled at the idea that somebody else could have an opinion that could matter!

AP: That was a little rough to work through. Total battle of the divas, and I think probably very healthy for our marriage.

NG: As marriage things go, it was magnificent, because it definitely taught both of us humility, especially me.
Gaiman, on the reported HBO adaptation of American Gods:
I can say that it's not with HBO any longer. I am not in a position to tell you who it is actually with because the final pieces of paper have not yet been signed. But it is chugging very very happily forward.
Amanda Palmer, on her new book deal:
On the back of my TED Talk, which was really successful, I signed a book contract with Hachette. And I'm going to be sitting down to try to pen an entire nonfiction book -- I haven't really nailed it, but I'm pretty sure it's gonna be about the intersection between art and asking, and why artists and people in general have such a difficult time asking for things, which is a topic I've been discussing with a lot of artist friends lately in this new weird culture of digital sharing and crowd-funding and confusion.