Navajo Jewelry, From One Family's Hands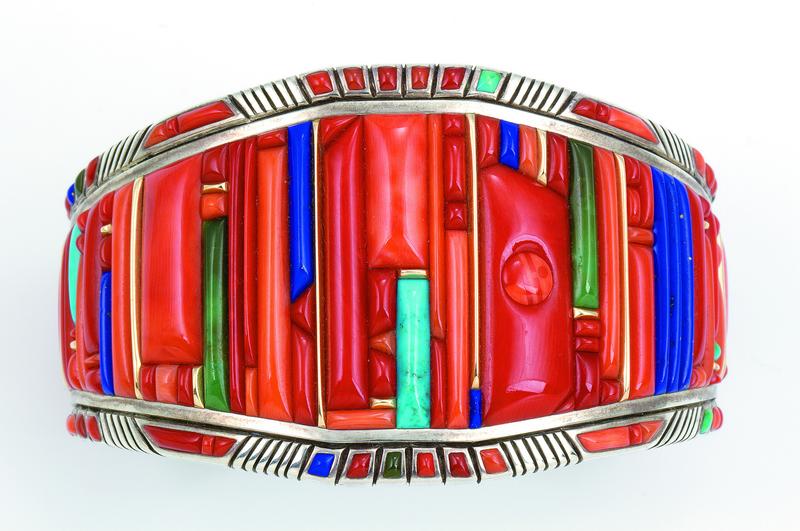 Ray and Lee Yazzie of Gallup, New Mexico, are the Harry Winston of the Navajo culture. They design intricate and sophisticated jewelry that sell for several thousands of dollars and are as prestigious for Native Americans as the pieces from the famous American jeweler of diamonds.
A new exhibit at the Smithsonian's National Museum of the American Indian in New York highlights the brothers' jewelry in stone, silver and gold.
"Glittering World: Navajo Jewelry of the Yazzie Family" features about 300 examples of contemporary jewelry – bracelets, necklaces, and belts made of turquoise, coral, lapis lazuli and other stones – and it covers the history of jewelry-making in the Navajo culture.
Ray and Lee are two of 12 children. Although their parents and several of their siblings also work with jewelry, the brothers' work stood out.
Kathleen Ash-Milby, curator of the show, said the older brother Lee, born in 1950, wanted to become an accountant, but ended up embracing the family trade. Ray, who was born in 1959, wanted to be a jeweler from the beginning. "He really wanted to be a fine artist," she said. "This was his focus and his passion from the time he was a young teenager, and you can really see that in his work, from his early career."
Ash-Milby explained that jewelry has been in the Navajo culture for over 100 years and it's an important form of artistic expression.
"It's also something that people wear with pride, it's about identifying with your culture, I think historically it was also a way to show wealth, and prosperity, just like it is in other cultures," she said.
Gerilyn Tsosie, a Navajo from New Mexico, stumbled on the museum on her way to the Statue of Liberty. She said jewelry has an important meaning in her culture. "My parents always told me you got to wear the jewelry," she said. "When you do have a Navajo ceremony you wake up in the morning and they always tell you got to get up before the sun gets up and you have to meet the holy people, and it recognizes when you wear the jewelry they know you are Navajo."
Tsosie's husband is Harrison Tsosie, who is the Navajo attorney general, and was visiting the show with her. He said jewelry is also important for their people as the only wealth they own. "On Navajo land, we can't own our properties because the federal government holds title to it," he said. "For the most part the personal property that most folks have is jewelry. So they use jewelry to pawn and to get loans."
The show goes until January 2016. The museum is free and open every day.