The Takeaway
NATO General: West Won't Be Caught Off Guard by Putin Again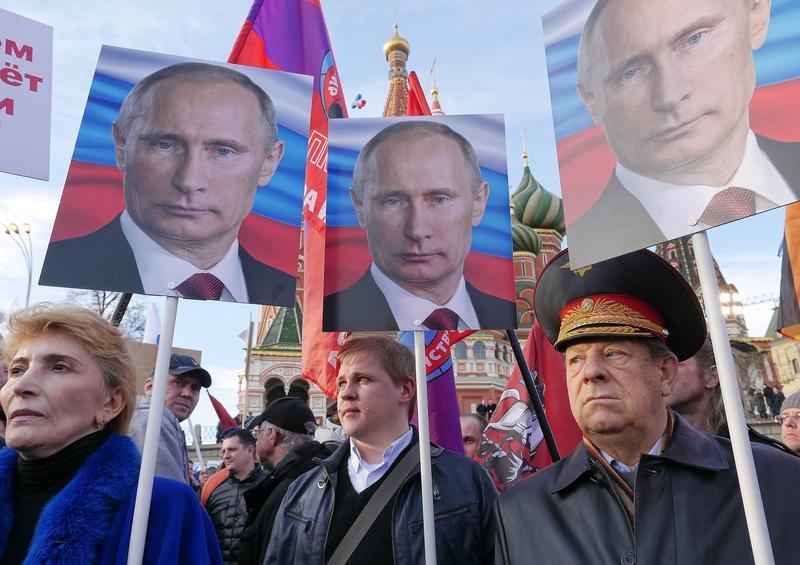 Earlier this week, fireworks burst into the sky during the one-year anniversary celebration of Russia's annexation of Crimea. But while President Vladimir Putin and his supporters toasted their victory, allied western forces have planning to develop a strategy to deal with a leader who has undermined the trust of many of the world powers.
"The events of a year ago are quite seared in my mind," said Major General Gordon "Skip" Davis, NATO's Deputy Chief of Staff of Operations and Intelligence at NATO's military headquarters in Belgium.
When Russia moved to annex Crimea, Davis had only been working in his current role for about nine months. He says that the annexation of Crimea was a move that the west did not see coming.
"We were very much focused on Ukraine writ large due to the events that we had seen unfurling as early as November of the previous year," Davis says. "We had gotten to the point where we were briefing almost daily and watching what was happening between the Maidan protesters and [Viktor] Yanukovych's government."
Then-President Yanukovych was ousted by the Ukrainian parliament on February 22, 2014. By February 26th, Davis says that unmarked soldiers and helicopters began showing up in Crimea.
"I don't think before the events of late February 2014 that we believed that Russia would violate [these borders]," he says. "We continue to expect, and still expect, that Russia will meet its international community obligations, and meet the secure agreements to which it's a signatory. There are many which they have violated to date that are really essential to European Security."
Since Putin has successfully been able to seize Crimea, Davis says that the west is on high alert and is working to ensure that a similar situation doesn't happen again.
"Looking back, and as we continue to try to understand Putin's psychology, I think now he has established a trend that has us all very focused on what he could do in the future," Davis says. "Much of what we're doing right now in NATO, and have been doing over the last year, is focusing on responding to a potential threat that Russian military capabilities and violations of sovereignty pose to the Alliance."
Since Russia annexed Crimea, Davis says that NATO has focused its attention towards the Baltic states.
"Since March of last year, we immediately embarked on a series of measures that we call 'Assurance Measures' with a number of key objectives," he says.
The NATO-led "assurance measures" being carried out in the Baltic are designed to reinstate confidence among European allies that have felt most threatened by Russia based on their geography. Davis says that NATO aims to demonstrate the resolve and defensive nature of the organization, and to deter aggression or the threat of aggression from other nations.
"The Allies have decided on a persistent presence in the East, not a forward stationing," says Davis. "NATO continues to respect its part of the NATO-Russia Founding Act, which says we're not going to station significant forces in the former Soviet Union-Warsaw Pact countries. What we're doing is basically ensuring that we have the capability to rapidly reinforce."
General Davis says the Kremlin's behavior is part of a larger and longer lineage of military deception known in Russia as "maskirovka," which translates literally to "a little masquerade" and employs techniques that surprise and deceive the enemy.
"They are absolutely capable of employing the maskirovka techniques in the future," he says. "It's a systemic mindset that they have really engrained and internalized for the better part of a century...Their desire and their ability to integrate all of their elements of national power into a design that masks their intent and their actions is critical to them—they believe that influences adversarial and international decision making."
He continues: "They work along all lines of effort—from diplomatic, to informational with what we'd call their state controlled media and propaganda, to their military, both unconventional and irregular support, and then of course economic levers wherever they can use that for their influence. We can already tell by their signals that they are willing to use maskirovka and unconventional and irregular means of maintaining influence in countries where they're concerned or already see westward orientation or integration."