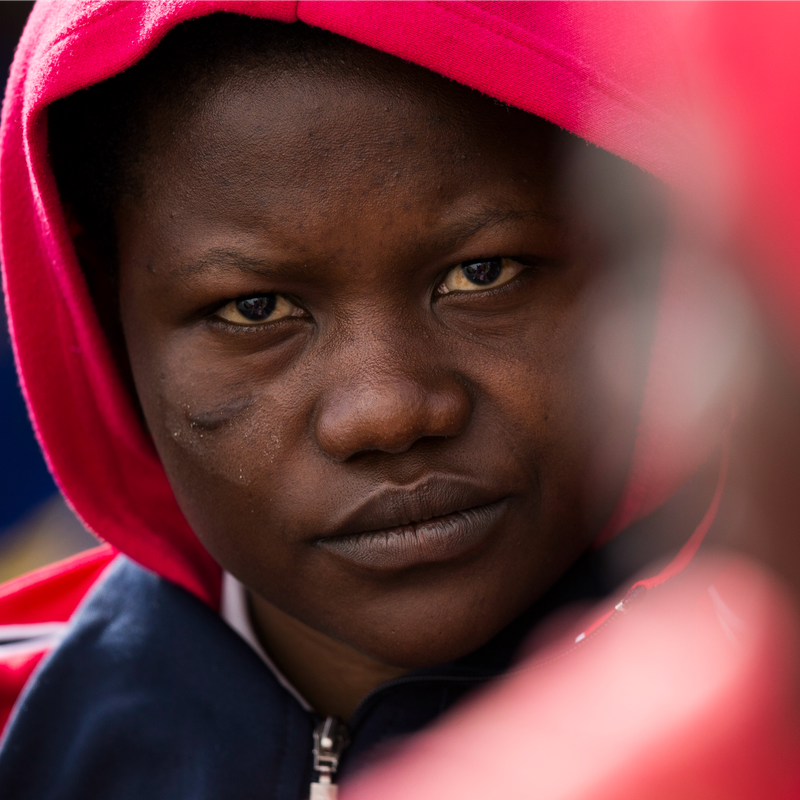 Summary
The latest refugee deaths in the Mediterranean brings this year's death toll to an estimated 1,750. But popular response to the tragedy, especially in the UK, has been mixed. Brooke talks with Heaven Crawley, scholar of international migration at Coventry University, about the problems with prevailing narratives of migration, and how they affect policy. 
Transcript
BROOKE: From WNYC in New York this is On the Media, I'm Brooke Gladstone.
BOB: And I'm Bob Garfield. Early this week a ship carrying some 850 people collided with a Portuguese rescue ship sixty miles off the coast of Libya, and capsized. They were refugees, from Tunisia, Nigeria, Somalia Bangladesh, Egypt and elsewhere, fleeing persecution, poverty and war. Of those on board, only 28 survived.
Add that grim toll to the 400 drowned last week in very similar circumstances, and the number of refugees who have died trying to cross the Mediterranean is an estimated 1,750 so far only this year - 30 times more than a year ago.
And in the rapidly escalating crisis, the eyes of the world have turned to the leaders of the European Union.
MSNBC: Now it is spurring strong new cause for European leaders to address the crisis of migrants fleeing the violence in Libya and other parts of Northern Africa….
BBC: Search and rescue operations of run by the EU border control agency has nowhere near enough planes or boats to deal with the current crisis...
Al Jazeera: European leaders are also aware of their own domestic political situations and the concern, the hostility toward more immigrants coming toward this continent.
The hapless response reflects mounting anti-immigration sentiment across Europe, some of which trickled up through the media coverage of the tragedy. The most glaring example was in the British tabloid press, where Katie Hopkins, a former reality star turned columnist for the Sun newspaper, penned an article titled, "Rescue Boats? I'd use gunships to stop migrants."
Quote, "'Make no mistake, these migrants are like cockroaches. They might look like 'Bob Geldof's Ethiopia circa 1984' but they are built to survive a nuclear bomb... Some of our towns are festering sores, plagued by swarms of migrants and asylum seekers, shelling out benefits like Monopoly money."
BROOKE: To be sure, her remarks generated widespread outrage. The tabloids reports that she's even having trouble booking guests for her show. But Heaven Crawley, a professor of International Migration at Coventry University in the UK, says that Hopkins column has opened the door to similar invective…
CRAWLEY: Even a few years ago you could not have imagined this particular newspaper allowing this columnist to say something like this. There has been a lot of protest, but i have to say, there's also a lot of commentary which agrees with what she says, it sort of legitimates a certain view of the crisis.
BROOKE; So what's going on in the UK now that makes this sort of thing possible?
CRAWLEY: We're coming up for an election on the 7th of May. And migration has been an issue for many months now. But it's nothing new. In 2004 when we opened up the European Union and added some more countries that could migrate, the debate became again more negative. It's just that the current political context has escalated the extent to which the issue of migration has become a kind of touchstone for a political party's stand in relation to a whole range of other issues actually.
BROOKE: What is the narrative that prevails among the public as far as you understand it?
CRAWLEY: In the popular discourse and in the political discourse there are three main themes. the first is around the economic threat around migration. Although we know from the social scientific evidence that actually migration is really important for our labor market, it encourages dynamism in the economy -- the common sense argument is that migrants take away jobs from native workers, they're a threat to the national health service that we have in the UK, and put pressure on welfare benefits etc.
There's been a lot of concern about security, whether migration brings with it a threat in terms of people who would want to in some way harm the British public. The other narrative that's very powerful is a threat to identity. So, a debate about Britishness, about what that means, about religion and race, all those issues that are also very prevalent in some of the US debates.
BROOKE: You know what I find particularly interesting, is that the UK is really the least affected country in all of this. Italy is bearing the brunt of resettlements, and yet the press in Italy seems far more sympathetic to the fate of these migrants.
CRAWLEY: When you have actual human beings dying in your midst, then the whole thing becomes humanized. And so for the Italians, having this happening, and it's been happening for very many years, they see funerals for hundreds of people who are drowning. Many people are involved in the rescue attempt, they're trying to support people as they arrive.
And it's interesting you also pick up the kind of remoteness of the UK from this, and that it's attitude is more hostile. Actually if you look at opinion in the UK about migration in general, those areas of the UK with the least migrants, are the most hostile. because as soon as you have migrants in your community, suddenly the migrant becomes a fellow human being.
BROOKE: Looking at the coverage, the media and politicians tend to use the terms migrants, immigrants, refugees pretty much interchangeably. Can you unpack these terms, and parse them out?
CRAWLEY: They do use them interchangeably, but when you hear people talk about the boats, they almost invariably talk about migrants in the boats. They don't talk about refugees, because as soon as you say refugee, that elicits the question, so why are they fleeing? What kind of obligations do we have to them under international refugee law? What's the protection they should be given? IT's much easier in a way to put them into the category of migrant all the same. They lose their stories, they lose their individual hopes and aspirations, and become part of a mass, and therefore they fit more securely in our security narrative, if you like.
BROOKE: The Italian representative for the United Nations High Commissioner for Refugees basically says that because of elections and the economic crisis, anti-immigrant rhetoric and political dialogue across Europe is actually costing the lives of migrants.
CRAWLEY: He was very clearly referring to something that happened back in October 2014. A discussion amongst European policy makers about what should happen with this search and rescue mission, and one of our junior British Foreign ministers in the house of Lords, very explicitly said, we are not going to support the search and rescue mission because we believe it will encourage migrants to come to the UK. So, you can see very clearly there that this anxiety that people might come to the UK actually lead to a decision at the European level not to fund a search and rescue mission, which in turn has lead to over the last few weeks, the death of more than 1500 people.
BROOKE: The story seems to start too late, when they get on their boats, and not before. Libya has received the lion's share of the attention, but there's no southern route out of Libya now, because ISIS is blocking them. And there's no authority there, it's pretty much of a failed state, so it's easier for smugglers to get the boats out.
CRAWLEY: And of course the Europeans have blocked off the western Mediterranean route. So of course people are now having to go from Libya and the central Mediterranean route from LIbya is much longer, it's much further to travel across the sea, and therefore the chance of those boats coming into trouble is actually much higher. Everything we do in terms of our interaction with those countries is having a knock on effect, sometimes immediately, sometimes two or three years down the line, and there seems to be no sense of history or responsibility for creating some of those scenarios.
BROOKE; If you were going to list the top misconceptions that are constantly repeated in the media, what would they be?
CRAWLEY: Number one is migrants take our jobs.
BROOKE: What would number two be?
CRAWLEY: This idea that asylum seekers are not genuine, the bogus asylum seeker. You know we have an international legal system designed to prevent a situation like the one we saw after the Holocaust. That system is there for a reason, and it's still very much needed. My third one would be this is dea that we can "do something" to stop migration. Migration is here to stay, and the scale and the speed of that is simply going to increase into the future, and as long as we keep looking back 30 years and using these frames of reference based on models that were before the globalization of labor markets and before the internationalization of conflict, then we won't get anywhere. Because we'll just keep putting up walls, we'll put up walls across the Arizona desert, and we'll put them up around Europe and we'll put them across the Australian borders. And none of those things solved the problem which is that people are moving, and people are moving in increasingly large numbers, and they're moving for increasingly complex reasons.
BROOKE: What do you wish you would never see again in the coverage, in terms of a cliche or trope, and what do you wish would replace them?
CRAWLEY: I would want to replace the pictures of boats full of highly homogeneous images of often what look like very large numbers of deindividualized human beings in the distance as a sort of threat coming towards you. We know what a boat full of people looks like: what we don't have a sense of is it the individuals that make up that population. And I would want to sees stories of individuals who are directly affected by this. I think they're very powerful.
There was a story in one of our newspapers this morning written by a young Iranian woman who was studying in the UK about her cousin who was an electronics engineer from Syria, and the headline was, "My Cousin Was Fleeing the Horrors of Syria and he Drowned in the Sea." And it was a very poignant reminder that we are in the place that we're in by luck and by chance, and not because we're better than anybody else, but that we happen to be born in the right place at the right moment in history.
BROOKE: HEaven, thank you very much.
CRAWLEY: Thank you, it's been a pleasure.

BROOKE: Heaven Crawley is a professor in International Migration at the Centre for Trust, Peace, and Social Relations at Coventry University in the UK. Heaven, welcome to On the Media.