The Mystery of Christie's Deleted Bridgegate Text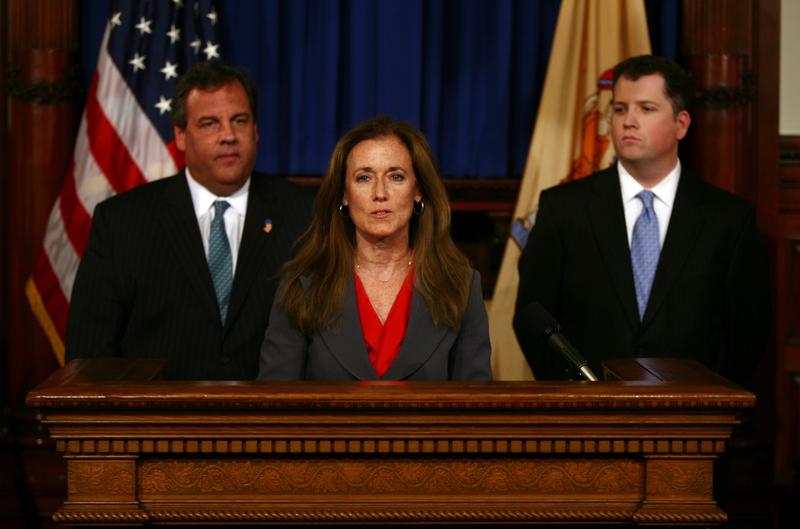 The mystery of the deleted text sent to New Jersey Gov. Chris Christie from his incoming chief of staff at a key moment in the Bridgegate inquiry continues.
Lawyers for team Christie are refusing to supply any additional information about the deleted text, which first became public two weeks ago when incoming chief of staff Regina Egea acknowledged at a hearing of the New Jersey legislature that she had written and deleted it. 
Christie's legal team also isn't explaining why the governor didn't turn over the text to investigators, if he also deleted it, or why. Or if he deleted other texts. In all of the nearly 10,000 pages of documents released so far, there is only one communication from Christie to any of his staff – in which he edits a statement thanking key Bridgegate figure David Wildstein for his service as he resigned from the Port Authority of New York and New Jersey.
On Friday, Christie did little to clear up the mystery of the deleted text.  "If I had it I would have turned it over," Christie said. "I have no recollection of it at all. It obviously was something of no moment or no import." 
The existence of the text first emerged in interview notes released by Christie's lawyer, Randy Mastro. "Egea believed she may also have texted the governor her thoughts about the Port Authority employees sounding professional during their Dec. 9, 2013 testimony."
Now, it's important to understand what happened that day — Dec. 9, 2013.
That was the day that Port Authority Executive Director Pat Foye and top professional employees at the Port Authority delivered bombshell testimony in Trenton demolishing the cover story repeated like a mantra: The bridge fiasco was the result of a legitimate traffic study poorly communicated to local officials, the public and senior officials at the Port Authority. In fact, Egea herself had just spent a week preparing former Deputy Executive Director Bill Baroni to say just that in his testimony to the legislature.
But on Dec. 9, Cedrick Fulton, the director of bridges and tunnels, said in Trenton that he'd never seen a traffic study like this one. Most were planned for years, didn't involve any sort of traffic disruption whatsoever, and involved extensive talks with local officials.
"Did this seem wrong?" Fulton was asked.
"Yes, it did," he responded, adding that the order to close the lanes the Friday beforehand was "rare," "odd" and "unique," and that he was ordered by David Wildstein "not to speak to Fort Lee."
Fulton was most concerned that Foye, the media and local officials be notified and he testified that Wildstein told him, "We will take care of that."
Wildstein did not take care of that.
"This will not end well," Fulton would later tell Wildstein, according to his testimony.
Foye also said there was no traffic study on Dec. 9, that what happened was "aberrational" and "illegal." And that same day, Robert Durando, the director of the George Washington Bridge, tacitly acknowledged there was a "culture of fear" at the Port Authority.
Last month, Egea was asked about that mystery text by Sen. Loretta Weinberg. Egea answered: "I did not retain it."  Egea then volunteered she may have texted, "I thought [Fulton] was balanced and professional in his presentation and discussion of the alternatives."  She did not explain why she would text something so banal when she admittedly texted the governor "not frequently."  Egea also couldn't really answer why she deleted the text, other than she didn't think she needed it any more.
Under New Jersey law, the record should have been saved.
"We've all been refreshed, in the governor's office, about our obligation to retain," Egea told Weinberg.
Egea also could not answer when exactly she deleted the text, information that help investigators shed light on what was happening within the Christie Administration during that time. What they do know is that in the three days after she sent the text, there was a swirl of activity in Trenton related to the growing scandal, including stepped-up internal inquiries; an emotional meeting between Christie and his top staff; a request by Bridget Kelly to delete another key email; Christie's blanket denial that his top aides were involved; and the resignation of Bill Baroni.
Since the surprise announcement on July 17 of the deleted text, members of the legislature's investigative committee have been trying to get the text, other texts or communications that might have been exchanged between Christie and Egea and a "mirror image" of Egea's cell phone, which might reveal additional information. But despite two weeks of legal exchanges, no new information has emerged.