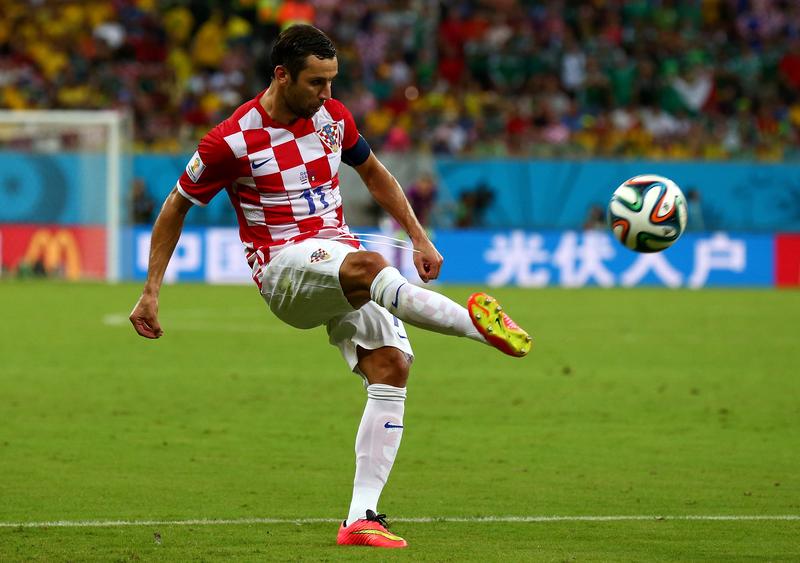 Yesterday was the start of the final round of games in the group stage, which meant a change in the format. Up until yesterday, you could watch every game, assuming you had the time and the inclination. Fortunately for me, I had both; it was the reason for my vacation, after all. But in the final group games, all four teams play their two games simultaneously. And that means having to pick which game you're gonna watch. With Spain and Australia facing each other and both already eliminated from advancing in the tournament, it was an easy choice to watch the Netherlands/Chile game. In the other group, Brazil played Cameroon, also eliminated, while Mexico and Croatia battled for the other spot, presumably behind Brazil, in the knockout stage. So there was a lot on the line for both teams and that too became an easy decision.
If you're wondering why it's done this way, it's to avoid the kind of chicanery that has marred World Cups in the past. In 1978, Argentina went into its final game after its arch-rival Brazil had already finished. The Argentines knew that a win versus Peru would be enough to move them through, but a big win would eliminate the Brazilians as well. So instead of coasting to a comfortable victory, they ran up the score against an overmatched opponent, taking Brazil out.
An even more infamous example took place in 1982, when West Germany played Austria after the surprising Algerian team had already finished its final game. Anyone who could do second-grade math could figure out that a German win by one or two goals would move both them and their Austrian friends through and keep Algeria out. Sure enough, the West Germans scored one early goal, and the two sides then played out a drab, suspiciously unambitious game.
This all came back into the conversation as soon as Portugal scored its last-gasp goal against the Americans on Sunday to snatch a draw and deny our team a guaranteed spot in the next round. It took about 40 seconds before people started realizing that a draw between Germany and the U.S.A. in their final game would move both teams through. Our German coach Jürgen Klinsmann found himself answering questions about whether he'd "accept a draw if it was offered." Of course he said no, that the Americans wanted to try to win the group and would be out to beat the heavily-favored Germans. Plus, he noted, the U.S. could've kept their arch-rivals, Mexico, out of the World Cup but instead played hard in an otherwise meaningless game against Panama... which allowed Mexico to sneak in at Panama's expense.
Let's face it: If Portugal and Ghana played their game first, and perhaps played to a draw, eliminating both countries, then the German-American match would become a much less dramatic affair. This way, no one can be sure what the other teams are doing, so you have to go out there and play full tilt. The simultaneous finales to the group stage are a good rule; but it is part of the legacy of the World Cup's occasionally unsavory past.
As for the games, Netherlands/Chile featured few chances until the Dutch asserted themselves late on to score twice. This meant they would win the group and avoid having to play Brazil in the next round. Instead, they'd get the winner of Croatia/Mexico. Chile, meanwhile, moves on but has to face the home team.
The Croatia versus Mexico match was a more attack-minded game, but it was also a bit sloppy. A draw would've been enough for Mexico, but full credit to them for not playing for the draw; they went for the win, putting Croatia under severe pressure after the hour mark, and then pulling away late to get a fully deserved victory to put them through. In fact, for a few minutes, they seemed to be closing in on winning the whole group -- something that added even more drama to the playing of both games simultaneously.
As for today's song, did you notice what the Mexican fans were singing as their team suddenly exploded for three quick goals? It was the old mariachi favorite "Cielito Lindo," known to Baby Boomers as the song sung by the Frito Bandito in a series of popular if politically incorrect TV ads for Fritos chips. It has become the official anthem of the Mexican National Team, and it has to be our song for today.
But that doesn't mean it needs to be some hackneyed, old-fashioned arrangement. Not when we have the Austin, Texas band Chingon -- led by film director (El Mariachi, Sky Kids) and sometime guitarist Robert Rodriguez -- available to drag this old Mexican favorite into the 21st century.