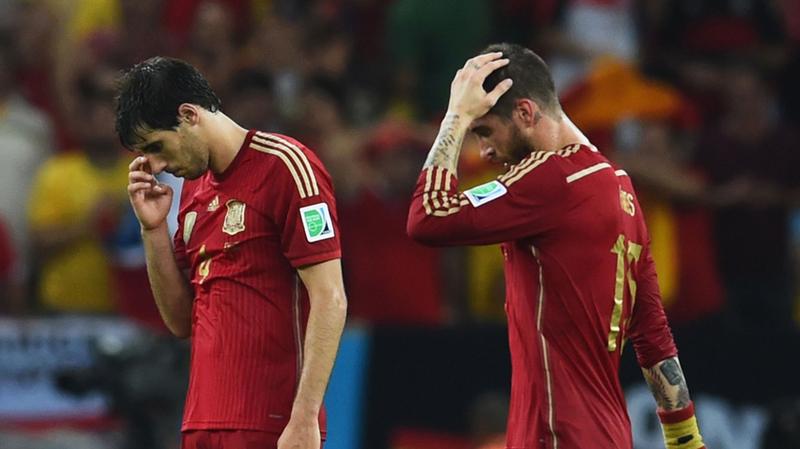 The king is dead; long live the king. Spain, defending World Cup champs and two-time Euro Cup champions, will not make it to the knockout stage of this year's tournament. After being embarrassed (there's no other word for it) by the Dutch last week, the Spanish side lost again yesterday, to Chile, 2-0.
Spain were worthy kings of soccer. Even if you rooted for another team, their fluid geometry and precise passing were a joy to watch. And when they beat a cynical Dutch squad to finally hoist the trophy in South Africa in 2010, they forever put to rest their longtime reputation as the Team That Couldn't Win The Big One. They franked their claims two years later by repeating as Euro Cup champs, giving them basically a six year reign at the top of the footballing heap. Now they're heading home (after playing a meaningless game against Australia to wrap up the group stage).
Big props to Chile, who fully earned their win and their progression to the knockout stage. But spare a thought for the now ex-champions, who were by and large fine role models as well as winners.
Australia, by the way, is also going home. But regardless of what happens against Spain, they go home with heads held high -- an indication of the low expectations, perhaps, that accompanied them to Brazil, but also a result of their brave, battling performance yesterday against the Netherlands, one of the strongest teams in the world. Tim Cahill, now playing with the New York Red Bulls of Major League Soccer after a wonderful career, mostly with Everton in the U.K., scored the goal of the tournament -- a left-footed volley of a cross that came in over his right shoulder. And then we saw the other side of the combative Aussie when he needlessly fouled a Dutch opponent and got his second yellow card of the tourney, meaning he will be suspended for the Socceroos' (yes, that's their name) final game.
So Cahill will be one lonely figure -- a lonely Bull, if you will -- on the sidelines next week. And yes, I was prepared to make Herb Alpert's classic hit "The Lonely Bull" our song for today. But instead, it will have to be a song I thought I'd be saving for the quarterfinals of the World Cup. After all, there were signs in recent months that Spain was on the way down after their championship exploits, so I figured we'd be saying (or singing) "Adios España" at some point. I just didn't expect it to happen before the group stage even ends.
But here it is. "Adios España," or "Adios mi España," was a hit for Antonio Molina in the early 1950s. Molina was an actor and a flamenco singer, though he had an unusually high voice that could often prove tough to control. Personally, I like the so-called "torn throat" style of flamenco, where even young singers like Miguel Poveda (not yet 30 when I first heard him) sound like 80-year old veterans of heartbreak and cigarettes; but Molina certainly had his fans. The studio version of this song is quite lovely, but you might enjoy this rougher-edged clip from the movie that launched the song.