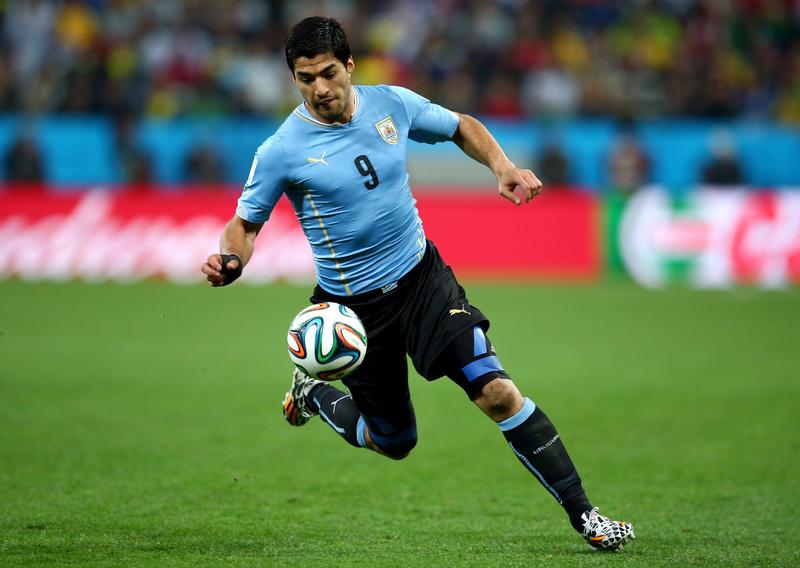 There will always be an England. Just maybe not in the knockout stage of this World Cup. Luis Suarez of Uruguay saw to that. No, he didn't deliberately stop a goal with his hand (see: "World Cup 2010") or racially abuse an opponent (see: "Patrice Evra") or bite someone (see also: various tasty footballers in Holland and England). What he did this time was worse: he won fair and square. Two chances, both taken with a killer's instinct. But whether the game was played fairly or squarely is another matter. Uruguay's Diego Godin stopped a clear goal-scoring opportunity by knocking down a pass with his hand, just outside the box.
In soccer, "denial of a goal-scoring opportunity" is one of the definitions of a red-card offense and a sending off. But fine, it was early in the game and the Spanish referee chose to give a yellow card and a free kick. But later in the half, Godin committed another blatant yellow-card foul. Now the ref had a decision to make: show Godin the second yellow card -- which equals a red card and a sending off -- or just call the foul and let Uruguay continue with a full team.
I understand that no one wants the referee to decide a game, especially one this important. But in not making the tough, but obvious call, this ref did affect the outcome.
Speaking of refs, did you notice the referee in the Chile/Spain game on Wednesday? Me neither. That's because he did a good job, stayed out of the way, called the fouls that occurred and didn't fall for the histrionics of players trying to claim fouls that didn't happen. That ref was Mark Geiger, of the United States. I don't know him, but on a big stage, in a big match, he kept his cool and called a good game. Bravo.
Today, I was pleased to finally see Howard Webb of England refereeing the Colombia/Ivory Coast match. Webb exudes authority on the pitch; you do notice him, and after a while, you may find that seeing him with the whistle around his neck gives you confidence that the game will be played, or at least officiated, fairly and squarely. But today's Spanish ref joins the tournament's opening ref from Japan (yes, I know their names, but let's leave them out for the moment) on the list of officials who should not be invited back.
Now, England are not done yet. Italy could well beat both Uruguay and Costa Rica. Then England would simply (?) need to beat Costa Rica, preferably by a bunch of goals, and sneak into the knockout stage on goal differential.  But I'm afraid we're likely to see more of Howard Webb than we are of Wayne Rooney and company.
Speaking of Howard Webb, has anyone else noticed how much he looks like Brian Eno?
Separated at birth, maybe?
Coincidentally or not, our song for today is by Brian Eno and David Byrne, from their groundbreaking 1981 album, My Life In The Bush Of Ghosts, which is built around samples of voices taken from radio, field recordings, and world music albums. The title is something the English team will be thinking every time the Italians take the field: "Help Me Somebody."