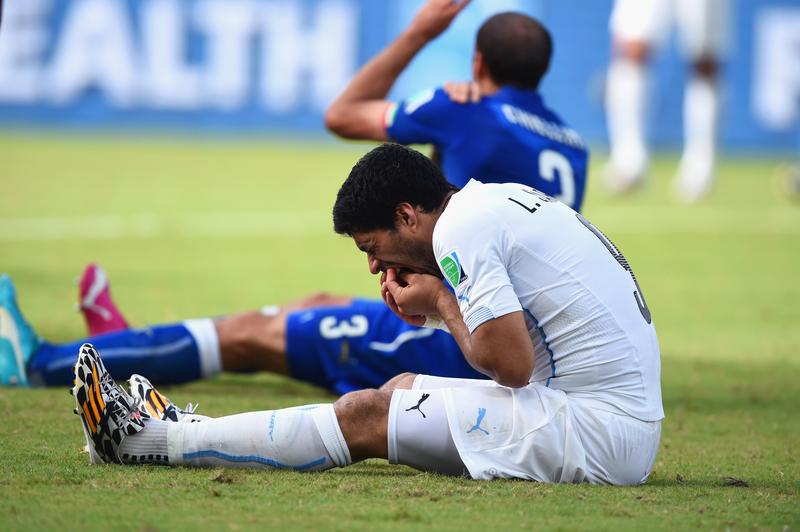 Big day in the World Cup yesterday, as yet another highly regarded former champion was sent home (that would be Italy) and another surprise package (Greece) earned a ticket to the next dance. But no one wants to talk about any of that right now. We are all agog that Uruguay's star forward, Luis Suarez, has apparently bitten an opponent -- and here comes the worst word in this whole sentence -- again.
I've blogged about Suarez's indiscretions before, but he is not the only top player in the world who plays the Bad Guy. In fact, the Italy/Uruguay game was a delicious prospect even before Suarez tried to make a meal of Giorgio Chiellini. Not only was one of these former championship sides going to be eliminated, but the match featured two of the football world's favorite miscreants: Suarez and Italy's Mario Balotelli, one of the most ill-tempered people in soccer and, like Suarez, a world-class striker.
In the world of sports, the line between hero and villain can be a blurry one. Uruguayan defender Diego Godin was the evil super-villain against England last week, as he should have been sent off early in the game; but here he was heroic, defending stoutly and winning the ball at every turn.
Oh, and he scored that bullet header in the 81st minute to break Italian hearts.
It seemed like yesterday's evildoer was going to be Italy's Claudio Marchisio after his red card. It looked harsh at first, but the replay angle that shows him going over the ball and kicking the Uruguayan defender with his studs made it clear that the red card was justified. His goalkeeping teammate, Gigi Buffon, tried on the hero's role with a strong right hand save that kept out what looked like a sure goal by that man Suarez.
Shortly after that, Suarez's appetite got the best of him again. Watching the game in real time, I thought he'd tried to head butt Giorgio Chiellini, which would've been stupid enough and would've deserved a suspension. But then the replays suggested he tried to bite the Italian. Chiellini ran over to the referee with his shirt pulled down around his shoulder, presumably to show the bite marks. Now, the Italians had been playing for a draw and in trying to slow down the game, had been showing off their acting chops:
"Oh God! I am mortally wounded! My ankle, surely it is crushed into many tiny pieces, and my leg will need to be amputated! Ah, I am close to expiring. GIMME THE BALL, I'M OPEN!!!"
So the ref, who hadn't seen the incident, couldn't be expected to pay much attention to Chiellini. But after the match, replays showed the bite pretty conclusively. Suarez should have been sent off and now, simply must be suspended for at least the rest of this tournament, and possibly much longer.
Fortunately, Suarez's continued presence on the pitch did not affect the goal, which came off a corner kick. And he wore the villain's black hat again when the Uruguayans broke in three-on-one to try to finish off the game and Suarez could neither complete a pass nor get off a shot. Italy then had to go for it and for 10 minutes, we finally had a game. But by then it was anticlimactic.
So. Time for our song of the day, and you can guess who it's for. The song is "I Just Can't Help Myself," from an Australian band called... wait for it... The Bite.