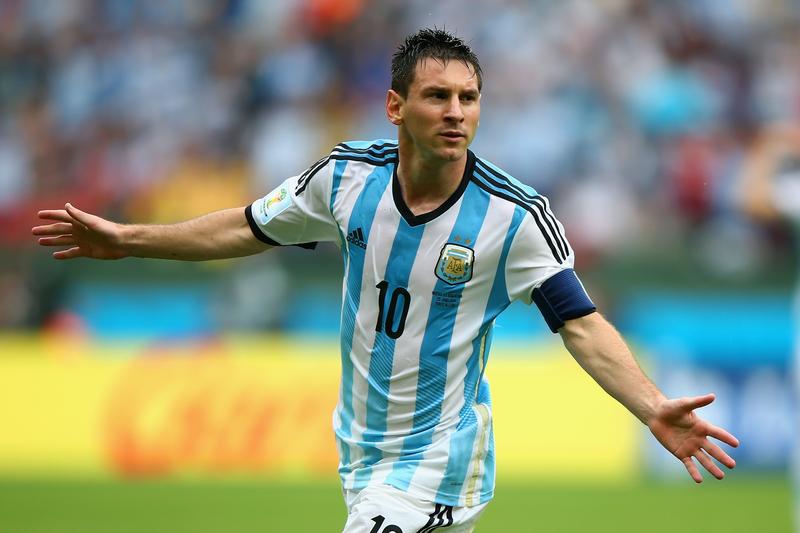 Just when you might have been thinking, "Wow, you must need to be a real jerk to be a top soccer player," along comes Lionel Messi to show everyone how it should be done. All he does is score goals. You won't see him preening in front of a mirror, admiring his finely-gelled hair and eyebrows (a la Cristiano Ronaldo); you won't see his own coach pulling him out of a must-win game for fear he will get himself ejected (see Mario Balotelli); you won't hear all of his past coaches calling him "uncoachable" and accusing him of being a clubhouse cancer (that would be Sweden's Zlatan Ibrahimovic, whose team didn't make the World Cup). And you certainly won't see him taking a bite out of an opponent, Luis Suarez-style.
All he does, for club (Barcelona) and country (Argentina) is score goals. Yes, I know I said that twice. And why not -- he did it twice yesterday.
Argentina was one of the pre-tournament favorites before this World Cup began, and while they have a few question marks, their front four of Messi, Gonzalo Higuain, Angel Di Maria and Sergio Aguero is perhaps the most daunting lineup in sports since the 1927 Yankees. Every time they have the ball they are a threat to score.  
Now it's true that Argentina wasn't in the toughest group in the tourney's opening stage. And a middling Iran side suggested a way to frustrate the high-flying Argentines, by playing well-organized and relentless defense. Maybe one of the better teams that Argentina will face in the knockout stages will be able to do that and score a goal or two as well. But as long as Messi is on the pitch, La Albiceleste (as the Argentine team is known) will be favored to keep winning.  
France, meanwhile, won its group with an indifferent performance against 10-man Ecuador; their reward is avoiding Argentina in the next round. That task falls to Switzerland, who beat Honduras to claim second place in the group. But despite a hat trick from Xherdan Shaqiri, who is known as "The Alpine Messi," the Swiss have a mountain to climb. (If the name Xherdan Shaqiri doesn't seem particularly Swiss to you, it's because he's one of several Swiss-Albanian players on the squad.)
Of course, no one calls Messi "The Argentine Shaqiri." But they do call him "The Little Magician," and his free kick against Nigeria was just the latest bit of magic he's produced. And if it took our minds off Suarez and his serial impersonations of a troubled two-year-old, well, that's a bit magical too.
So our song for today is in honor of the "The Little Magician" -- "A Kind Of Magic" by Queen may not be their greatest song, but it is uncannily appropriate. Freddy Mercury's flamboyance in the video is a perfect complement to Lionel Messi's extravagant skills. And that first verse -- "One dream, one soul, one prize / One goal, one golden glance of what should be / It's a kind of magic" -- I mean, that is just too perfect.