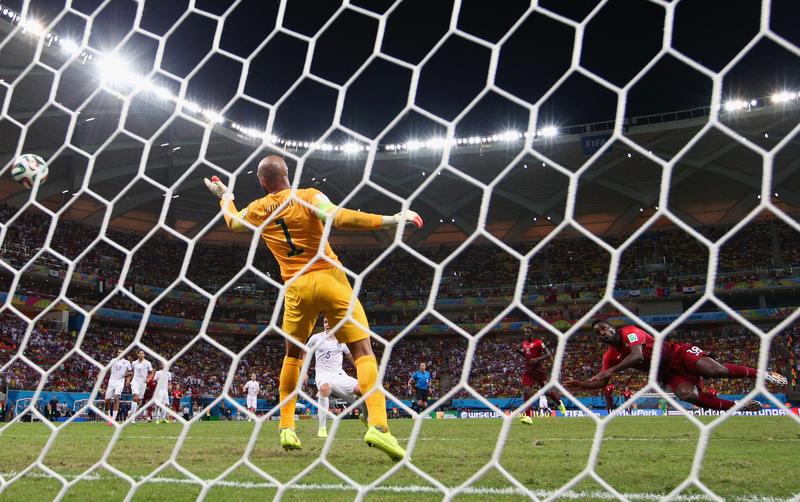 Sunday was all about Group H, where the young Belgian team was favored in a group with Algeria, Russ...
I'm kidding of course. Sunday was all about U.S.A. and Portugal.
Okay, first of all, calm down everyone. Yes, we're all disappointed that Portugal leveled the score on the last play of the game. But remember, this is the Group of Death, and if someone had asked you a week ago for a best-case scenario you probably would've said: win versus Ghana and then a draw against either Germany or more likely Portugal. When Clint Dempsey bundled home the U.S.A.'s second goal to give us the lead, I thought "This is great. Even if Portugal score again, we'll have a well-earned point."
So yeah, be disappointed that the Americans stumbled crossing the finish line. But what a great, dramatic game that was. And now, we don't need to beat Germany to advance to the next round. Hell, we don't even need to draw against Germany. We just need not to get our butts kicked against Germany.
For example, if we lose to the Germans by two goals, we'd have our 4 current points and a -1 goal differential. And if Portugal beats Ghana by two goals, they'd have 4 points too, but with a -2 goal differential. We'd go through. There are several variations where we'd get left behind, but I am feeling quite confident in the U.S.A. moving on, for three reasons:
1. Jürgen Klinsmann is a genius. I thought that in 2006, when he took a young, unheralded German team to a third-place finish in the World Cup. They played flowing, attractive football; they were a multi-cultural lot, and they were fun to watch. Now, coaching the U.S.A., he has made all the right moves: I've blogged earlier about his recruitment of German players with American servicemen fathers, and one of them, Jermaine Jones, hit an absolute stunner for the American's first goal. His substitutes have made a big impact, and he seems to have all of these guys working hard for each other. When they fell behind Portugal on a horrible defensive miscue, he rallied the troops and had them playing with steel and belief.
2. Tim Howard did everything but stand on his head and spit nickels in a Man Of The Match performance in goal. He continues to be a world-class keeper.
3. I believe the soccer gods intend to bring Portugal's Cristiano Ronaldo, the reigning Player Of The Year, down a peg. For those of you new to the game, Ronaldo is unbelievably gifted and creative. He is also arrogant, and in the last World Cup, while he was still playing his club soccer at Manchester United, he goaded his Man U teammate, the hotheaded Wayne Rooney, into a red card foul that reduced England to ten men... and then was caught on camera winking while Rooney trudged off the field. To be fair, Ronaldo is clearly not 100% as he plays through a knee injury, although on that last play he showed that class will eventually tell. But I am really looking forward to him exiting the tournament.
So well done, again, USMNT (that's the United States Men's National Team).
But what about yesterday's opening act? After all, if we do advance to the next round, we'll probably be facing whoever wins that Group H.
The Belgium/Russia match was a largely colorless affair until Eden Hazard, Belgium's playmaking wizard, woke up in the last 10 minutes, weaving through the Russian defense several times and finally setting up teenager Divock Origi's late winner. As with Ronaldo in our game, or Lionel Messi in the Argentina/Iran game, this was a case of a world-class player finding a minute of brilliance to salvage an otherwise off-key performance. If the U.S.A. goes through as the second place team in its group, we would probably face Belgium.
I left the TV on for Algeria/South Korea, intending to listen from the kitchen while cooking. Well, my wife ended up cooking dinner because this turned out to be an absolute barnburner. Algeria fully deserved its 3-0 lead at halftime and the game seemed over. But the Koreans scored early in the second half, had another goal ruled out -- correctly -- for offside, and then the teams traded goals (Algeria's on a lovely, fluid sequence of passes), and raced back and forth. It was eminently watchable and exciting football, even though Korea just couldn't find a third and fourth goal.
Some quick notes about Saturday: Turned on the Argentina/Iran game expecting a rout, but Iran actually had the best chances and lost on a stoppage time goal from (who else) Messi. But they should have drawn - a pretty clear penalty for Iran was not called by the Serbian referee.
Things got worse in the Nigeria/Bosnia match, where a beautiful goal for Bosnia was waved off by an offside call from the Assistant Referee (see my previous blog about the Costa Rica/Italy game for how important the AR's performance is). Also, a Nigerian goal was allowed to stand when it appeared the Bosnian defender had been fouled. Look, the game is fast, the officials don't get to see replays, and the foul was not completely obvious; but the Bosnian team was robbed. Nigeria has a fine squad with lots of familiar names, and the foul call was borderline, so maybe a draw would've been fair. Bosnia's elimination was not.
I know. You're not all broken up about Bosnia going home. You are wondering what America's chances are of going deeper into the tournament. Well, we may not -- we will not -- win the World Cup. But now might be a good time for us to thump our chests and imagine the rest of the world quaking in their boots at the prospect of having to face our hard-working crew. It may only be in our imaginations, but let's indulge ourselves with today's song. David Bowie channels the Belgian national team in this song, "I'm Afraid Of Americans."