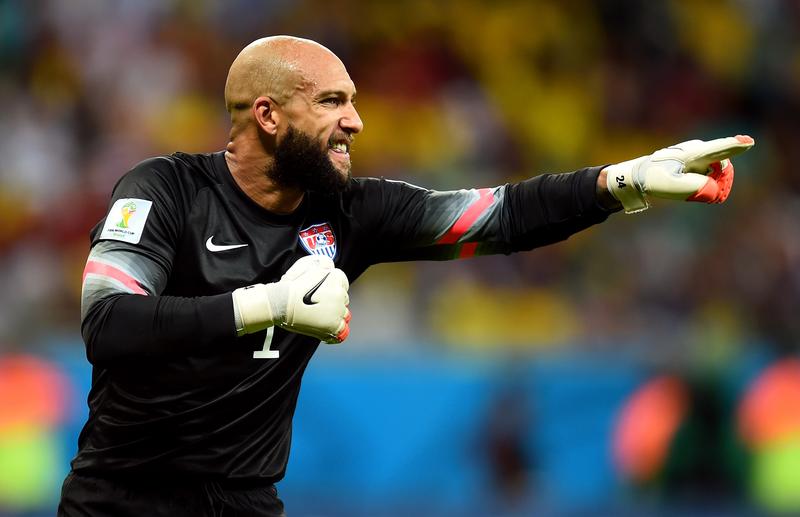 Taking two weeks off to watch the group stage of this year's World Cup turned out to be a great idea. The games were high-scoring and exciting, with surprising results and late drama. I learned quickly that even the games that looked unappealing or uncompetitive would demand my attention. This week, it's been back to work, although with the knockout stage underway there were fewer teams, and fewer games, so it was possible to keep abreast of what was going on. (Read: I didn't really do much work between noon and 2 p.m. or between 4 and 6 p.m.)
The knockout stage results, on paper, look pretty much the way we might have expected. In every game, the team that was favored, won. But that doesn't tell the full story, as anyone who actually watched the games knows. Chile took Brazil to penalty kicks; Algeria gave Germany an almighty scare; and of course, there was the improbable American fightback against Belgium.
So yesterday, the U.S. Men's National Team (nickname: still "USMNT" despite my last blog post) lost to Belgium, 2-1, after extra time. The fact that we took one of the world's deepest lineups to extra time was a testament to the Americans' courage -- and most especially to keeper Tim Howard's stunning performance.
I mean, anyone who's watched Howard play over the years at Everton in the English Premier League knows he's a classy performer. But yesterday? That was a performance for the ages. Belgium could've, and perhaps should've, been out of sight by halftime. Instead, we had a chance to steal the game at the very end of normal time. And even after the team went down 2-0 late in extra time, and all seemed lost, coach Jürgen Klinsmann -- who seemed to press all the right buttons throughout the tournament -- showed he had one more trick up his sleeve. He brought on 19-year old Julian Green, whose first touch of the ball was a beautiful strike that made it 2-1 and made the final eight minutes one of the most exciting sequences in American soccer history.
The ESPN announcer, Ian Darke, put it well when he said, "If the United States are going out of this World Cup, they're going out on their shields." The American team was clearly outgunned by Belgium's "Golden Generation," but they countered with grit and determination. The end, when it came, was a disappointment -- but it was not disappointing. The English website Sportinglife.com put it this way: "Klinsmann and his players go out with their heads held high, and could even have won this match. The statistics will tell a tale of Belgian dominance, but that will miss the story of American heroics."
Klinsmann, by the way, took a fair amount of criticism for including Green, who is another of the dual-passport Germans he recruited, on the World Cup roster. But think of it: the speedy DeAndre Yedlin, who caught the eye whenever he was brought in, and Green, are both likely to be back in 2018 – and they will still only be 23 and 24 years old. And they will have had some serious World Cup experience. Klinsmann has said all along the USMNT was not going to win this World Cup. But he's put together the core of a team for 2018 that could make some real noise in the next World Cup. 
So, a song for the departing American team. Ever since he played this song on Saturday Night Live after the 9/11 attacks, Paul Simon's "The Boxer" has become a kind of anthem of defiance: "I am leaving, I am leaving, but the fighter still remains."