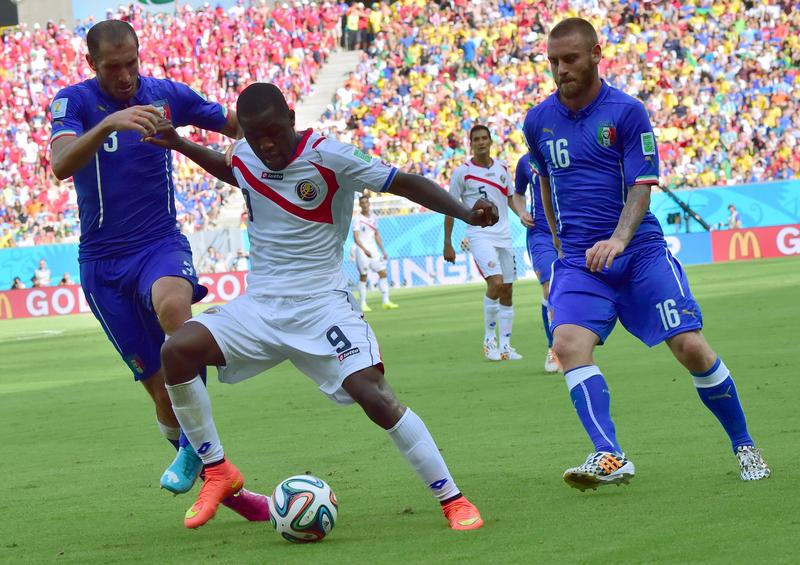 One of the great things about taking a vacation and not actually going anywhere is that I'm able to play in the Tuesday and Friday morning soccer games that I normally can't make. I do have a regular Sunday morning game, but it's nice to get some weekday runs in, too. Of course, a good run like that can be pretty tiring, and once back on the couch, it was hard to stay awake for much of the first half of the Italy/Costa Rica game.
Italy played its usual boring defensive game, and its mercurial striker Mario Balotelli wasted his best chance to open the scoring. I was awake when Joel Campbell wove his way between two Italian defenders and was brought down hard inside the penalty box. It was an obvious penalty kick, but in a reprise of a song we're hearing way too much in this tournament, the referee made a mess of it and missed the call. Fortunately, Costa Rica scored a minute later.
And even more fortunately, the assistant referee in the Costa Rican half of the field had an excellent game. This is important, because Costa Rica plays a high defensive line, and it only takes one missed offside call for an Italian attacker to be in on goal.
(For new fans, here's an explanation of offside. It's really the only difficult rule in soccer: once you know this, the rest of the game's rules are really easy.)
But the Central Americans played a disciplined line: no one broke ranks. And 11 times, they snuffed out an Italian attack when an opponent, lured perhaps by all that empty space, strayed offside. All 11 times, the assistant ref made the right call.
The Ticos, as Costa Rica's team is known, were drawn into a group with an unprecedented clump of three former champions: Uruguay, England, and Italy. Everyone was talking about how this group guaranteed that one former champ was not going to advance (since only two go through to the knockout stage). No one was talking about the possibility of two former champs going out, but that is now going to happen. England is eliminated (they play Costa Rica next to complete an unhappy Cup); and either Italy or Uruguay -- who play each other -- will go out with them. Amazing.
This is why we watch and love the World Cup. Go Ticos!
Like many French people, I am no fan of the French team. But as an Arsenal fan, I was glad to see Arsenal forward Olivier Giroud score a bullet header and then serve up a perfect cross for another goal as the French took advantage of Swiss generosity to build a hefty early lead. I thought we'd learn something about the French today, but with Switzerland looking completely at sea (and this is a landlocked country), we may need to wait for France to face a really solid team to learn how good they are. I still suspect they are not good enough to make the final.
Our song today? It just has to be a song for Costa Rica. But what song to choose? Well, the Costa Rican Tourist Board launched a TV ad campaign here in the States just a few months ago, and, in a twist that suits today's blog perfectly, the song they chose for the commercial is "Outro" by the French band M83.
As opposed to the big 1980s-inspired electronic dance sound you may know from M83's hit single "Midnight City," this song finds the band in a more dramatic, Sigur Ros-mode. The excerpt used in the Costa Rican ad comes about two minutes into the song.