The Soundcheck Blog
My World Cup Vacation: Mexico's Brilliant Keeper And Soccer's Biggest Hair Scores For Belgium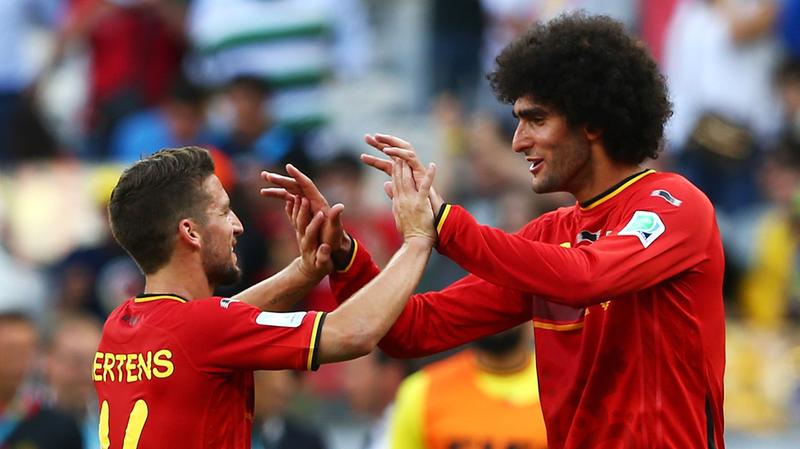 Yesterday's World Cup action gave us our first chance to see the Belgian squad in action, and our second shot at the hosts, Brazil. Brazil was lucky and unconvincing in their 3-1 opening win over Croatia; now they were taking on a decent Mexico side. The resulting 0-0 draw was, on paper, everything that Americans have long claimed to hate about soccer. But if you watched the game, it featured quite a few stretches of exciting play and a Game For The Ages by Mexico's keeper, Guillermo Ochoa.
Unknown and not even currently signed to a club team, Ochoa produced four brilliant saves and was the only thing keeping this game from turning into a Brazilian rout. More troubling for Brazil's many fans, though, was that Neymar and company couldn't produce the telling finish that was needed. There were also, frankly, moments where the passing by both teams looked like my Sunday morning game, where the ball gets turned over routinely from one team to the other.
Brazil has one more group game, against Cameroon, to get themselves together. Otherwise, they're likely to have their hands full in the first round of the knockout stage.
Now on to yesterday's other B country: Belgium.
For a relatively small nation, Belgium has a ridiculously well-stocked team. Fans of the English Premier League will recognize many of the starters, and even more remarkably, a number of the subs. Marouane Fellaini, who has the biggest hair in soccer, came off the bench and scored, as he has done so often in the past for Everton, and then for his current club Manchester United. Thomas Vermaelen, former captain of Arsenal, is in the Belgian reserves, and so is Man U's Adnan Januzaj, who was one of the most promising young forwards in the Premier League last season.
The fact that these guys can't get into the starting 11 (or starting XI, to use proper football lingo) speaks volumes about the depths of the Belgian side. It's worth noting that Belgium, like Germany and France, has benefited greatly from immigration. Januzaj is also eligible to play for Albania, Fellaini is of Moroccan descent, and star striker Romelu Lukaku (who plays for Chelsea in the EPL) is the son of a Zairean footballer.
So I was eager to see this team, which despite its stellar lineup lacks World Cup experience. If this were a horse race, Belgium would be a live longshot; but you have to see how a team like this fares in the crucible of the World Cup. Game one was against an apparently outgunned Algeria, but an early penalty kick gave Algeria an advantage that they defended stoutly.
Belgium finally broke through with two goals late in the game to relieve their fans and win the match. Some may say they had to work pretty hard to break down an inferior team. That may be, but they were tested and found the will and the skill to come back. I think that might turn out to be a more useful experience than a 3-0 stroll in the park.
And after the game ended, you could have forgiven the Belgian squad -- or at least the French-speaking half of it -- for saying "ça plane pour moi" ("it's all gliding for me"). That expression, generally meaning "things are going really well for me," is the title of today's song, the one and only hit from the Belgian singer known as Plastic Bertrand. Watch the video and go back to the cheesy goodness of Belgium, 1978 -- or just listen to the song and stick with the Belgians of 2014.