Studio 360
My Old Kentucky Home: A Song with a Checkered Past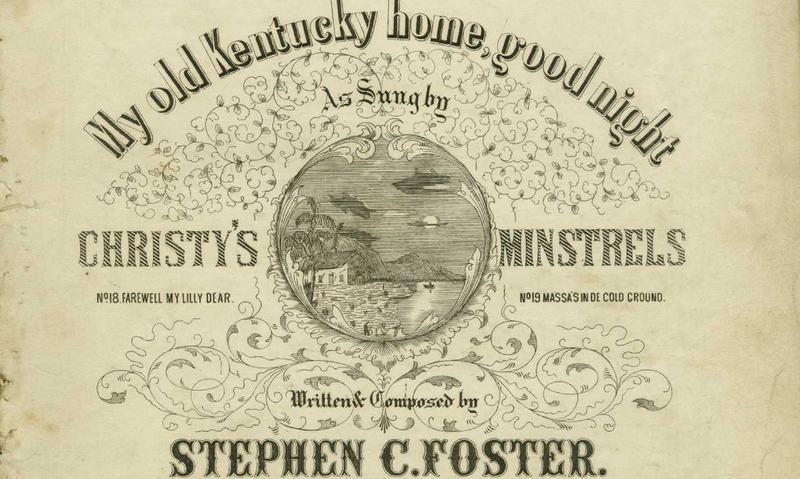 On Kentucky Derby day — May 3 this year — more than one hundred thousand spectators will rise from their seats at Churchill Downs to sing "My Old Kentucky Home," the state song. "I find it very ironic that all these men and women in their lovely hats and fancy gowns are singing a song with adulterated lyrics," says Ken Emerson, the biographer of songwriter Stephen Foster. "They think they are singing a song that is a celebration of the Antebellum South, with ladies in crinoline and dashing cavaliers, when really it is an anti-slavery song, inspired by an abolitionist novel." 
Foster was the most successful and enduring songwriter of the mid-nineteenth century. His work was generally produced for minstrel shows, where racist parody was the stock in trade. Yet Foster was one of the first artists to understand and value the African-American musical culture that was being forged in the South, and he was sympathetic toward the plight of slaves. The original title of "My Old Kentucky Home," Emerson says, was "Poor Uncle Tom," and the narrator of the song is about to be sent away from his home, like Harriet Beecher Stowe's Uncle Tom. He is looking back fondly on life in Kentucky before he is sent away:
'Tis summer, the darkies are gay
the corn top's ripe and the meadow's in the bloom
where the birds make music all the day.
But that archaic language is deeply offensive to modern ears. In the 1980s, Carl Hines, the only African American in Kentucky's General Assembly, introduced a law that substituted "people" for "darky" any time the song is sung at state functions. 
Because of that change, though, the song's grounding in African-American experience has been lost. Foster wrote:
The head must bow and the back will have to bend
wherever the darky may go
A few more days and the trouble all will end
in the field where the sugar canes grow. 
"There was no sugar cane in Kentucky," Ken Emerson notes; the narrator, like Uncle Tom, "has been sold down the river to Georgia or Mississippi, the Deep South, where he will die" at the hands of an overseer.    
A writer of minstrel tunes who was sympathetic to abolitionism, Foster's life contained many ironies. After the tremendous successes of "Camptown Ladies" and "Oh! Susanna," Foster was broke, a victim of unscrupulous practices in the music industry. He failed at the patriotic songs popular around the time of the Civil War. His wife and child had left him; he was living alone on New York's Bowery and drinking rum. He had grown out of the rowdy minstrel style, composing more personal songs, like "Hard Times" and "Beautiful Dreamer." 
"He wrote his songs in a German saloon," notes Larry Kirwan. The frontman of the Irish band Black 47, Kirwan has written a musical about Foster called Hard Times. "He didn't have money any more. So he wrote out the piano keys on top of a table and he would put his fingers on them and he could hear the music in his head and then write it from that."
Kirwan recalls dock workers and farmers getting up to sing Foster songs in the pubs in Ireland where he cut his teeth as a musician. From specific historical experiences in America, Foster found and gave voice to universal feelings. "My Old Kentucky Home" expresses a particular kind of longing, Ken Emerson notes. "At that time, most people in America were immigrants. They were missing Ireland, they were missing England, they were missing their homes. And that powerful nostalgia that suffuses many of the great Stephen Foster songs — even if it was couched in a black language and in a kind of idiom that we find offensive, and it is naïve — nonetheless has a powerful tug, because it speaks to feelings universally of being far from home."
Stephen Foster was 37 when he died in 1864.  
Music Playlist
My Old Kentucky Home

Artist: Paul Robeson

Album: Paul Robeson. Ol' Man River - His 56 Finest 1925-1945

Label: Retrospective Records

Camptown Races

Artist: Al Jolson

Album: Smoke Gets In Your Eyes

Label: 2008 Classic Records

Beautiful Dreamer

Artist: Suzy Bogguss

Album: American Folk Songbook

Label: Loyal Dutchess Records

My Old Kentucky Home

Artist: Bill Frisell

Album: Kentucky Derby Is Decadent & Depraved

Label: 429 Records