Muslims Mobilize for the Trump Era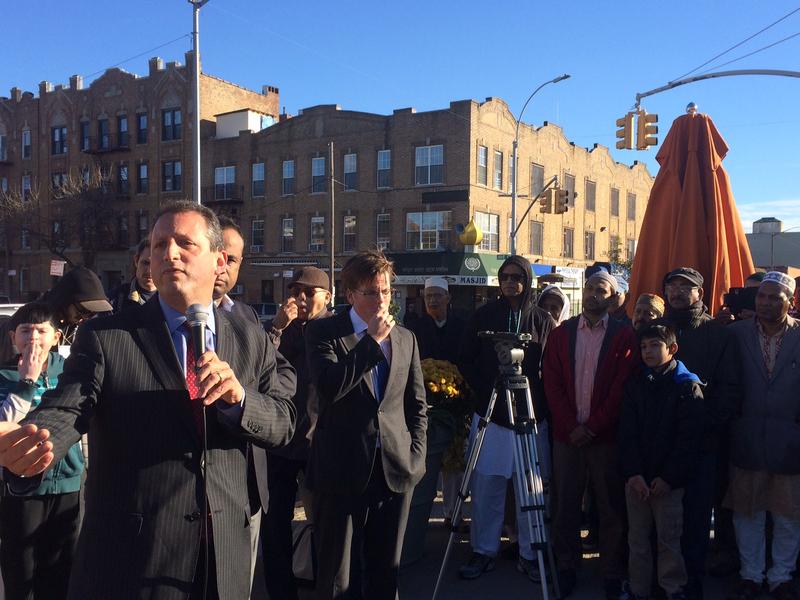 The onset of the Trump era has shaken communities of color, including Muslim Americans, who fear harassment, violence and possible deportation.
On Friday, after midday prayers, about 100 members of the Bangladeshi Muslim community gathered outside of a mosque in Kensington, Brooklyn and carefully listened to an attorney.
"If the FBI comes to your door, or the NYPD comes to your door, and knocks and asks to talk to you, tell them you will not talk to them without an attorney," said Tarek Ismail, Senior Staff Attorney at CUNY's Creating Law Enforcement Accountability & Responsibility (CLEAR) project. "We will be your attorney."
His message was similar to that of most of other speakers at the event: the Trump era means uncertain times. Another speaker, community member Mohammed Hashem referred to the election as "a black night" for his people.
---
Hear this story on the air? This is a link to the Google form where people are signing up to accompany neighbors on their commute.
---
The community is afraid. It was just a couple months ago when they gathered in this same plaza, after an imam and his assistant were shot dead in Queens, execution-style. And now they have a president who has threatened to ban Muslims.
It's not just Trump himself, but his innermost circle. Earlier this year, Trump adviser Roger Stone did an interview with Stephen Bannon, the Breitbart News executive who has been named chief White House strategist. Stone warned of an America where "hordes of Islamic madmen are raping, killing, pillaging, defecating in public fountains, and harassing private citizens ... That's what's coming. That wave is coming this way."
At the event in Brooklyn, Councilman Brad Lander said the fear of the next administration is widespread.
"Everyone else in my office is Muslim or gay or an immigrant with family who are not documented. Or women. So yeah, everybody feels at risk and we've already seen in just a short period of time, incidents of bullying and attacks around the country."
NYU student Aziz Adib said he received a emotional call from his mother, the day after the election.
"She lead with the fact that she'd been in this country since she was nine, and in over 30 years of being here, growing up in a red state, she had never felt fear like this before. Even after 9/11, she said, 'I didn't fear for you and your brother. You were young, you were cocooned, we could protect you. We cannot protect you anymore.' "
After 9/11, she told him, she certainly worried about her Muslims brothers with beards, sisters with hijabs. "But now, she said, it doesn't matter. Anyone who is brown could be suspect. Anyone who is non-white. 'Be there for one another.' "
And what exactly does "being there" for one another mean? Activist Faiza Ali noted that some people are wearing safety pins, as a way of subtly communicating that they're allies to Muslims, people of color or anyone who feels newly vulnerable
Others are taking it a step further. After hearing of a Muslim woman who was repeatedly threatened on her way to her university, Kayla Santosuosso of the Arab American Association of New York created a Google form for New Yorkers who are willing to accompany a neighbor on their commute
"I have never seen this level of urgency before," she said. "And particularly among people who are not likely to be the most vulnerable, during a Trump presidency."
She's heard from people in California, Boston, Oregon, and Washington DC. The question remains whether there will be as many people of color, or LGBTQ or Muslims who actually want to be accompanied. But Santosuosso thinks this growing volunteer army could be re-directed to other causes or organizations. For instance, what if an immigrant faces deportation and doesn't want to be alone at a deportation hearing?
At the same time, she wonders whether people will be able to sustain this level of urgency beyond the next week or two. Are they willing to turn up, she asks, for the next four to eight years?