Muslim Men Seek Compensation for Being on No-Fly List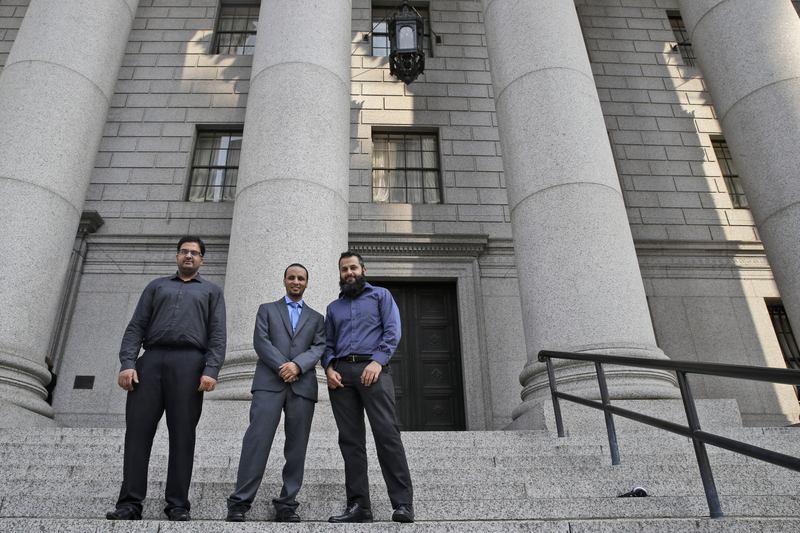 A federal appeals court in Manhattan heard arguments Wednesday in a case brought by three Muslim men who claim the FBI violated their constitutional rights by placing them on the government's no-fly list.
Two of the men live in New York, and one is a U.S. citizen; the other two are legal residents. According to their suit, all three claim FBI agents put them on the no-fly list between to pressure them into becoming informants.
They were approached at work or at airports by agents between 2008 and 2012. They were asked to spy on mosques, infiltrate extremist websites or travel to Afghanistan and Pakistan. They refused, citing their religious beliefs, and later learned they were on the no-fly list only after trying to board an airplane.
The men were eventually taken off the list in 2013 after filing a lawsuit. In response to similar lawsuits, the government subsequently changed the policy for putting someone on — and taking them off — the no-fly list, providing more transparency. But the men continued to press their case, with representation by the CLEAR Project at CUNY's School of Law and the Center for Constitutional Rights.
"The fact that these plaintiffs were taken off the no-fly list after they sued doesn't change the fact that they were unable to see their wives and their children, parents, elderly grandparents overseas for years," said Shayana Kadidal, a senior managing attorney at the Center for Constitutional Rights.
"In cases, they lost employment opportunities because they couldn't fly around the United States," he added. "They deserve redress."
Mohammad Tanvir, Jameel Algibhah and Naveed Shinwari are now seeking monetary compensation from 16 FBI agents, citing their First Amendment rights and the 1993 Religious Freedom Restoration Act (RFRA).
The government argued that individual agents have no authority to determine the composition of the no-fly list, which is coordinated by the FBI and other intelligence community agencies. It also claimed the plaintiffs cannot seek damages from FBI agents, referring to a federal judge's decision in 2015.
"As the district court correctly determined, this action must be dismissed because RFRA does not permit claims for money damages against individuals," the government argued in its brief.
However, in their appeal, the plaintiffs argued that employees can be sued.
Kadidal said the ultimate goal is to have a trial judge hear the case for damages. He said the suit is especially timely now, as the Trump Administration is refining its temporary travel ban against individuals from several Muslim-majority nations.
"Any FBI agent who is thinking about using watch lists to coerce somebody else into spying on their own religious community will have to think twice," Kadidal said.