The Soundcheck Blog
'Perfume For Winnie, And Nelson's Shade': A Musical Memory Of Nelson Mandela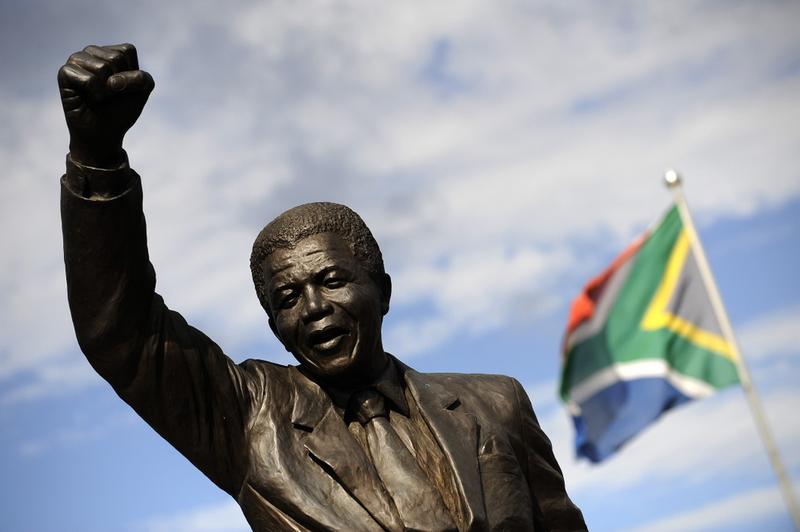 Nelson Mandela, South Africa's first black president and a treasured symbol of hope in the struggle against racial oppression, died Thursday at 95. Soundcheck host John Schaefer has this musical remembrance.
On June 20, 1990, Nelson Mandela made his historic visit to New York. The way this city opened up to him was like nothing I'd ever seen. In fact, I was afraid the city's emotional embrace of Mandela would do what all those years in prison couldn't -- namely, squash him like a bug.
There was a ticker tape parade up the Canyon Of Heroes in lower Broadway. A grueling schedule of meetings, interviews, and broadcasts. And a big concert at Yankee Stadium. I'm sure there was more stuff I'm forgetting. But what I will always remember are the musicians from South Africa who came to our studio to honor, in their own distinctive and personal ways, this man who meant so much to them.
On June 19, I did a session with the Mahotella Queens, one of South Africa's greatest vocal groups and leaders in the music style known as mbaqanga, or "Township Jive." If you're familiar with Paul Simon's Graceland then you've heard elements of that sound. On June 20, the day of Mandela's arrival, we had another, very special guest.
Abdullah Ibrahim -- or Dollar Brand as he was originally known -- has been one of South Africa's great musical exports since his surprise hit "Capetown Fringe" in the early 70s. He is not known as a singer. But he came in that day and played a moving version of his song "Jacaranda Blues," about the jacaranda tree of South Africa. It's a tree that can be a home to flowers, or to locusts, and Ibrahim used it as a metaphor for the choice facing South Africa, which was still under white rule. The jacaranda flower has a sweet scent -- a "perfume for Winnie," as he sings here in a reference to Mandela's wife, and of course could provide a respite from the sun -- "and Nelson's shade."
I believe I had a lump in my throat as Abdullah Ibrahim ended the song (which, for you fans, includes references to a couple of his other pieces towards the end). Over the many years and many live performances our studios have seen, this remains one that I know I will never forget.
Today, it seems appropriate to hear it again.