Brooklyn DA Charles Hynes Tries for Comeback
Charles Hynes isn't letting go of the Brooklyn District Attorney's office without a fight. Despite losing the primary to Democrat Ken Thompson almost a month ago, Hynes officially launched his seventh re-election bid Tuesday on the Republican and Conservative lines.
At a highly choreographer press event, complete with a New Orleans-style jazz quartet and dozens of sign-holding supporters, Hynes said he was moved to get back in the race after learning that Thompson got support from disgraced Brooklyn party leader Clarence Norman.
"The voters are going to have to decide whether they can trust someone who denied, no flat-out lied, about Clarence Norman's major role in his race for district attorney," said Hynes.
Thompson has repeatedly denied that Norman played any major role in his campaign and describes the allegation as "desperate."
Hynes was also dogged by protesters determined to interrupt the event. He addressed them directly telling them he didn't mind dissent, but asked them to be, "decent enough to listen to what I have to say."
"We've listened for 21 years," a protester shouted back.
A life-long Democrat, Hynes downplayed his decision to run as a Republican, saying the race isn't about party politics, but people, and public safety. There were no other Democratic officials at the event. Instead, Hynes offered thanks to Republican State Sen.  Martin Golden and State GOP Chair Ed Cox. Both have pledged to back his campaign.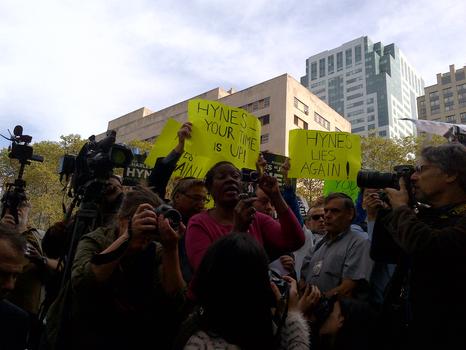 of