A Music Booth in the Boogie Down Bronx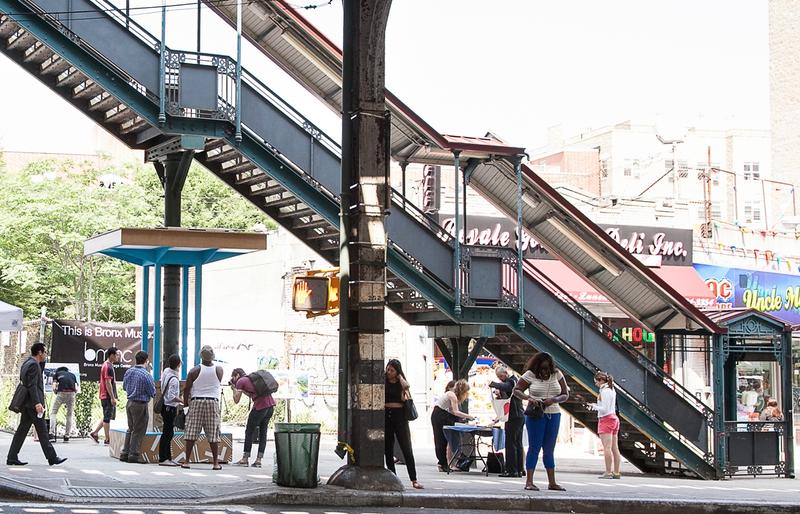 Every morning, Fulgencio Jimenez Reyes sets up his vegetable and fruit stand at the corner of Southern Boulevard and Freeman Street in the Bronx, next to a subway and bus station. This week something changed in his corner — music was blaring from a blue booth with a canopy and sitting space.
"I have listened to Latin music and pop, there is always something different," he said in Spanish. "People still don't know what it is about, so I tell them."
The music is coming from the "Boogie Down Booth," a temporary resting spot with solar-powered lighting that plays songs from Bronx artists. It's meant to enhance the space beneath the tracks of the 2 and 5 trains of the Freeman Street subway station. The installation is part of "Under the Elevated," an initiative by the Design Trust for Public Space in collaboration with the Department of Transportation and the Bronx Music Heritage Center at the Women's Housing and Economic Development Corporation (WHEDco).
Jazz, salsa, hip-hop, rock and mariachi songs are included in the 24/7 playlist, which attempts to replicate the diversity of the Bronx.
"You get to hear music from the Bronx, but also people right from this neighborhood," said Elena Martinez, co-artistic director of the Bronx Music Heritage Center. "It really represents the community."
"I've hung out at this train station after school," he said. "I bought my jeans and my sweaters and those fashions at that time from the stores right in this community."
At least two more booths are expected to be placed beneath the train tack over the course of the next six to eight months. The Freeman Street station "Boogie Down Booth" will be featured through Sept. 15.
Bronx resident Edwin De la Rosa said the trains are still loud "but now people have something to listen to while waiting."