Museums Offer a Bang for the Bucks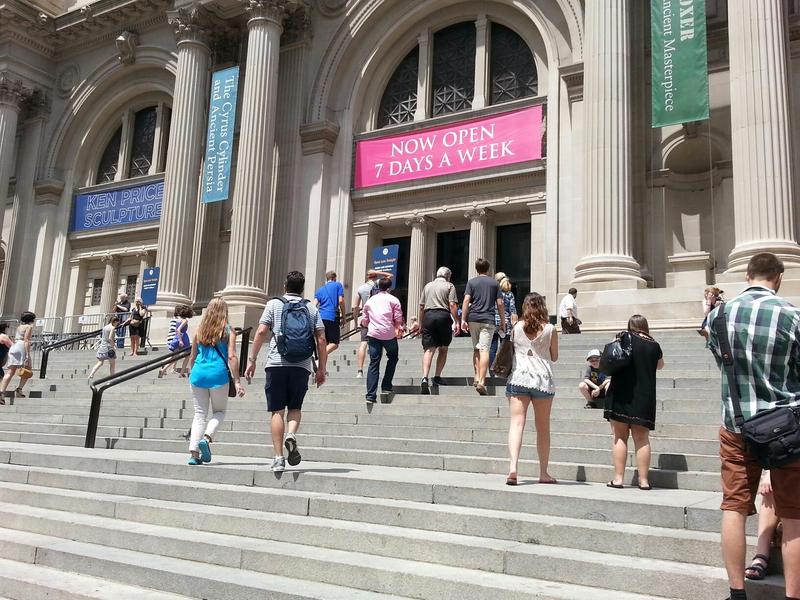 College student Hope Hawkins visited the Metropolitan Museum of Art for the first time recently and loved it.
The museum has a suggested donation of $25, and as she left, Hawkins felt that was a good value, compared with other entertainment she consumes.
"Sometimes I come away from a movie thinking, 'Man I just wasted $10 dollars on a crap film,'" she said. "I think that spending $25 here and coming away with what I have seen, and learning so much about other cultures and history, I think that I come away with so much more."
Hawkins didn't pay $25 though. She donated $1. The Metropolitan is one of the few museums in New York with a pay-what-you-wish policy. At most other museums, the admission fee for an adult is about $20. But many New Yorkers complain that's still too expensive.
However, Michael Rushton, director of the Arts Administration program at Indiana University in Bloomington, disagrees. "It's a bargain," he said.
Rushton said that museums that charge $20 or $25 per adult are some of the greatest museums in the world. "You are seeing an original work of art, directly from the painter's hands to you, and I don't see how people can get awfully upset given the cost of running a museum, all the staff and curators," he said.
Of course, not everybody can afford that much money. But Rushton said that's not a reason for making admission fees cheaper. "If you want to help lower-income people see these works of art, don't lower the price for everybody," he said. "That's a very costly way of trying to target a few people."
Instead, he suggested that museums should offer additional time when people can come at lower rates, during hours that are less popular among museum-goers.
So why do people complain so much about the price of a museum ticket in New York? Maybe it's the perception that art is a universal treasure, and therefore should be accessible to everybody. 
Bill Greene, a professor of economics at the Stern School of Management at New York University, offered another explanation: "A lot of museums are free. For example, go to Washington, all the Smithsonian institutions, all the museums are free," he said.
In fact, according to the American Alliance of Museums, more than one third of the museums in the country don't charge admission.
The organization says ticket sales don't make up a large percentage of museum revenues nationwide — just 6 to 8 percent. It's different in New York City, however. The Museum of Modern Art gets 17 percent of its revenues from ticket sales, and the Guggenheim, 22 percent.
Even the 9/11 Memorial Museum, which is opening on May 21 was supposed to be free. Now the plan is to charge $24 dollars per adult. "I think it's that notion that in this day and age, people should pay for their experiences," said Joe Daniels, president and CEO of the 9/11 Memorial and Museum. At least most people. The museum will be free for families of 9/11 victims.