Driver in Times Square Bus Crash Arrested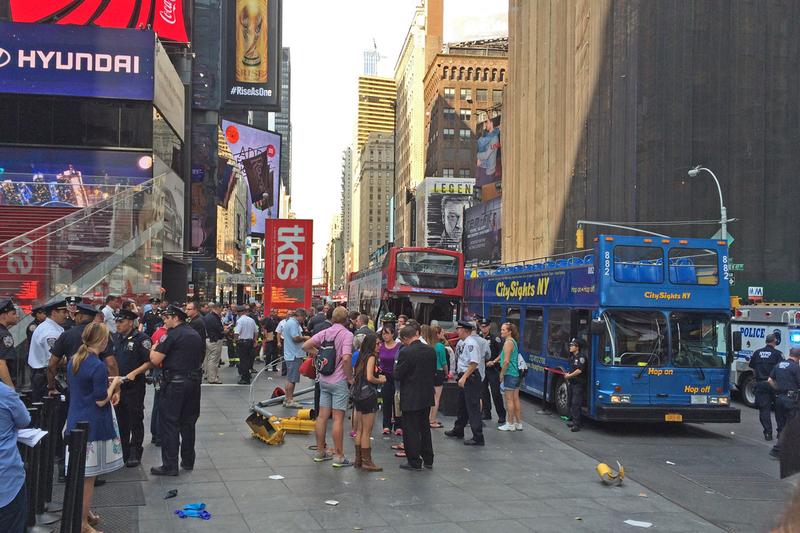 Police have arrested a bus driver they say was at the wheel of one of the two double-decker tour buses that crashed Tuesday in Times Square.
58-year-old William Dalambert has been charged with Driving While Ability Impaired. Police say he was under the influence of a controlled substance.
Two double-decker tour buses collided in Times Square Tuesday afternoon, knocking over a traffic light and injuring 14 people, three of them seriously.
The Fire Department of New York said none of the injuries was believed to be life-threatening. "We believe that the traffic light did most of the injuries to the people standing in the area," said FDNY deputy chief Roger Sakowich. "And some of the flying debris from the light and from the buses."
Witness Orville Anderson said he was sitting on the steps outside the TKTS booth. "I heard a big boom," he said. "I saw the pole tumbling down onto the ground." 
The incident occurred around 3:30 p.m. Tuesday near W. 47th Street and Seventh Avenue. One bus, a red GrayLine, appeared to be partially on the sidewalk, its windshield completely empty of glass. A blue CitySights bus was stopped just ahead. A large traffic light lay in pieces on the sidewalk.
The crash shut down a stretch of already-clogged Seventh Avenue that had experienced a bomb scare earlier in the day. The FDNY said the traffic made responding to the crash difficult. "Some of the units had to get off their rigs and proceed on foot," said Sakowich. But an FDNY spokesman said response time was four minutes.
"We were pretty fortunate," said Sakowich, "because the buses were not fully occupied...one was completely empty and one had a tour guide on it."
The cause of the crash is under investigation by the NYPD. A spokesperson for the NYC Department of Consumer Affairs said GrayLine and CitySights are licensed by DCA as sightseeing bus companies and must be inspected by the state's Department of Transportation.
David Chien, a spokesman for Twin America, the parent company which operates both of the tour buses involved in the crash, released a statement which said: "our thoughts and prayers are with the injured, and we are cooperating with the authorities."