Soundcheck
Mucca Pazza: Colorfully Clashing Marching Band Rock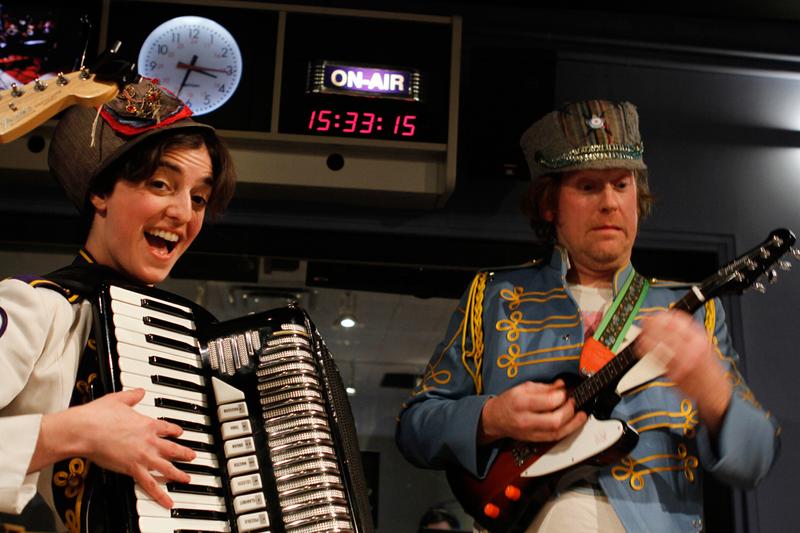 If only there were marching bands as wild and hilarious as Mucca Pazza when we were in high school. A sprawling ensemble numbering somewhere between 25 and 30 members, Mucca Pazza leans into the weirder, and funkier side of that band geek archetype: Dressing up in ill-fitting, colorfully clashing uniforms, tall hats with speakers strapped on, and retro cheerleader costumes, the Chicago-based group -- which takes its name from the Italian phrase for "crazy cow" -- has perfected a live show full of visual mayhem and dance-ready music. That's even more the case as the group parades around the stage and amid the crowd, like a big celebratory circus.
Pulling from soul and funk, psychedelic rock and punk, New Orleans brass bands and "Gypsy-reggaeton," Mucca Pazza's songs are chaotic fun that's easy to get swept away in. Hear the band somehow cram itself into the humble confines of the Soundcheck studio to perform songs from it's 2014 album, L.Y.A.
Hear more songs from the session on New Sounds.

Set List:
"Subtle Frenzy"

"All Out Of Bubblegum"

"Rabbits And Trees"

"Lunchtrays And Goldfish"
Personnel:
Greg Hirte, Violin
Ronnie Kuller, Accordion
Gary Kalar, Mandolin
Charlie Malave, Guitar
Maria Hernandez, Sax
Dave Smith, Sax
Airan Wright, Bari Sax/Clarinet
Justin Almolsch, Trumpet
Sam Johnson, Trumpet
Nick Siegel, Trumpet
Elanor Leskiw, Trombone
Nick Broste, Trombone
Tom Howe, Trombone
Melissa McNeal, Trombone
Tom Curry, Tuba
Andy Deitrich, Percussion
Larry Beers, Percussion
Brent Roman, Percussion
Rick Kubes, Percussion
Daniel Villarreal, Percussion
Sharon Lanza, Cheerleader
Meghan Strell, Cheerleader