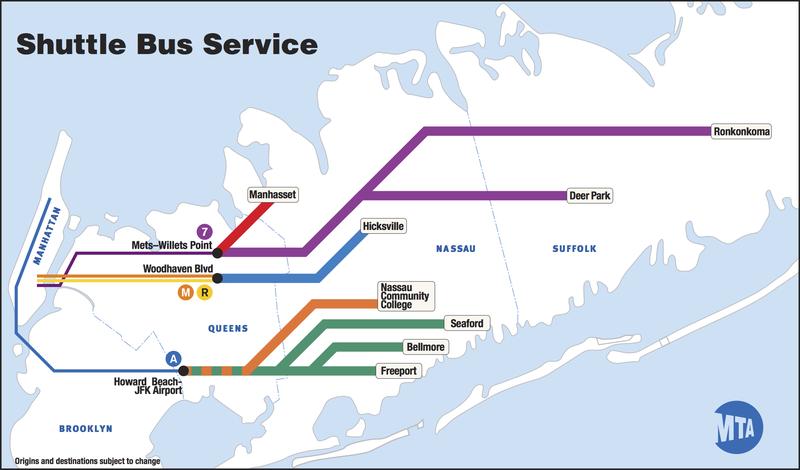 Shuttle buses, park and rides, and new ferry service will be put into place if Long Island Rail Road workers walk off the job on July 20 — the earliest date workers can legally strike.
But MTA officials caution that its contingency plans won't take the place of the railroad, which provides 300,000 rides each day. Shuttle buses, for example, will be able to accommodate 15,000 riders.
"We're better prepared than we were in 1994," said MTA chief Tom Prendergast, "and we're ready to face a strike if it comes to that."
And, just like that last time LIRR workers went on strike, the buses bringing people from Nassau and Suffolk Counties to subway stations in Queens will be un-airconditioned school buses. But MTA spokesman Adam Lisberg says that's where the similarities end.
"This is going to be a far better plan than it was 20 years ago," he said. "Twenty years ago we didn't have Google."
The MTA will use Twitter, Facebook, text alerts and apps to help riders make decisions about alternatives. But many people will make their own arrangements, said Prendergast. "You don't know how many people are going to avail themselves of car pools, you don't know how many people are going to stay at their uncles or aunts or in laws, that's hard to predict," he said. "You know, people are pretty savvy."
Officials said the plan was as comprehensive as possible. "We're not trying to say this is going to be easy," said Lisberg. "But this is a really robust plan with a lot of different options for a lot of different people who have different ways of getting in from different places."
Prendergast says he hopes the plan never has to be put into action. "All this work we're doing on this contingency plan, we're doing that much more in trying to resolve this at the collective bargaining table," he said.
Talks between the unions and the MTA are ongoing.