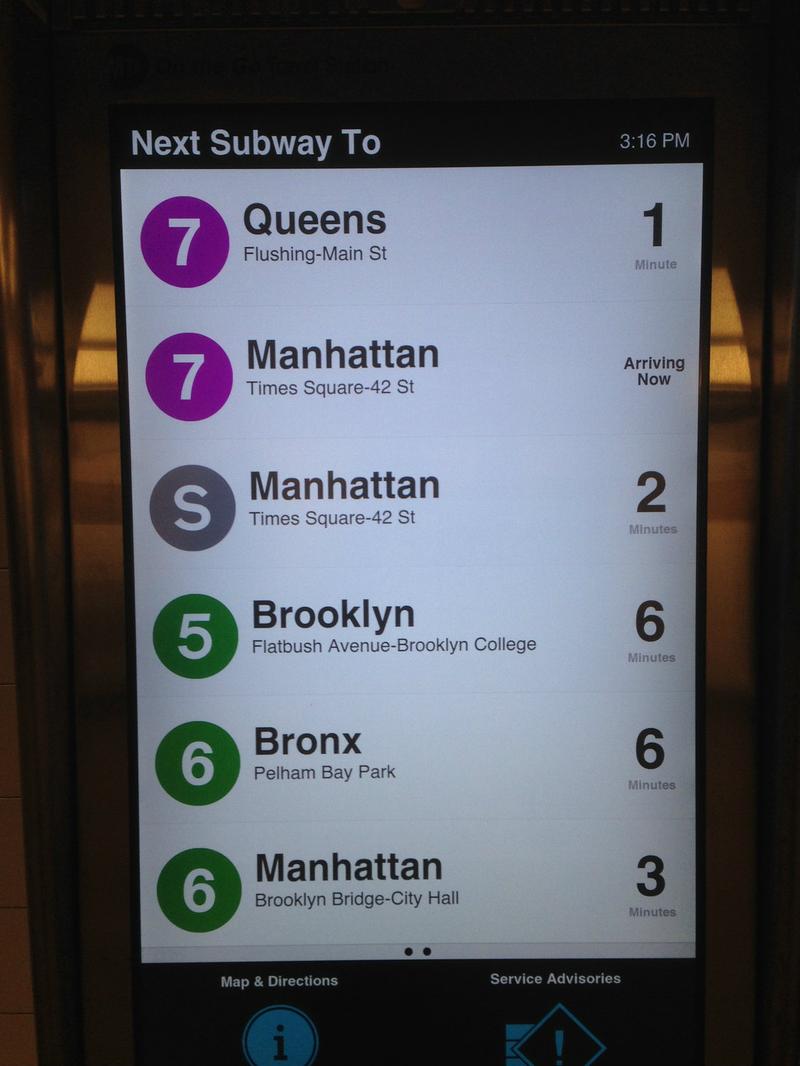 The MTA's long-awaited touchscreen maps are being installed at key stations throughout the subway system—and now 18 of them are at Grand Central Terminal.
The touchscreens are big as as...well, your typical subway map. They display information on train times and delays, elevator outages, and an interactive trip planner.
It's an "all-in-one customer information device," says Paul Fleuranges, senior director for corporation communications at MTA. "The goal is to provide contextual information. So if you're in the system, you need help, how to plan a trip, what's in the neighborhood, if you need to know about an escalator at a certain station, or if planned work is coming up, you can use that device to get information right where you are."
(Kat Aaron/WNYC)
But right now, it takes some digging to find the interactive maps. They're accessible through a menu at the bottom of the screens, but what riders first see is a rotating set of slides, showing information on train schedules and safety tips. 
Once you get to the map, the station where you are is highlighted. Riders can touch any station in the system, and the device lays several possible routes, including a time estimate. Visitors can also get recommendations for points of interest at select locations. 
Two companies are each rolling out devices in this 16-month pilot program, competing for a long-term contract. The machines at Grand Central are operated by Control Group, a New York City-based tech company. CBS Outdoors, the MTA's current ad vendor, will be providing devices on the west side.
"Somebody in the industry said 'you're having a bake-off,'" Fleuranges said. "I said 'if you want to call it a bakeoff, call it a bakeoff.'" At the end of the pilot, the MTA will choose one vendor for the program.
The companies design and pay for the pilot interface, and the MTA covers installation costs. Eventually, the screens will carry advertising in addition to transit information, with ad revenue split between the screen vendor and the MTA. 
The MTA says all machines should be online by June. By then, riders may be more eager to use them: in an hour of watching yesterday—admittedly not a high-volume day for Grand Central, given the snow, not one passenger at Grand Central even approached the screens.