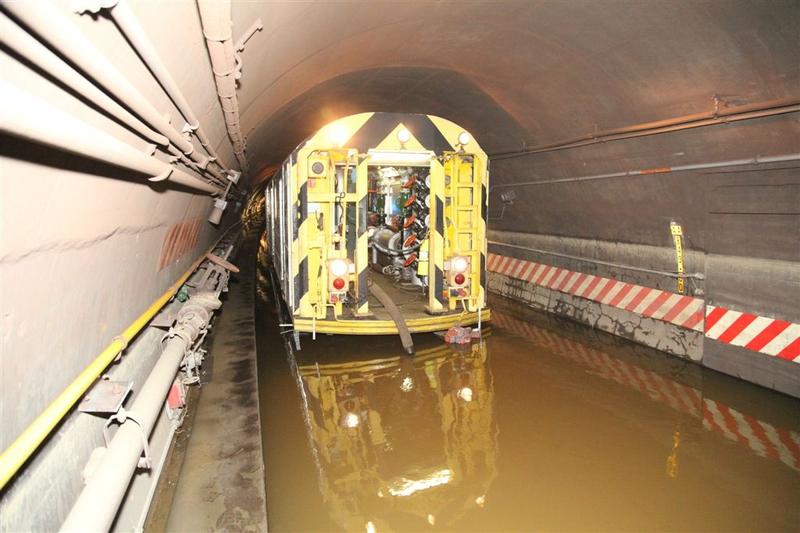 UPDATE Subway riders should expect significant shut-downs of lines that use tubes to move in and out of Manhattan--but not as bad as the current 14-month closure of the R train tunnel under New York harbor. That's the warning from MTA chairman Tom Prendergast.
"It's the ones in Lower Manhattan where the storm surge occurred," he said.
Prendergast spoke to reporters Tuesday morning after addressing a Citizens Budget Commission breakfast. He said the shut-downs are needed to repair damage from Storm Sandy, which flooded 9 of 14 subway tubes with millions of gallons of salt water. Corrosion from that flooding continues to degrade electrical components in the tubes.
On Wednesday, Prendergast said Sandy continues to cause breakdowns in the subway, both in and out of the under-river tunnels. "We have seen an increase frequency of failures," he said. "It has affected an increase in delays."
"We have other tubes we're going to have to deal with, because salt water and electricity just don't go together," he said. Which ones? Prendergast singled out the tubes carrying the 2, 3, A and C lines between Brooklyn and Lower Manhattan.
Other lines whose East River tubes could be closed are the 4, 5, F and L.
But that won't happen until the current shut-downs are done. This summer, the MTA closed the tube carrying the R train beneath the East River for 14 months of repairs. And the G train tube between Brooklyn and Queens is undergoing 12 weekends of closures.
Prendergast said the MTA might be able to repair the remaining damaged tubes without the unprecedented full shut-down that the R train tube is undergoing. "Any [repairs] we could do on nightly closures is where the focus would be," he said. "Then you look at weekend closures." But he didn't rule out more full shut-downs, either. "There's what we call an 'out-of-phase,' which is a permanent, seven-day-a-week [closure] for a number of months," he said.