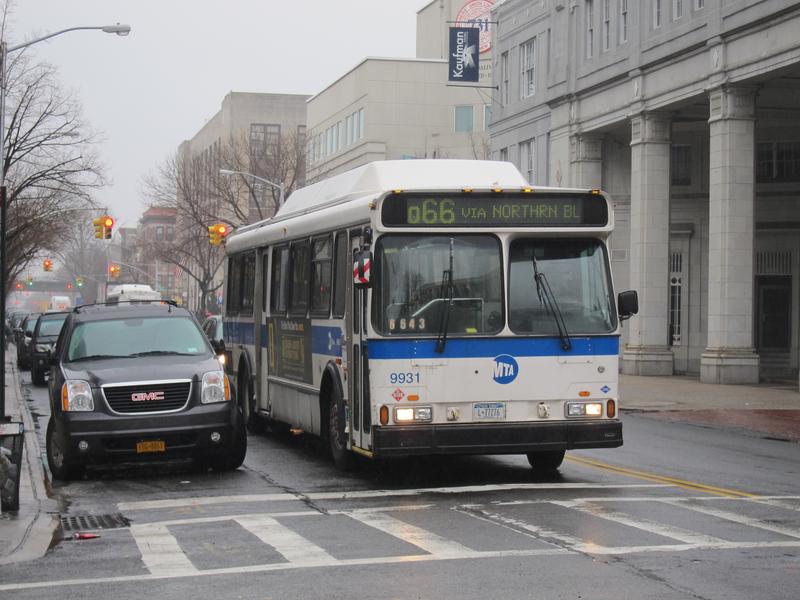 Ella Bandes, 23, died on a cold January night last year when she stepped off a curb in Ridgewood and was struck and killed by a city bus. Since then, area residents and her grieving parents, Judy Kottick and Ken Bandes, have asked why the city didn't act sooner to re-engineer the Myrtle-Wyckoff intersection, which was known to be dangerous. The Bandes are also asking — in press interviews and in a civil suit — whether the driver was at fault.
The driver, 35 year-old Andrele Colvert, was in her first year on the job. That means she was on probation. Colvert told police that as she made the turn onto Myrtle Avenue, where the crash occurred, she checked her rear-view mirror to make sure the bus didn't hit a cab parked near the subway. She said that when she looked forward again, Ella Bandes was in front of the bus and there was nothing Colvert could do to avoid hitting her.
Ella Bandes, 23, performing in a dance recital. (Photo courtesy MacAlester College)
The MTA says Colvert resigned after the crash. The authority also said the training she received was standard for NYC Transit drivers.
The man in charge of that training is Steve Vidal, vice president of safety at the MTA's Department of Buses. He said that 90 percent of new hires arrive without a commercial driver's license. "They come without experience driving a big behemoth on the roads," he said, meaning a 27,000 pound city bus. "Frankly, we prefer to have somebody that we train from the beginning rather than get someone with experience, because then we have to un-train their bad habits."
Vidal says new hires start with a 10-day training period behind the wheel with an instructor. After that, trainees spend four weeks driving an actual route with an experienced driver watching over them. "Then they graduate and they're collecting quarters in passenger service six weeks after they start," Vidal said. "Collecting quarters" is pre-Metrocard-era lingo for picking up paying customers.
Last year, MTA bus drivers traveled 152 million miles on New York City streets — more than 300 round trips to the moon. In the early 1990s, city bus drivers averaged 100 accidents per million miles. Vidal says the rate is half that today, and he credits an MTA program which penalizes drivers if they had a collision that was their fault, but also if they had a collision that wasn't their fault but could have been avoided by driving more defensively.
"That's something that's hard for drivers to embrace, because they don't want to admit that they had culpability in an accident happening that wasn't their fault," he said. "But the fact of the matter is it's what drives the accident rates down."
Vidal says the driver who collided with Bandes should have been trained to expect pedestrians to behave unpredictably. "From a pedestrian standpoint, it gets more complicated now, because they're all distracted," he said. "They're not looking up, they're looking down. They're looking at their mobile devices. They have headphones on. They're not paying attention to their surroundings."
Ken Bandes said his daughter was not texting or making a call when the bus hit her. "We have her phone," he said. "And the driver, by her own admission, wasn't looking where she was going." Colvert didn't return requests for comment. The facts will presumably be argued when the Bandes' civil suit against the city, the MTA, and the driver goes to court — if it's not settled before that.
A couple of years ago, Vidal started wondering when a city bus driver is most likely to be involved in a collision. He had his staff look into it. The answer came back: after a driver's one-year probation and before they've reached three years on the job. "There's this level of relief — they've finished their probation — and what we find is they're not paying attention to the extent that they were before," Vidal said.
Those drivers make up 11 percent of the workforce, but account for 20 percent of collisions. So last year, the MTA started bringing second-year bus drivers back in for training that stressed the need to avoid collisions. "We give them a reality check," Vidal said.
The driver in the Ella Bandes case never made it to that point. She resigned before her probation was up.