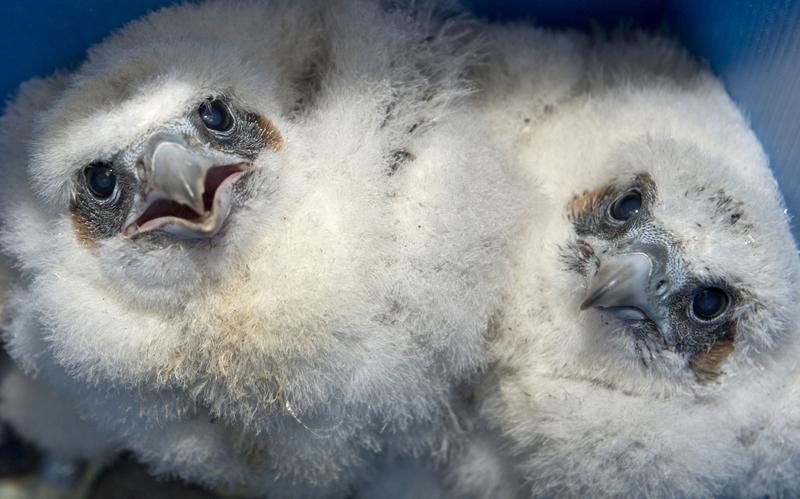 Springtime is hatchling time, and as it has done every year since 1983, New York's MTA banded the peregrine falcon chicks that nest atop three of its bridges.
According to the MTA, a total of eleven chicks — "with cityscape views to die for" — are currently living on the Verrazano-Narrows Bridge (three girls and one boy); four at the Throgs Neck (two girls and two boys) and three at Marine Parkway (two girls, and a boy).
(Patrick Cashin/MTA)
That's a healthy increase over last year, when six chicks were recorded.
"We frequently have to go to the top of the towers for maintenance work but we are very respectful of the falcons during nesting season and while the chicks are learning to fly," said Verrazano-Narrows maintenance superintendent Daniel Fortunato. "The mama bird in particular is very protective so for the safety of our employees and the birds, we do our best to keep out of their way."
A peregrine falcon parent swooping into the Rockaway tower at Marine Parkway-Gil Hodges Memorial Bridge (Patrick Cashin/MTA)
Each year, Chris Nadareski, a wildlife expert with the New York City Department of Environmental Protection, climbs to the top of the bridges to band and check the chicks. This helps keep track of the number of peregrines in the city, and identify them in case they become sick or injured.
(photo by Patrick Cashin/MTA)
(photo by Patrick Cashin/MTA)
The MTA provides nesting boxes for the falcons at each bridge. According to the agency, "the Marine Parkway nesting box is located 215 feet atop the Rockaway tower, the Throgs Neck nest is 360-feet on the Bronx tower and the Verrazano-Narrows offers the most supreme view with a nest 693-feet atop the bridge's Brooklyn tower."
Peregrine falcons remain on the state's endangered birds list.
An adult flies over the Verrazano (Patrick Cashin/MTA)
On the Throgs Neck (Patrick Cashin/MTA)
For more peregrine falcon photo goodness, check out the MTA's Flickr page here.