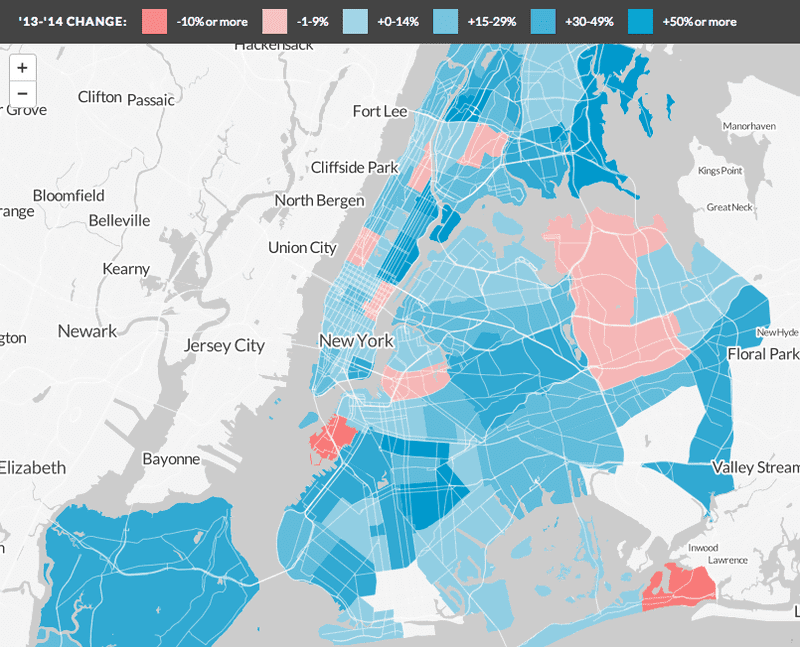 Almost every precinct in New York City is writing more tickets for dangerous driving than they did last year. That's according to a new WNYC analysis of ticketing data from the New York Police Department.  
Just nine precincts wrote fewer tickets in the first five months of this year, compared to the first five months of 2013. Red Hook's 76th precinct stands out, having fallen below last year's levels for three months in a row.
The 19th precinct, on Manhattan's East Side, has issued 80 percent more tickets than last year – the biggest increase in the city. The officers of the 19also issued the most tickets last month – more than 1,500 in May. Although the 109th precinct in Northern Queens came in second, with more than 1,400 tickets, that's still a slight dropoff from last year's numbers.
Ticketing was up citywide in the six major categories WNYC has been tracking: using a cell phone while driving, disobeying a sign, failing to stop at a signal, making an improper turn, not giving the right of way to a pedestrian, and speeding.