The Takeaway
America: A Place of Liberty and Justice for Some?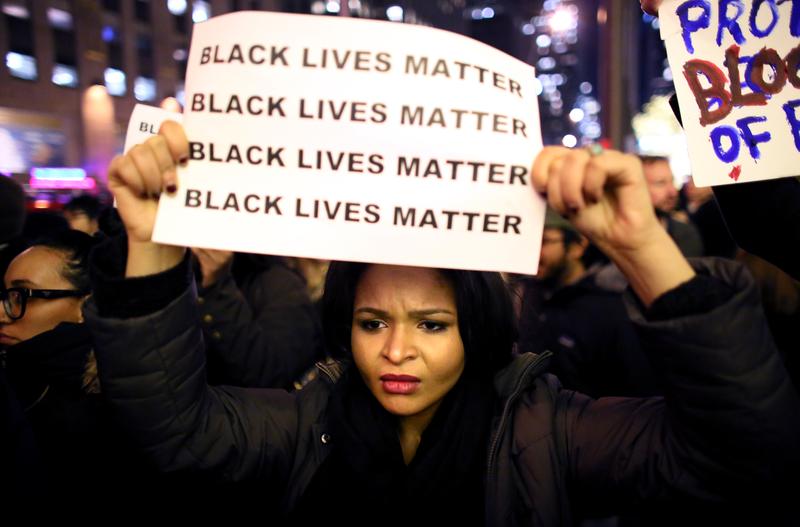 The death of Eric Garner and the failure to indict New York Police Department officer Daniel Pantaleo, who used a chokehold to restrain Garner, feels painfully similar to the recent events that played out in Ferguson, Missouri.
The narrative has become all too familiar: A white cop kills a black man, and a community feels that justice is out of reach. In this case, the death was even ruled to be a homicide by the coroner, but no one is held accountable.
In the case of Eric Garner, it's not a question of murky details (the entire episode was caught on video) or of an officer whose life was threatened (his wasn't). It has instead inevitably become a much larger conversation about race, law enforcement, and the justice system at work.
Garner's widow, Esaw, vowed to press on for justice.
"My husband's death will not be in vain—as long as I have a breathe in my body, I will fight the fight to the end," she said.
Shortly after the grand jury's decision was announced, the Justice Department announced that it will proceed with a federal civil rights investigation into Mr. Garner's death.
See Also: Eric Garner & The Real Voices of Protest
President Obama said the events in both Ferguson and Staten Island represent larger issues that affect all Americans.
"I'm not interested in talk, I'm interested in action," Obama said. "And I am absolutely committed as president of the United States to making sure that we have a country in which everybody believes in the core principle that we are equal under the law."
Weighing in on the way forward in New York and around the country is WNYC's Brian Lehrer, the host of The Brian Lehrer Show, and Kai Wright, editor-at-large for ColorLines.
Check out the video of Garner's interaction with the officer below. 
*WARNING* Some may find the footage in this video disturbing.