More New Yorkers Turning To Food Pantries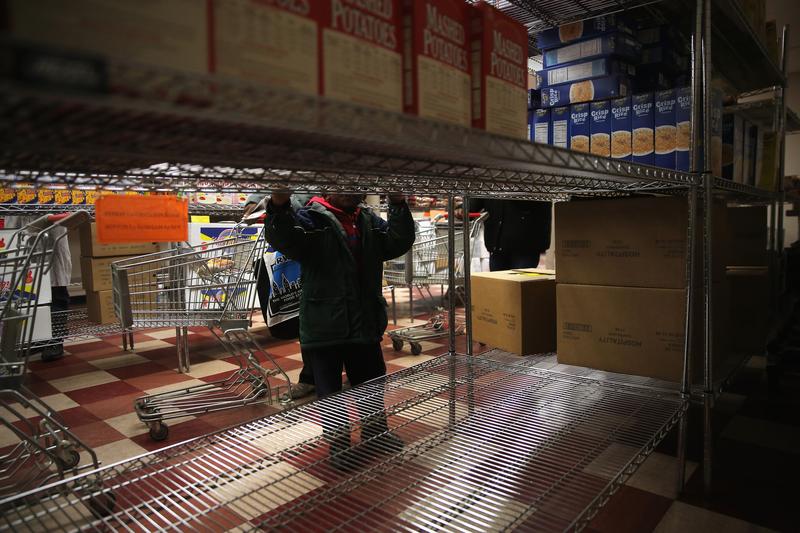 More New Yorkers are turning to food pantries and soup kitchens following a cut in food stamp benefits, according to a new report from the Food Bank for New York City.
A household of three lost $29 on average in monthly food stamps when a temporary benefit from the federal stimulus expired in November. The Food Bank for New York City says this led to an increase in visitors at 85 percent of the city's food pantries and soup kitchens compared to the previous November.
At a press conference about the report, Tony Miranda said more people are turning to his food pantry in Queens, in a neighborhood still struggling to recover from Sandy. He said supply shortages force him to turn many people away, including many children and seniors.
"I've got mothers that are giving sugar with water to their children suppress hunger," said Miranda. "When mothers have to do this, in a country like this, it doesn't make sense."
Dave Chicaguala of the New York City Rescue Mission in Chinatown said both the pantry and soup kitchen at his organization are reducing hours and rationing supplies since the cuts took effect.
"It really is a sad thing that where we are is becoming one of the most affluent zip codes in the country, and yet we encounter poverty and need on a level that, if you tell New Yorkers this is what you have near the Financial District, they'd say, 'No, that's not possible,'" said Chicaguala.
More cuts to food stamps could be on the way if Congress approves a new farm bill. Lawmakers in the Republican-controlled House say cuts are necessary; they call the program's $80 billion-dollar cost unsustainable.