A Monumental Effort to Get Young Bronxites Good Jobs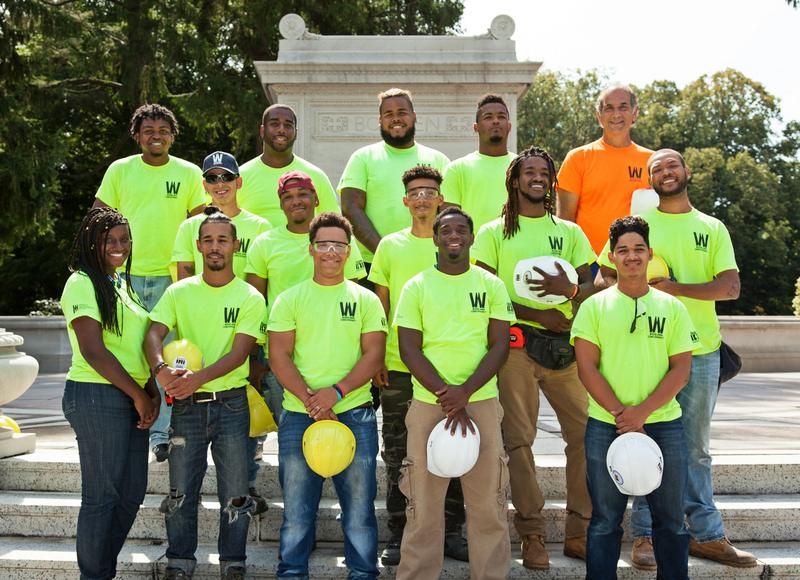 In the Bronx this week, a group of young people were recognized as new practitioners of a skilled trade that's so important, it literally holds New York together: masonry restoration. 
Think of it as peanut butter binding two pieces of bread.
"It's a sand and lime combination," said said 22 year old Dakota "Slim" Green, as he crouched over a seam of mortar joining two granite blocks of a large mausoleum. "You add water and it becomes a binding tool. Like glue, almost."
Green and 15 others spent the last nine weeks at Woodlawn Cemetery, learning how to re-join stone steps, and to re-set and clean blocks of slate, marble, and granite.
Susan Olsen, Woodlawn's director of historical services, said a cemetery is the perfect place for young people to learn the craft. It has 400 acres of spectacular crypts and sarcophagi, containing the remains of the formerly rich and famous. Many of their memorials are in need of repair.
"As Americans it isn't part of our culture to go and visit the dead. How many people have gone to their great grandfather's monument?" Olsen said.
Last year, in an effort to address the problem, the Woodlawn Conservancy teamed up with the World Monuments Fund and the International Masonry Institute to set up a summer training program open to local high school grads.
In New York City, masonry restorers are always in demand. The law actually requires that large buildings be regularly inspected, to stop stone and brick from coming loose and killing people. Jobs start around $15 an hour, and go up from there.
"I was gonna be unhappy just doing stuff for money," said Jontae Stanley, who is 22 and worked a number of retail jobs before becoming a paid intern at Woodlawn. "I just figured that if I tried something different, and I get to work with my hands and be out in this beautiful outdoors every day. It's just a win-win situation."