Soundcheck
Moby Plays Along With Others On 'Innocents'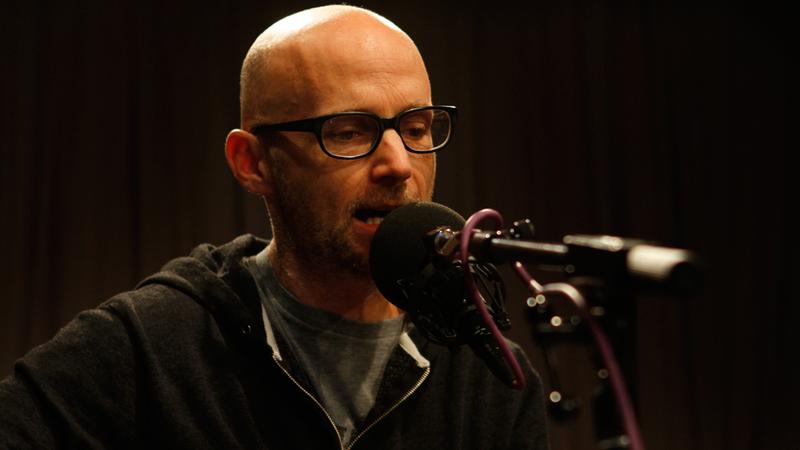 When you listen to the music of Moby, it's easy to picture him tinkering with sounds and samples, instruments, gadgets and vintage drum machines alone at home. That may well be the case, but for Innocents -- his latest, and 11th(!) album -- the always inventive and ever-shape-shifting musician reached out for collaborations to a degree he never has before. Innocents is Moby's first full-length record with an outside producer (Mark "Spike" Stent) and features an impressive cast of guest vocalists -- from Cold Specks' Al Spx and Skyler Grey to Mark Lanegan, Damien Jurado, and The Flaming Lips' Wayne Coyne.
As one might expect with the vocalists as the main focus, the songs on Innocents take on a variety of styles for each singer. And while the songs may not feel as cohesive compared to 1999's sample-heavy hit Play, each song retains Moby's distinctively beautiful production and emotional weight that helps to unify the work as a whole. The result is a record that showcases many sides of a musician known for searching for something new and unique.
In this extended session in the Soundcheck studio, Moby discussed Innocents and performed three songs from the new record, along with older songs: "Natural Blues," originally found on Play, and "The Poison Tree," part of an expanded version of his 2011 album Destroyed.
Moby is joined in the studio with his backing band: Vocalists Inyang Bassey and Kelli Scarr; violinist Claudia Chopek; harmonica player Daron Murphy -- and an impromptu choir of friends, label folks, WNYC videographers and Moby's infant goddaughter.
Moby says he composed most of the songs on Innocents on guitar or piano, with the idea of making them easier to perform.
"I've had this ongoing problem throughout my career," he explains. "I grew up playing guitar, but then really fell in love with electronic music. So I started making electronic-based records and then I'd go on tour and be utterly incapable of playing them live, because they'd be so studio-based." 
Moby also discusses his decampment from New York several years ago.
"I do interviews and people ask, 'Why did you move to L.A.?' I can answer that in two simple statements. One, it's warm in the winter. Two, David Lynch lives right around the corner." 
For more photos, visit Soundcheck's Tumblr page.
Set List:
"A Case For Shame"
"Almost Home"
"The Perfect Life" (with impromptu choir)

"Natural Blues"

"The Poison Tree"
This segment originally aired on Oct. 23, 2013.