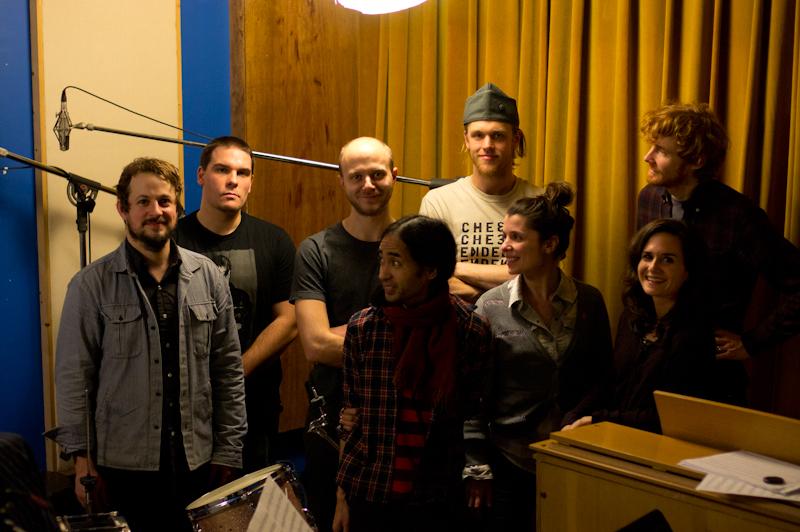 For this New Sounds program, listen to "Mixed Music" – a term coined by musician/composer Joseph C. Phillips Jr.  -which is a blend of jazz improvisation and groove-based minimalism or other forms of composed music.  There's music from the Brooklyn-based Peter Kerlin Octet, an outfit consisting of two vibraphonists, two bassists, an organist, a drummer, a percussionist, and a violist.  On his record, "Salamander," bass player/composer Kerlin offers up ambitious bass-driven compositions that weave through post-rock and minimalist territory, with improvisational jazz-like detours along the way.
Also, from the Australian trio the Necks, hear portions of their magnificent, intriguing and beautiful release, "Open," - a 68 minute long work that is ostensibly jazz, yet journeys through ambient territory as it develops.  Then, listen to a work from Canadian sax player/flutist/composer Anna Webber, where systems music battles composed jazz.  Plus, hear a portion of  Joseph C. Phillips Jr.'s immense work, "Vipassana," which, in the Pali language of early Buddhist texts, means "insight." It's a work that calls for an expanded Numinous ensemble of 25 instrumentalists and singers.
PROGRAM #3538– mixed music (First aired on 11/26/2013)             
ARTIST(S)

RECORDING

CUT(S)

SOURCE

The Necks

Open

Open, excerpt [16:12]

RēR Megacorp - #RERNECKS 11 / Northern Spy - #47
thenecks.com/shop OR northernspy.11spot.com

Peter Kerlin Octet

Salamander

Cenozoan Warp [7:16]

Innova 879
www.innova.mu

Anna Webber

Percussive Mechanics

Vigilance [8:54]

Pirouet 3069
www.pirouet.com

Joseph C. Phillips Jr. & Numinous

Vipassana

Joseph C. Phillips, Jr.: Vipassana: No. 3. Into All the Valleys Evening Journeys [9:59]

Innova 720
www.innova.mu

The Necks

Open

Open, concluding excerpt [10:31]

See above.