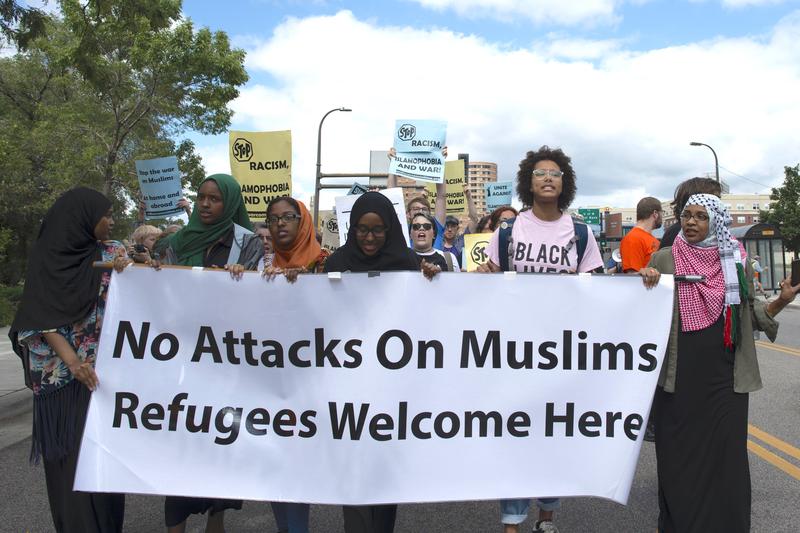 Click on the 'Listen' button above to hear this interview. 
On the campaign trail, President-elect Donald Trump promised to withhold federal funding from so-called "sanctuary cities," a name given to at least 300 cities and local jurisdictions that have ignored federal policies that target undocumented immigrants. These cities say it's up to Immigration and Customs Enforcement (ICE), not local law enforcement, to enforce these policies.
Since Trump's victory, a number of mayors — including those in big cities like Seattle, New York and San Francisco — have come out to condemn the president-elect's funding threats, and to reassure immigrants that they will continue to be protected.
In Los Angeles, home to an estimated 1 million undocumented immigrants, Police Chief Charlie Beck said that his department will not change its policies in order to help Trump carry out his agenda.
"We are not going to engage in law enforcement activities solely based on somebody's immigration status," Beck said. "We are not going to work in conjunction with Homeland Security on deportation efforts. That is not our job, nor will I make it our job."
Betsy Hodges, the mayor of Minneapolis, is also speaking out against Trump's intentions. She says that the president-elect's plan for undocumented workers will cause mayhem.
"We have had an ordinance since 2003 in Minneapolis that [says] our police officers aren't going to do the work of the federal immigration folks," Mayor Hodges says. "It is a question of public safety because if immigrant folks, if anybody doesn't feel safe calling the police — if witnesses of crime, victims of crime can't call the police and feel safe, then we are a less safe city overall."
The precise amount of federal funding sanctuary cities might be denied isn't clear at this point, but they stand to lose hundreds of millions in grant dollars, at least.
Hodges argues that the president-elect's plan to withhold funding is "unacceptable" and could be "hugely disruptive" for Minneapolis and other cities.
"Economies all across this country rely on making sure we have immigrant workers," she says. "Plus, it would be terrifying for people who live here. If they have documentation or not, it is a terrifying thing to think that we're living in a world where we're going to have invading people coming in and trying to assess whether or not you are the proper American."
Though the policies of the president-elect remain vague, Trump said Sunday in an interview with CBS' "60 Minutes" that he plans to deport 2 million to 3 million undocumented people.
"He is placing politics before public safety," Hodges says. "If President-elect Trump wants to work within the [immigration] systems that already exist for the federal government and local government, that's one thing. But to do this in the absence of comprehensive immigration reform, to do this in the absence of something that people all across this country want and are clamoring for, to have a piecemeal strategy for a solution that needs an overall strategy."
On the whole, Hodges says that she rejects things that the president-elect has done and said, and what he stands for.
"This is unique," she says. "This is a person whose personal behavior, self-admittedly, has been atrocious and illegal. This is somebody who has pledged to attack and go after women and minorities and immigrants and Muslims and people with disabilities, and I could go on. That's not the America I believe in and that's not the America I stand for."
She adds, "I think that mayors all across the country right now are assessing what impact a Trump presidency can and will have on our cities, and are doing our best to prepare for that. The people of Minneapolis have been clear about what our values are, we are clear about who we are as a people. I will always have a hand extended, but the question is, will there be a hand extended back? So far, the answer's been no."