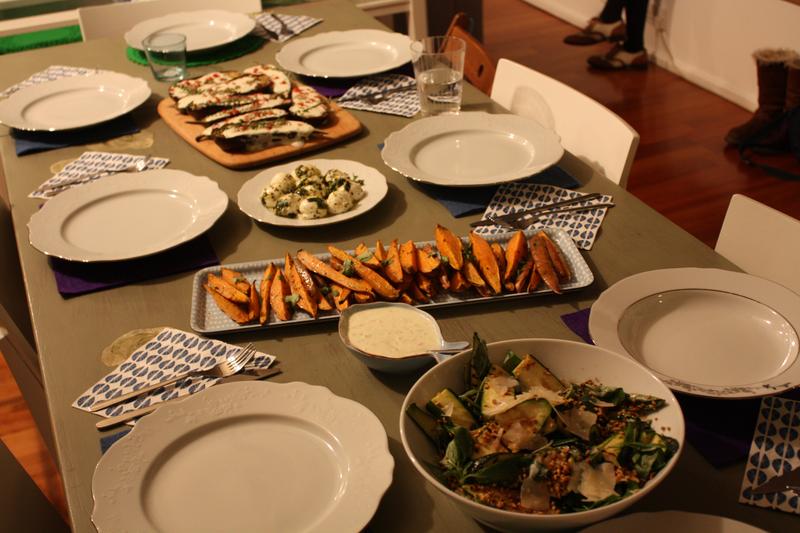 For our final installment of our Food Friday's mini-series on dinner parties, New York Times "Social Qs" columnist Philip Galanes, and New York Times food columnist and cookbook author Melissa Clark pair social graces with the perfect dishes for your next get together.

Check out Melissa Clark's dinner party recipes! 
Turkish Lamb Chops with Sumac, Tahini and Dill

Time: 50 minutes total, 30 minutes hands-off
Yield: 4 to 6 servings
1 tablespoon Turkish red pepper or Aleppo pepper (or use chile flakes)
2 teaspoons fennel seeds
2 teaspoons coriander seeds
2 teaspoons cumin seeds
2 teaspoons kosher salt, more to taste
1/2 teaspoon freshly ground black pepper
3 pounds bone-in lamb chops, the thicker the better
1/3 cup fresh lemon juice (from about 2 lemons)
2 to 3 cloves garlic, grated on a microplane or minced
1 3/4 teaspoons kosher salt
1 cup tahini
1/2 teaspoon ground cumin
Extra-virgin olive oil, for grilling
Fresh dill fronds, for serving
Sumac (optional), for serving
1. In a small skillet over medium-low heat, toast the red pepper, fennel, coriander, and cumin until fragrant, 1 to 2 minutes. Pour into a mortar or spice grinder along with the salt and pepper and either pound or briefly grind until you get a coarse-textured spice mix. Don't overdo it if you've gone electric here, the coarse texture is an essential part of the dish.
2. Pat the mixture all over the lamb, then let it marinate at room temperature for at least 30 minutes, or in the fridge for up to 24 hours.
3. Meanwhile, make the tahini sauce. In a food processor, blend the lemon juice, garlic, and salt. Let the mixture sit for 10 minutes. Add the tahini and cumin, and blend until a thick paste forms. Add 4 to 6 tablespoons ice water while the processor is running, 1 tablespoon at a time, until the sauce is smooth and at the desired consistency. You should be able to drizzle it.
4. Preheat the broiler or light the grill. Drizzle the chops lightly with oil. Broil or grill the chops until they are charred on the outside and cooked to taste within. This will depends on how thick your chops are, so watch them carefully; 2-inch thick bone-in chops will take at least 3 to 5 minutes per side for rare, you'll need less time for thinner chops, and more time if you like them cooked medium-rare or beyond.
5. Serve the chops drizzled with the tahini sauce, garnished with dill, and a dusting of the red sumac. 
Roasted Chicken with Crispy Smoked Paprika Chickpeas, Roasted Lemon and Baby Kale
This more deluxe roast chicken recipe turns itself into a one-pan meal with the addition of crispy roasted chickpeas and plenty of greens. If you can get a Meyer lemon, use it here, it will be sweeter and milder than a regular lemon.
Time: 30 minutes hands-on, 1 hour hands-off
Serves 4 to 5
1 whole chicken (4 1/2 to 5 pounds), patted dry
1 tablespoon kosher salt, more as needed
1 tablespoon freshly ground black pepper
Small bunch mixed fresh herbs, such as rosemary, thyme, and sage
1 lemon, preferably a Meyer lemon (see note)
1 1/2 cups cooked, drained chickpeas (one 15-ounce can)
2 tablespoons extra-virgin olive oil, more as needed
1/2 teaspoon sweet smoked paprika
1/2 teaspoon hot smoked paprika
6 cups baby kale or spinach
1. Season the chicken inside and out with salt and pepper. Refrigerate uncovered for at least 1 hour or overnight.
2. Heat the oven to 450° F. Place the chicken, breast-side up, on a large rimmed baking pan. Stuff the cavity of the chicken with herbs and tie the legs together with kitchen twine if you like (it makes it prettier but I don't think it effects the cooking).  Roast for 1 hour.
3. While the chicken cooks, bring a small pot of salted water to a boil. Slice the lemon in half lengthwise. Reserve one half; slice the remaining half lengthwise, then slice the pieces crosswise; you will wind up with thin triangles. Drop the lemon triangles into boiling water for 1 minute to blanch them; drain. Repeat this blanching if desired (see note).
4. In a small bowl, toss the blanched lemon slices with chickpeas, 2 tablespoons oil, paprika, and a very large pinch salt.
5. Baste the chicken with pan juices and scatter the lemon-chickpea mixture over the bottom of the baking sheet. Roast until the chicken is just cooked through (juices should run clear when pierced in the thickest part of the thigh) and chickpeas are crispy, about 20 minutes longer.
5. Transfer the chicken to a cutting board to rest. Scatter the kale over the hot baking sheet and toss with the chickpeas and lemon slices, scraping up any browned bits from the bottom of the baking sheet. Top with the juice of the remaining lemon half and sprinkle lightly with salt. If the mixture looks a little dry, drizzle with oil. Serve alongside chicken.
Note: If you are using a regular (not Meyer) lemon, and if it has a particularly thick white pith underneath its skin, that's a sign that it will be on the bitter side (more pith = more bitterness). To eliminate some of the bitterness, consider blanching it twice in clean water each time, instead of just once. This helps sweeten it up.