The Takeaway
A Military Widow and Her Community Find Solace in Running
The marathon of grief is a run without a finish line. You put one foot in front of the other, push through the pain, and run forward for someone who no longer can. For Lisa Hallett, sometimes running forward is all she has to cope with the loss of her husband.
Lisa's husband, Captain John Hallett of the 5-2 Stryker Brigade Combat Team, was killed in Afghanistan in 2009. He is just one of more than 6,000 U.S. military personnel killed in the wars in Afghanistan and Iraq since 2001.
"Running right now is the same as running when John was alive or running after he died," Hallett said. "There's no difference. My heart ache is different, what I can listen to on the radio is different, but my identity as a runner doesn't change. The purpose behind why I run changes, but running is still putting one foot in front of the other, owning the distance, and pushing forward."
And after John's death, Lisa found solace in running. Between taking care of their three small children and rebuilding a life without John, going on a run was the one way Lisa could handle her grief. She soon realized that many other widows felt the same way.
Lisa helped create a running club with other widows in her community of DuPont, Washington. The club, called "wear blue: run to remember," has now grown from about a dozen women to hundreds of people, all running to honor the memory of loved ones lost in combat. 
Lisa's story of resilience is the subject of a new documentary by Glenn Anderson, a senior producer for the BBC's Washington Bureau. Anderson says the film and the group of runners that grew out of a community's grief.
"The story is really about how this community was formed," says Anderson. "It wasn't just Lisa's loss or the loss of John Hallett, but the unit he was in lost 41 men. This was a community that is very close to Joint Base Lewis-McChord in DuPont, Washington, and they were hurting. They came together, and they found solace in running."
While Anderson's documentary focuses on Lisa, he says her story is just one of many in the community, and across the globe. Though thousands of U.S. soldiers have died, reports show that the total number of Afghani civilians who have died in the armed conflict has reached about 14,728.
"There weren't a lot of stories about the families—there were a lot of stories about the Iraq and Afghanistan wars out there, but not a lot about the home front," says Anderson. "But it's not just an American story; I think a lot of people around the world can relate to this."
The running club, in a way, was founded so that others could relate to each other while dealing with the most harrowing side effect of war: Losing a loved one. 
"They found mutual support, they found friendship, and they accomplishment," says Anderson. "It helped the healing process and it helped the community. Lisa is just one example of someone who's thrived."
While the military also offers support for grieving families, the running club provides a different kind of aid.
"Casualty Assistance Officers are there to help with those practical concerns and be the liaison for all of the military things that need to be done," says Anderson. "But when they go home, there's still a role to fill."
The running club offers those suffering from loss "something tangible to rally behind," Lisa tells Anderson. Hitting the pavement for a run was a regular coping mechanism used by Lisa in the face of difficulty. In February 2010, she and about 12 other women met in a Burger King parking lot and from there the idea for the club was born.
"We stood around and looked at each other, and the we pushed out into a run," she says. "Something that really kept me driving forward in the beginning is that my children have lost one parent—it wouldn't be fair to them to lose a second parent to grief. I am learning that as much as John and I shared a story as John and Lisa Hallett, that I have my own story and a life as a woman."
Throughout the film, Anderson glides alongside Lisa on several runs, using roller blades to keep up and have a steady shot.
"I did these runs with her and it makes you think—it gives you time to both clear your mind and think about the important things," says Anderson. "There's no better time to think, to stop and contemplate your future, to remember the past fondly and grow as a person than when you're out there getting that exercise. It's a very free, liberating thing. It's a personal thing, but it's also a group thing. That's the story that we're trying to tell—there's hope, there's life, there's joy after loss."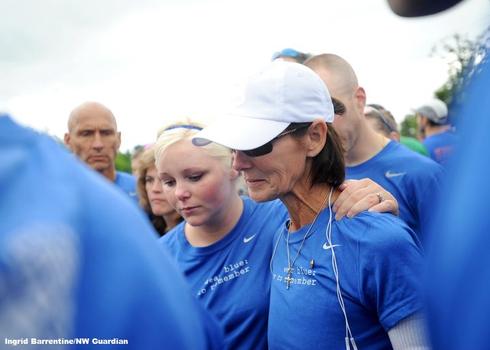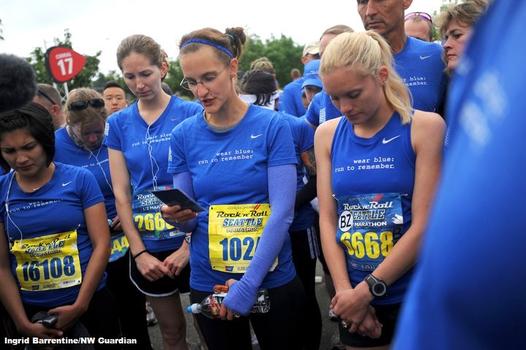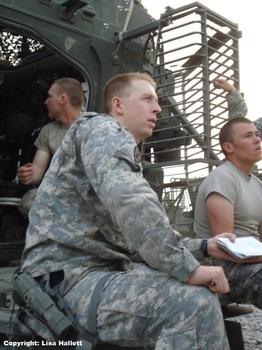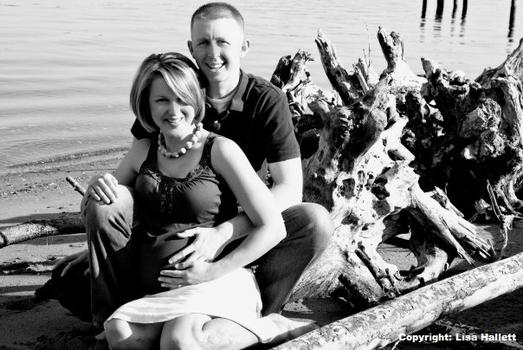 of