Studio 360
Mike Doughty's "Revelation: A Rock Opera"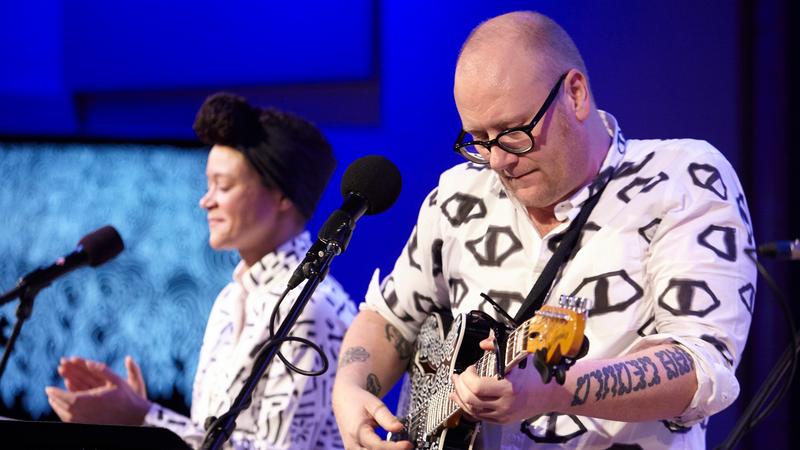 At the end of every year, we ask listeners to send us their creative resolutions for the New Year – projects they've always wanted to do, but needed a little push to get going. Then, we pick a handful of them to follow and hold to their promises. In 2014, we got one of our most peculiar and ambitious proposals yet: the musician Mike Doughty, of the great 90s band Soul Coughing, wanted to write a rock opera based on the Book of Revelation. How could we say no to that?
Mike followed through, met his deadline, and premiered his show in three performances at WNYC's Greene Space in New York. And it was amazing. We can honestly say we never thought Revelation could be made into a musical that actually rocked. Listen to the full audio above, or watch a video of the performance below. 
Revelation: A Rock Opera
A world premiere recorded live in The Greene Space at WNYC on January 27, 2015.
Written, composed, and directed by Mike Doughty
Visual art by Zebadiah Keneally
Cast:
Mike Doughty, John the Revelator/guitar
Amber Gray, The Word
Xenia Rubinos and Melissa McMillan, vocals
Andrew Livingston, cello
John Guari, keyboards/trumpet
Pete Wilhoit, drums
Crew:
Jennifer Keeney Sendrow, producer
Ricardo Fernandez, technical director
Chase Culpon, recording engineer 
Song list:
0:00       Preamble
2:00       Write the Things You Have Seen
9:30       I Saw A Door Opened in Heaven
14:30     How Long Will it be Before You Avenge Us?
20:20     12,000
21:20     Sir, You Must Know!
22:00     Terror, Woe!
25:20     The Shapes of the Locusts Were Like Horses
26:30     Write the Things You Have Seen (Reprise)
28:00     The Four Angels Were Loosed
28:45     It Was in My Belly Bitter
31:30     The Two Witnesses
33:45     The Mother and the Dragon
35:30     I Saw Another Beast Coming From the Sea
39:30     The Word Stands on the Mountain
41:00     Who Will Not Fear You?
47:40     Mother of Abominations
55:00     Captains of the Merchant Ships/King of Kings
58:20     Cast Into the Lake of Fire
65:10     The Time is at Hand
Video: "Revelation" live in The Greene Space