Migrating Birds Make Pit Stop in Central Park
Tuesday, May 06, 2014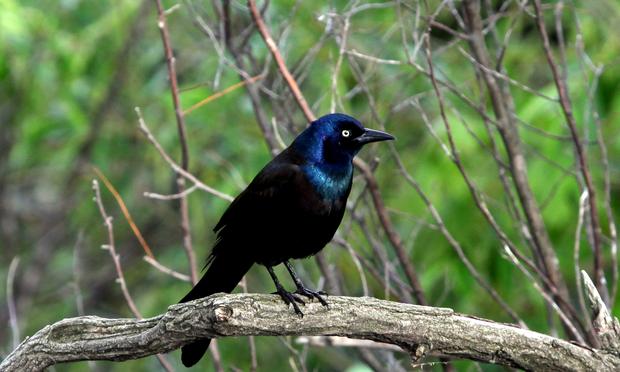 (Stephen Nessen/WNYC)
Bird watchers in New York will be busy this week as migrating birds traveling north along the "Atlantic Flyway" make a pit stop in New York City. Central Park is known as a migrant trap: birds flying overhead are attracted to the green spaces and stop to fuel up. 
In addition to sightings of more than 20 species of Warbler, there have been some rare species spotted. The bird-watching world is abuzz over the sighting of a Chuck Wills Widow at the Maintenance Shed in the Ramble. 
Early Tuesday morning at Strawberry Fields, Upper West Side resident Lisa White, 39, did some bird watching before heading to work. "It's like the Super Bowl for birders," she said. "It's the best time of year, and it's spring migration so the birds are in their breeding plumage, so they're even more beautiful than they are at any other time of the year. It's a bonanza."
A House Finch at the bird feeders in Central Park's Ramble. (Stephen Nessen/WNYC)
A cormorant flying over Central Park. (Stephen Nessen/WNYC)
Bird watchers in Central Park near "The Oven" in Central Park, looking for warblers. (Stephen Nessen/WNYC)
An Ovenbird, a very loud type of warbler, that likes the floor of closed canopy forests. (Stephen Nessen/WNYC)
A Cardinal in the Ramble(Stephen Nessen/WNYC)
A Cardinal flapping its winds, trying to attract a mate during breeding season in Central Park. (Stephen Nessen/WNYC)
A Wood Thrush in Central Park (Stephen Nessen/WNYC)
More in:
Stephen Nessen reports for the WNYC Newsroom and can often be heard live on Morning Edition.