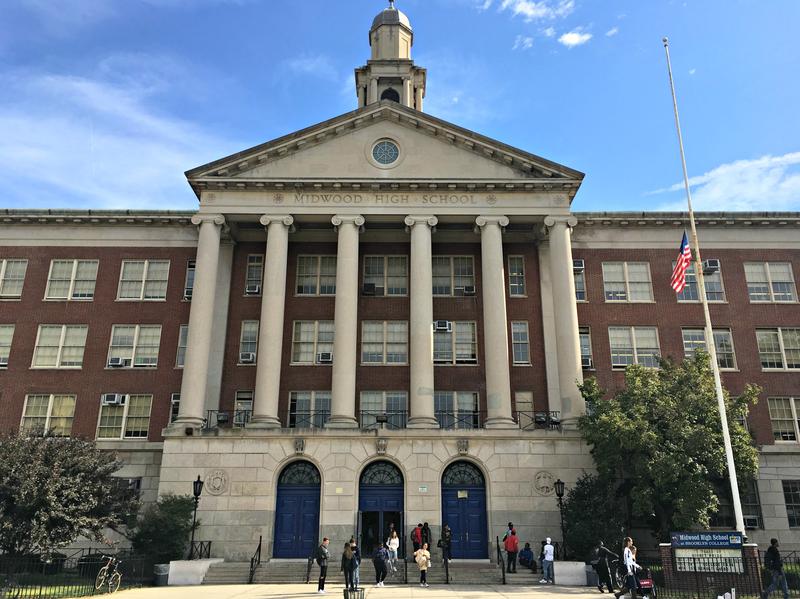 While Midwood High School feels like a bustling city, a place that has to offer 25 sections of chemistry to meet the needs of 4,000 students, it was the smaller things people recalled recently when thinking about the school's 75th anniversary. 
For Diane Steinbrink it was her successful campaign for mayor, the top position of the student government known as the "City of Midwood." In the 1950's, she beat out two male contenders with a blatant gender-based pitch.
"What I handed out were cards that said, 'It's a girl! Diane for Mayor' with pink ribbons," she said, laughing at the memory.
And the current mayor, Clifford Young, said he was working on special anniversary t-shirts, among other things. 
"We're in the process of planning different spirit days," he said, to build school pride.
Young and Midwood's principal, Michael McDonnell, are also thinking of creating a time capsule to open in another 25 years at the school's 100th anniversary. 
"This is a big year," said McDonnell. "Many schools at the Department of Education haven't been around for 75 months, never mind 75 years."
Midwood High School opened at the edge of Brooklyn College in February 1941. (The story goes that it opened mid-year to alleviate overcrowding from nearby Erasmus and James Madison High Schools.)
It has survived as a now-rare breed in New York City: a large high school, serving thousands, many from a neighborhood zone. When it opened, Midwood enrolled about 2,700 students from the area, the vast majority of them white. Now there are 4,000 students who bring a fairly balanced racial and ethnic mix to the school — also a rarity in the public school system. 
There are pieces of history all over the school, including student artwork dating back more than 50 years. In the former home economics room, being converted into an alumni meeting space, hangs a painting created as part of President Franklin Delano Roosevelt's work relief programs. 
The school even has its own archive, to the delight of Michael Davidson, who graduated from the school in 1957. At a recent 75th anniversary celebration at the school, Davidson got lost in old copies of the student newspaper, "The Argus."
"I was just struck by the texture and the fullness of the history that was told by school newspapers — by that school newspaper in particular" said Davidson. He recalled how The Argus documented World War II's affect on Midwood students, including a looming draft; air raid drills; and a column focused on the war front.